Best Buy Co. (NYSE:BBY) is a company in turmoil. Faced with questions of relevance and declining revenue, Best Buy is attempting to turn around the company and remain competitive in the electronics retail business. The most common argument against Best Buy is that online retailers, namely Amazon.com, Inc. (NASDAQ:AMZN), are taking business away from Best Buy and will eventually bring about its demise. Best Buy recently hired a new CEO and is dealing with a takeover offer from company founder and 20% shareholder Richard Schulze. Best Buy's stock has been in a multi-year decline, currently trading around $17 per share, down from nearly $50 in 2010 and comparable to the price during the worst of the financial crisis at the end of 2008.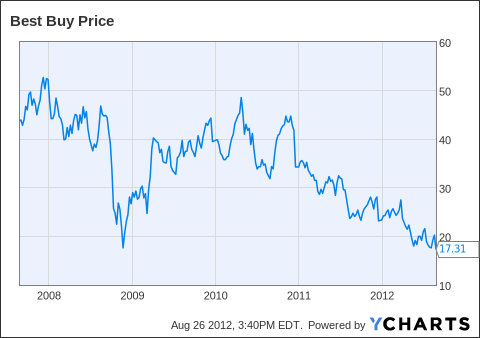 The takeover bid offered by Schulze was between $24-26 per share, significantly higher than the current share price. Clearly, the markets have little confidence of the deal going through. Best Buy announced disappointing Q2 earnings recently, but expects to generate $1.25-$1.5 billion of free cash flow this year. For a company with a market capitalization of $5.7 billion, Best Buy is trading at a low P/FCF multiple. One way to take advantage of the pessimism surrounding Best Buy is to sell puts on the stock.
Selling Puts
An option has three components: A strike price, a premium, and an expiration date. By selling a put option, you are giving the buyer of that option the right to sell you the underlying stock at the strike price on or before the expiration date. The buyer pays you the premium in exchange for this right. You keep this premium no matter what happens, but are required to buy the stock if the option is exercised.
Selling a cash-covered put option can end in one of two ways. If the stock never dips below the strike price before the expiration date, the option will expire worthless - you will not be required to buy any shares, and you're free to write another put. If, however, the stock does go below the strike price and the option is exercised, you are required to buy the stock at the strike price, which will be higher than the current market value.
Let's take a look at the different put options available to sell with a $15 strike price.
| | | | |
| --- | --- | --- | --- |
| Expiration Date (Days until expiration) | Strike Price | Premium (Last Trade) | Annualized Return |
| Sep 2012 (26) | $15 | $0.27 | 25.27% |
| Oct 2012 (54) | $15 | $0.60 | 27.04% |
| Dec 2012 (117) | $15 | $1.25 | 26.00% |
| Jan 2013 (145) | $15 | $1.40 | 23.49% |
| Jan 2014 (509) | $15 | $2.96 | 14.15% |
The October 2012 expiration date provides the largest annualized return, receiving a $0.60 premium on a $15 investment, resulting in an annualized return of 27.04% (4% in 54 days). So if you sell an October 2012 $15 put option, you immediately receive a premium of $60 (all options are in blocks of 100 shares) and you have $1,500 tied up for 54 days. If the option expires worthless, you can then write another put and collect another premium. If the option is exercised, you will buy 100 shares of Best Buy for $15 per share.
The downside to this strategy is that if Best Buy tanks, say to $12 per share, you are forced to pay $15 per share and suffer an immediate "on paper" loss. Of course, had you simply bought shares at the current price or even waited for the price to reach $15 and then bought shares, you would have suffered the same fate. But by selling puts you are able to offset this "on paper" loss with premiums.
Conclusion
There are two reasons to want to be long Best Buy: The possibility of a takeover and the extremely low valuation, assuming the company can follow through on its cash flow projections. The October $15 put offers a 27% annualized return to buy the stock at a 10-year low, a full 13.3% lower than the current stock price. This strategy offers a great way to open a long position in Best Buy at an extremely depressed price, while collecting an ample premium.
Disclosure: I am long BBY. I wrote this article myself, and it expresses my own opinions. I am not receiving compensation for it (other than from Seeking Alpha). I have no business relationship with any company whose stock is mentioned in this article.