As the divergence between natural gas prices and oil prices increases, the U.S. energy landscape is heading towards a large-scale change, as companies find different ways to cut their costs in order to survive the current recessionary times. In lieu of this, there are certain industries in which fuel costs form the major chunk of the overall cost. These industries hold a genuine chance to bring their costs down by shifting to natural gas as a source of fuel. In last few years, natural gas prices have declined versus oil and coal. Utilities are switching from coal to natural gas. Other notable industries in this regard include Chemicals, Basic Materials and Transport service providers.
In order to switch to a cheaper source of fuel, these industries rely on manufacturers who can provide the necessary technology solutions. Therefore, the providers of technology, in this case the natural gas trucks and engine manufacturers, will also be beneficiaries of the Shale gas boom.
Energy infrastructure stocks will also have an important role to play as they provide the necessary engineering and construction services to "frack" natural gas resources. The technology providers for the engineering machinery will also benefit as a result.
One of the key reasons why consumers have hesitated to shift to natural gas is the lack of fueling infrastructure in the U.S. In this regard, Clean Energy Fuels Corp. (NASDAQ:CLNE), is actively participating in the construction of gas stations all over the U.S. and will benefit from the rise in usage of natural gas.
However, on the other hand, companies heavily dependent on oil and coal sales for their revenues will experience a hit. Utilities and Railroads are notable examples in this regard. Also, vulnerable to the gas boom, will be producers of natural gas who rely on price of natural gas for revenues.
In light of this scenario, we have made a portfolio of 20 companies that are going to deliver the best results in case the economy moves towards the cheaper source of fuel.
Transport Services:
Transport and packaging service providers like FedEx (NYSE:FDX) and United Parcel Service (NYSE:UPS) consume large quantities of fuel when delivering cargo. Same goes for companies like Waste Management Inc. (NYSE:WM), which provides waste management services, and is expected to save $27,000 per truck for a total of $37.8 million for 1,400 trucks. Therefore, cost savings will be immense, as they plan to change their fleets. Following shows the cost savings for FDX: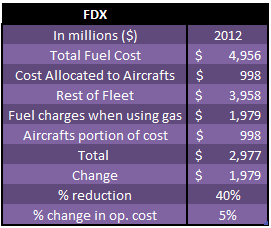 Source: Qineqt's estimates
Chemical Industry
Companies like The Dow Chemical Company (NYSE:DOW) will benefit from abundant and cheap supply of natural gas, which is used to produce ethane, as stated in one of our earlier articles on DOW. Ethane is the main component of ethylene, one of the main products of chemical companies. In this regard, paint manufacturers like Sherwin Williams (NYSE:SHW) will also benefit as ethane is a key raw material of paints. The benefit is not only limited to production of ethane but also cheap provision of ammonia and nitrogen, which serve as the main raw materials in the production of fertilizers. CF industries (NYSE:CF) and Agrium Inc. (NYSE:AGU) are expected to be the key beneficiaries in this regard.
Trucks and Auto Parts
On average, truck users can save up to $40,000 per annum by paying an additional amount of $70,000 upfront. Truck manufacturers have sensed the amount of potential in natural gas trucks. Paccar Inc. (NASDAQ:PCAR), the producer of light, medium and heavy weight trucks, is already producing gas driven trucks to benefit from the opportunity. Ryder System (NYSE:R) leases trucks and provides fleet management solutions. Their switch from diesel to natural gas trucks will help them to attract more customers to lease the gas driven trucks. Westport Innovations (NASDAQ:WPRT) is a pure play on the Shale gas boom. The natural gas engine manufacturer has already shown its potential by beating the earnings this quarter by 63%, as the stock climbed 13%. Another key player is the giant Columbus based- engine manufacturer Cummins (NYSE:CMI) which has been falling recently due to having soft demand from emerging markets.
On the other hand, some companies use natural gas in their processes to produce auto parts. Cooper Tire & Rubber (NYSE:CTB), the manufacturer of replacement of tires, is one such example that uses natural gas for molding synthetic rubber. Cheap gas will help bring the company's costs down.
Energy Infrastructure
According to Goldman Sachs, this industry is likely to pull $57-65 billion in the next 5-7 years. The five areas of development are:
Gas processing
Fractionation
Petrochemical
LNG export
Gas power
In this regard, Chicago Bridge & Iron (NYSE:CBI) and KBR Inc. (NYSE:KBR) are expected to be the main beneficiaries.
Giants such as Schlumberger (NYSE:SLB) and Halliburton (NYSE:HAL) will also benefit as they will be providing the oilfield services that are directly correlated to the level of exploration activity.
Material and Metal Castings
Construction firms use plenty of gas in producing asphalt and cement. This process will become cheaper as gas prices come down. Main beneficiaries include Vulcan Materials (NYSE:VMC), which is one of the largest U.S. producers of construction aggregates like crushed stones, sand and gravel.
Some companies use natural gas to produce metal castings. Precision Castparts Corp. (NYSE:PCP) is one such example that uses gas to make metal castings for industrial turbines.
LOSERS
As already stated, the Shale gas boom is going to adversely hit some businesses as well, especially the ones that heavily rely on demand for coal for their sales.
Rail Roads
A large portion of rail road demand is derived from the thermal coal consumption. As gas becomes cheap, lesser thermal coal will be consumed. In this case, Norfolk Southern (NYSE:NSC) is likely to suffer the most.
The coal suppliers of the utility sector are also least diversified. Cloud Peak Energy (NYSE:CLD) is one such example.
Disclosure: I have no positions in any stocks mentioned, and no plans to initiate any positions within the next 72 hours.
Business relationship disclosure: The article has been written by Qineqt's Energy Analyst. Qineqt is not receiving compensation for it (other than from Seeking Alpha). Qineqt has no business relationship with any company whose stock is mentioned in this article.