On March 23, 2012, I wrote a piece entitled Genco Shipping: Overvalued Relative To Baltic Dry Index. In this piece, I argued that Genco Shipping & Trading Limited (NYSE:GNK) was a sell based on valuation relative to the Baltic Dry Index. In the time since that piece was published, as shown by the chart below, GNK shares are down more than 52%.
Click to enlarge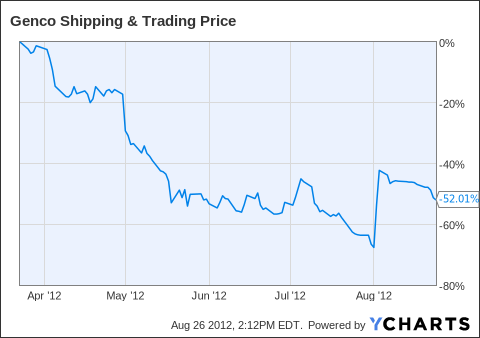 Improved Relative Value
In my previous piece, I included a chart that showed, year to date, that GNK shares were down 9.52%, while the Baltic Dry Index was down by 44.83%. In total, the divergence was just more than 35.31%. Now, as shown by the chart below, the divergence has shrunk to just less than 1%. This represents a major improvement in relative valuation from before.
In addition to the improvement in short-term relative value, the long-term relationship between GNK and the Baltic Dry Index has also improved. At the time of my previous piece, the long-term spread between DRYS and the Baltic Dry Index was 18.51%. Now, as shown by the chart below, the spread has narrowed to less than 1%.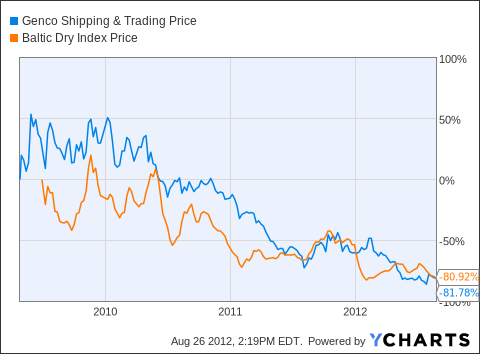 Debt
A major concern for GNK shareholders is the large debt load. Currently, the company has $1.69 billion in debt. This compares to a market cap equity value of just under $133 million. GNK, like the rest of the shipping companies, DryShips Inc. (NASDAQ:DRYS), Excel Maritime Carriers Ltd. (NYSE:EXM), Eagle Bulk Shipping Inc. (NASDAQ:EGLE), and others has struggled to show profits in recent years.
Earnings Report
On August 1, 2012, GNK reported second quarter earnings. The company reported a loss of $27.7 million or $0.65 per share. While the results were weak, the company also announced, more importantly, that it has entered into an agreement to amend its three credit facilities. Under the new agreement, GNK will not be required to make amortization payments until after the quarter ending December 31, 2013.
Also, existing waivers for both the maximum leverage ratio covenant and the interest coverage ratio covenant have been extended for each facility through and including the quarter ending December 31, 2013. GNK also held an upbeat conference call which helped drive shares higher. As shown by the chart below, shares have surged nearly 50% since the earnings report.
My Take
I am upgrading GNK to neutral from sell for a few reasons. Most importantly, the spread between GNK and the Baltic Dry Index has narrowed significantly. However, just because the spread has narrowed does not mean GNK is poised to rally. Instead, the spread now indicates than GNK is fairly valued relative to the Baltic Dry Index. Additionally, the amendment to the credit facility is a major positive for the company, as it makes a bankruptcy filing, in the short term, very unlikely. That being said, the company continues to face a difficult operating environment that does not show signs of improving just yet.
Disclosure: I have no positions in any stocks mentioned, and no plans to initiate any positions within the next 72 hours. I wrote this article myself, and it expresses my own opinions. I am not receiving compensation for it (other than from Seeking Alpha). I have no business relationship with any company whose stock is mentioned in this article.