The Defensive Approach
With literally dozens of choices on the Dividend ETF menu today, the following two recent choices may look tasty for those seeking something slightly different for some domestic dividend ETF exposure.
The first is the iShares High Dividend Equity Fund (NYSEARCA:HDV). This fund, started in March 2011, has garnered plenty of assets with over $1 billion in AUM. The fund tracks the Morningstar Dividend Yield Focus Index. This Index screens for dividend-paying stocks that exhibit financial health and quality from some proprietary Morningstar metrics. These metrics include the "Morningstar Economic Moat" and the "Morningstar Distance to Default". This results in holdings of about 75 stocks with a definite bend towards steady megacaps and in defensive sectors such as healthcare, utilities and consumer staples. These holdings, based on the Morningstar's Dividend Yield Focus Index for stock selections, will have characteristics exhibiting sustainability of profits (the Moat) and financial safety (Distance to Default). The fund has an expense ratio of 0.40%.
Let's examine how this Index for HDV (MDYFT) performed for the last five years versus the top 3 Indexes for the most popular dividend ETFs, namely: iShares Dow Jones Select Dividend Index Fund (NYSEARCA:DVY), SPDR S&P Dividend ETF (NYSEARCA:SDY), and the popular dividend growth darling Vanguard Dividend Appreciation ETF (NYSEARCA:VIG). That five-year stretch we all know includes the mother of all drawdown periods of late 2008 to early 2009. Yikes!
Source: (Bloomberg) Ticker Symbols and charts as of 8/22/12.
MDYFT = HDV Index ticker
DJDVY = DVY Index ticker
SPHYDATR = SDY Index ticker
MERGDVGT = VIG Index ticker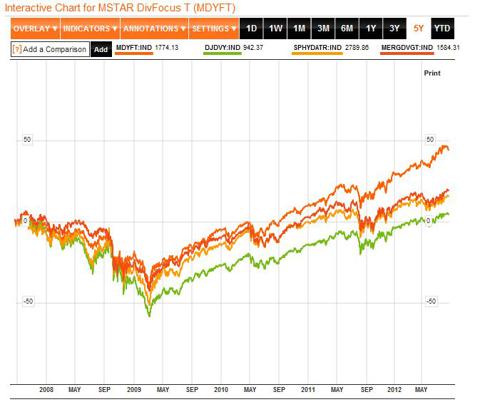 Click to enlarge
A New Trick for the Old Dog Approach
The other dividend ETF that looks intriguing is the ALPS Sector Dividend Dogs ETF (NYSEARCA:SDOG). This new fund began trading in mid-July and has piqued much interest in dividend investing circles. It takes the time worn Dogs of the Dow approach and expands it to the ten S&P 500 sectors with equal weights of each sector and holding. This approach holds the five highest yielding S&P 500 stocks from each of the ten sectors for a total of 50 stocks in the fund. The Dogs of the Dow was developed by Michael B. O'Higgins who popularized the high dividend strategy of annually holding the 10 highest dividend yielding Dow stocks. ALPS uses the S-Network Sector Dividend Dogs for its underlying Index. This Index is rebalanced quarterly, and the fund also carries an expense fee of 0.40%.
Let's again examine this particular fund's total returns Index from the past five years versus the Indexes for DVY, SDY and VIG.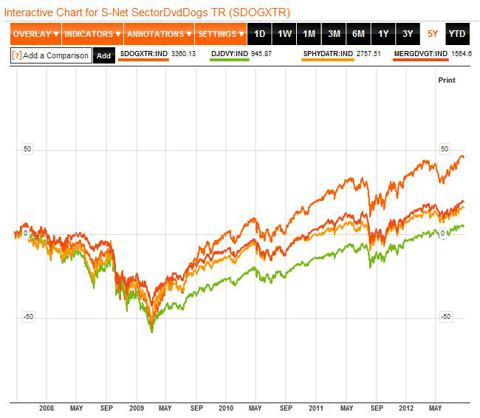 Click to enlarge
Finally, let's peek to see how these two dividend ETF funds' Indexes did head to head versus the S&P 500 (NYSEARCA:SPY).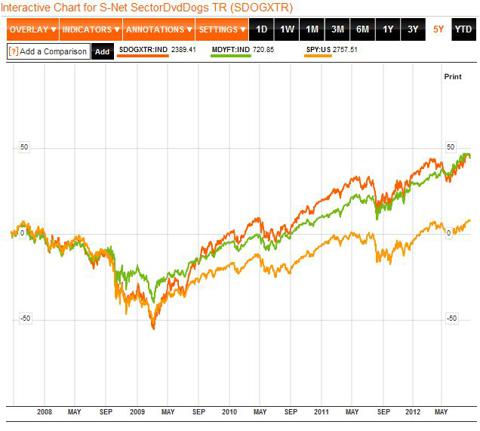 Click to enlarge
Context and Conclusions
Looking at these charts, it becomes quite obvious that the defensive holdings of the underlying index for HDV would have been, comparatively speaking, a solid, "absolute" choice. The index for the Sector Dividend Dogs also performed nicely (albeit with a scary drawdown). It rebounded during that early recovery stage with those big, fat yielding holdings brought to multi-year lows. The other funds likely suffered from too much exposure to the financial sector. These funds Indexes outperformed because HDV overweights traditional "safe" less volatile sectors and the other SDOG fund utilizes a sector equal weight contrarian type strategy.
Note that examining historical data can be misleading for the future, but unfortunately it's what humans do. It's human nature. Just as job applicants are judged by past accomplishments and experience on resumes; sports stars judged by their past statistics - so too will any investment strategy.
Going forward with a dividend fund, it becomes important to realize that some of these funds intricate screening methods, weightings and strategies may go in and out of favor. It's important and helpful to know where we are in a business cycle, the shape of the yield curve (growth or value), Fed rate policy, individual risk, time horizons, etc. Looking at an ETF fund's prospectus, fact sheet and holdings selection process can help ferret out your fund selections to see if it matches your economic outlook and circumstances.
Disclosure: I have no positions in any stocks mentioned, and no plans to initiate any positions within the next 72 hours. I wrote this article myself, and it expresses my own opinions. I am not receiving compensation for it (other than from Seeking Alpha). I have no business relationship with any company whose stock is mentioned in this article.