Despite a strong bounce on Friday, it wasn't enough to pull the market back into the black for the week; it was the first losing week for stocks in the last seven. But it may not be the last one for a while.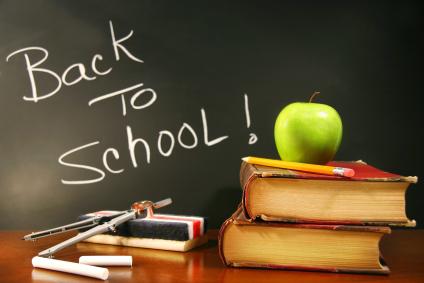 As always, we'll dissect the upside and downside in a moment, right after we run down last week's major economic data. Here's a little teaser though… all the indices are trapped between a rock and a hard place, and it's going to take a lot to whip them out of their boundaries whichever direction they end up going.
Economic Calendar
There weren't a whole lot of economic numbers unveiled last week, but the ones we got painted a big piece of the real estate picture. Unfortunately, it also painted a confusing one.
The good news is, existing home sales cranked up to an annual rate of 4.47 million, while new home sales reached an annual rate of 372K, up from 4.37 million and 359K, respectively. That was a two-year high for new homes sales, and incredibly enough, we're actually seeing the homebuilders' earnings ramp up for that two-year timeframe.
The bad news is, the MBA Mortgage Index fell by 7.4% in the previous week, and the FHFA Housing Price Index was only up 0.7% for June. That's "up", but it remains a slow, grinding improvement trend.
One last noteworthy detail for last week's economic numbers…though durable orders were up a whopping 4.2% in July, when you take automobiles and airplanes out of the equation, durable orders actually fell 0.4%. Aircraft sales rose by 53.9%, and auto sales were higher by 12.8%. It's not likely to be a sustainable trend, however. Remember, the aircraft industry's key demo-shows take place in the summer, and the major orders roll in afterwards. Once the flight demonstration shows slow down for the year, so will the big orders.
Economic Calendar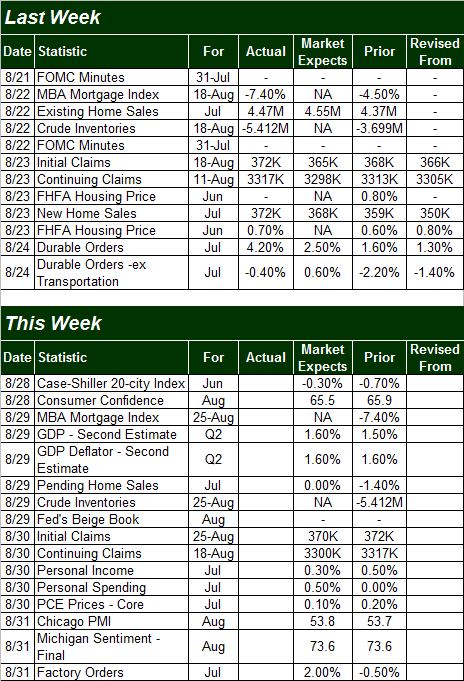 As for the coming week, it's a pretty big one.
On the sentiment front, we'll hear last month's Consumer Confidence figure as well as the final Michigan Sentiment Index score for July. The Conference Board's Consumer Confidence figure is expected to slide a tad lower, from 65.9 to 65.5. But, that prior reading of 65.9 was also a big surge that snapped a four-month losing streak, and sentiment is still within reach of a multi-year high of around 71.0. The Michigan Sentiment Index is expected to roll in (the final reading) at 73.6 for August, up from July's 72.3. That's also within reach of the multi-year high around 79.0. Broadly speaking, though each sentiment indication has fallen for the past few months, both are still in a bigger uptrend.
On Thursday we'll hear about July's personal income and personal spending. Each should be up, by 0.3% and 0.5%, respectively.
Stock Market
For the same reason we did it last week, this week we're going to start with a bigger-picture weekly chart in order to offer some needed perspective.
First and foremost, the longer-term trend is still bullish. Even if the market does indeed end up going through a near-term correction - which we'll talk about below - we've yet to hit a major top. Specifically, the upper 52-week Bollinger band (currently at 1469.3) on the S&P 500 Index (SPX) (NYSEARCA:SPY) has yet to be tested. Since 2009, and really for the last several years, that one-year upper band line has marked the point where the bigger trend usually starts to stall… and even than it doesn't always kick-start a major pullback.
S&P 500 & VIX - Weekly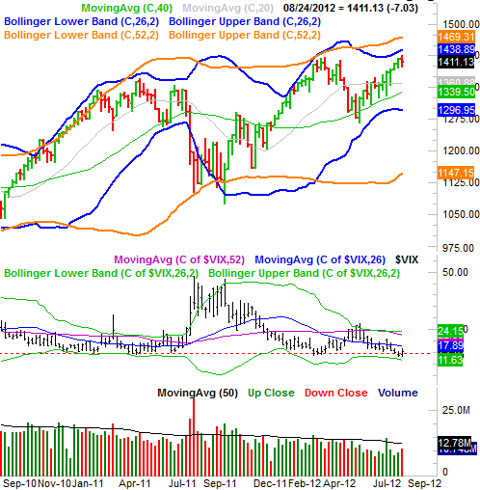 That said, whether or not the longer-term trend is still in place won't change some of the red flags we're seeing on the weekly as well as the daily chart. For instance, the CBOE Volatility Index (VIX) (NYSEARCA:VXX) remains uncomfortably low - at levels frequently seen at near-term tops. And once again, volume remains at eerily-low levels, and was even weaker on the way up over the past seven weeks.
On the other hand, the S&P 500 did find a floor at the 20-day moving average line late last week. In fact, it was the brush with the 20-day average line that sparked Friday's bounce. That's when the technical outlook for the S&P 500 starts to get really, really messy.
We explained last week that the hitting a new-52-week-high wouldn't necessarily be a bullish catalyst. Oh, it's supposed to be perceived as a bullish sign. The fact is, however, sometimes reaching a new 52-week high is all the reason the would-be profit-takers need to get off the fence and start selling. Care to guess what happened on Tuesday? The S&P 500 happened to reach a new 52-week high of 1426.68, topping the March peak of 1422.38. The tumble to a close of 1413.17 that very same day started that week's pullback.
Translation: Nobody was excited about cracking into new-high territory. Take a look.
S&P 500 & VIX - Daily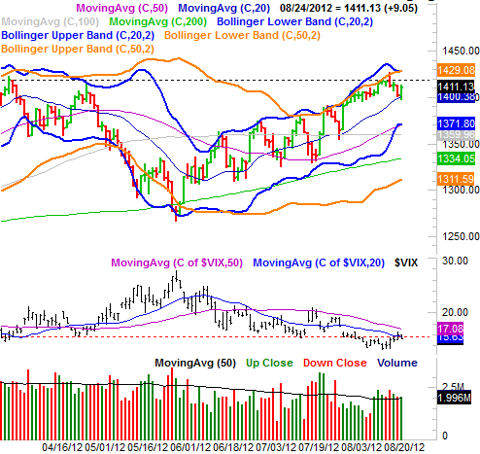 So what's next? That's the problem - what's next? The 20-day line is clearly a floor, the upper 20-day and 50-day Bollinger bands at 1429.1 are still a ceiling, and it remains unclear whether or not the new-high level at 1422 is going to become a floor or a ceiling for the foreseeable future.
Our take is the same as before - a little bearish in the short run, but still bullish in the long run. We still expect the S&P 500 to ultimately test the floor at 1371.8, where the 50-day average line and the lower 20-day Bollinger band have converged. The question is, when will it happen? That opens up a whole other can of worms… the calendar.
Next week is apt to be quite dead, with late-summer, pre-Labor-day-stuff, back-to-school, last-minute-vacations, and other distractions in the lineup. That will lead us into the first full week of September, which kick-starts what's usually a tough first half for the month for stocks (NYSEARCA:DIA) (NASDAQ:QQQ) (NYSEARCA:IWM). Granted, the weakness in early and mid September leads into the best period of the year (Q4), but it's still not going to be a fun ride. Any chance things could be different this time around? Sure, there's always a chance. With an already-overbought market heading into a time of year when traders are already making bearish assumptions though, it would be something of a miracle if stocks didn't take at least a small hit soon.
Again, that dip doesn't have to be fatal; a retreat to the 1371 area for the S&P 500 may do the trick. The dip just has to be big enough to humble traders a bit. More than that, the dip is actually a huge buying opportunity for a bullish finish to the year.
Disclosure: I have no positions in any stocks mentioned, and no plans to initiate any positions within the next 72 hours. I wrote this article myself, and it expresses my own opinions. I am not receiving compensation for it (other than from Seeking Alpha). I have no business relationship with any company whose stock is mentioned in this article.