Shares of Eldorado Gold Corp. (NYSE:EGO) were in a tailspin Tuesday and Wednesday, dropping more than 10% on a report out of Turkey that a court has suspended a government plan to expropriate land for Eldorado to use in development of its Efemçukuru mine.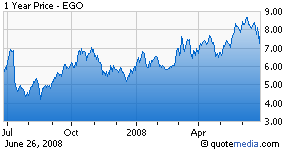 RBC Capital Markets analyst Michael Curran noted that any concerns about this dispute are largely overdone. Management told him the disputed area amounts to just 14 of the 3,000 hectares acquired by the company, and that it would not affect construction activities over the next year. He figures the situation can be rectified before the land is needed for development.
Anita Soni, an analyst at Credit Suisse, added that while the price of land may go up for Eldorado without the expropriation, the land negotiations will likely be finished by the time Efemçukuru starts up in late 2009. "Alternatively, [Eldorado] may be able to reconfigure the zone of influence by moving some infrastructure," she wrote in a note.
Ms. Soni has an "outperform" rating on Eldorado and a target of $8.75 a share, while Mr. Curran rates it a "sector perform" with a target of $8.50.