The Gist
I posit the Silicon Valley standout stocks covered in this article are poised to make big moves, although most likely not in the same direction. When looking to position money one of the most important factors I consider is the near term catalysts for the stocks in question. You can make money going either long or short a stock in the market.
I was swept up by the first Silicon Valley dot com gold rush in 1998 when I was hired by a consulting firm out of San Ramon to lead business continuity and disaster recovery projects for a budding west coast client base. I had several high profile clients and remember the long bumper to bumper drives into San Jose. The traffic is probably not as bad now due to telecommuting, yet I speculate many of the nouveau 'social media' Silicon Valley offerings are as bad as the dot com stocks that have gone bust already. Most of the stocks sold during the dot com, or dot con as I prefer, are no longer going concerns. Some really big names have gone by the wayside, while a select few are thriving.
I have chosen four old school Silicon Valley stalwarts to review along with the number one newbie Facebook Inc. (NASDAQ:FB). I have chosen one of my all-time favorite movies 'The Good, The Bad and The Ugly' written and directed by a Silicon Valley movie icon and San Francisco's own Clint Eastwood as the format for the review.
In the following section, we will perform a review of the fundamental and technical state of each company to determine if this is the right time to start a position. The following table depicts summary statistics and Monday's performance for the stocks. The following charts are provided by Finviz.com.
The Good
Apple Inc. (NASDAQ:AAPL)
Apple was trading for $595 the day of my initial recommendation in July. The company is now trading up 11% at $663.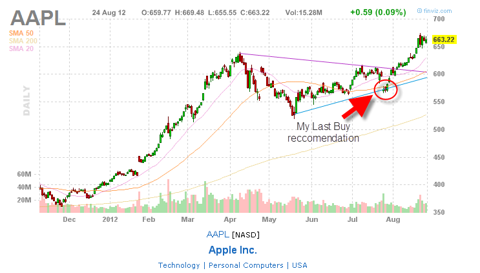 Click to enlarge
In recent news, nine jurors provided a far-reaching triumph to Apple in a high-stakes battle against Samsung Electronics Co., (OTC:SSNLF), awarding the Silicon Valley company $1.05 billion in damages and providing an impetus for further legal attacks on its competitors.
Couple this delicious morsel with the fact Apple is heading into several new product launches and you can see why everyone and their brother is jumping on the Apple cart.
Apple has a fortress balance sheet and rock solid fundamentals. Apple is still vastly undervalued based on fundamentals. Apple is trading for 15 times free cash flow. Apple's PEG ratio is .74. Apple's quarter over quarter EPS and sales growth rates are 20% and 23% respectively. Apple's net profit margin is 26.97%. Apple's ROE is 44.34% and the company has no debt.
Technically, the company is in a well-defined uptrend since the start of the year. The stock has broken out to the upside recently in anticipation of expansive growth on the horizon. The stock is a buy here.
eBay Inc. (EBAY)
eBay was trading for $40 the day of my initial recommendation in July. The company is now trading up 18% at $47.10.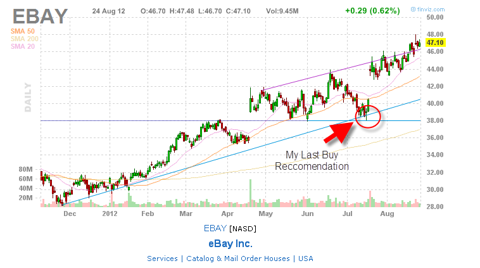 Click to enlarge
PayPal's mobile payments service is the key to eBay's growth. eBay's mobile payment business has exploded from a few hundred million dollar business in 2009 to a $7 billion business in 2012. Only a small percentage of smart phone users currently use the service today, I predict that will soon change and eBay's mobile payments exponential growth rate supports my thesis. eBay's PayPal exemplifies the exponential growth potential for mobile payments.
eBay recently reported beating earnings estimates by a penny and revenues by $40mm. PayPal revenue increased 26% year over year and active registered accounts grew 13% to 113.2M.
The company has many fundamental positives. eBay has a net profit margin of 28.66%. eBay has a forward PE of 17.25, a PEG ratio of 1.26 and a return on equity of 21.25%. Quarter over quarter sales and EPS growth are 23% and 146% respectively.
eBay is in a well-defined uptrend. The stock is currently breaking out to the upside of the recent trend channel. l like the stock here.
The Bad
FaceBook Inc.
Facebook was trading for $28 the day of my initial recommendation to sell in July. The company is now trading down 44% at $19.45.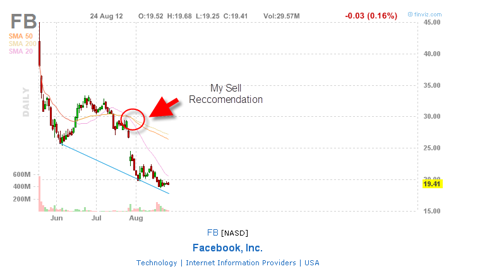 Click to enlarge
Facebook's performance as a public company has been ironically anti-social. The company has lost over 40 billion dollars in value since coming public. The first strike against the company was the infamous IPO where a new term was introduced into the financial lexicon, to get 'Zuckered'. The term was coined by investors in the Facebook IPO. The second strike was the dismal first earnings report where revenues were bleak and growth was waning. The third strike, yet to be thrown, will cement Facebook's fate. I am referring to the impending tsunami of shares released from lock up. The bottom line is Facebook is a great company, nevertheless a terrible investment.
My main problem with Facebook is a majority of 1.7 billion shares of Facebook's stock is due to hit the market as staggered lock ups expire prior to the end of 2012. Moreover, Zuckerburg said himself they were not going to focus on short term quarter over quarter objectives but rather their long goals. This sounds good for the company but bad for stockholders. I wouldn't touch Facebook with a ten foot pole.
Hewlett-Packard Company (HPQ)
You can't win them all. Hewlett was trading for $19.36 the day of my recommendation to buy in July. The company is now trading down 10% at $17.58.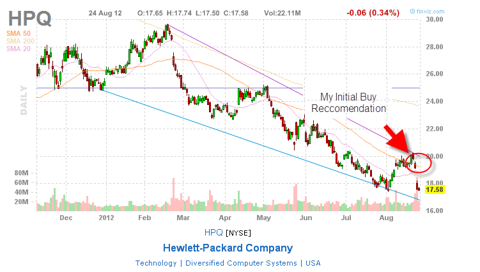 Click to enlarge
I was suckered in by the valuation and some tidbits of good news leaking out prior to the earnings report. The PC market appears to be dying on the vine. This is bad news for HPQ. They are in the midst of a reinvention and turnaround program that will surely take lots of time and money to pull off. Couple this with Meg Whitman's propensity to under promise and under deliver and you have a recipe for further downside. Avoid this stock like the plague.
HPQ fundamentals are mixed. HPQ is trading for 10.01 times free cash flow. The company has a forward PE of 4.47. HPQ pays a dividend with a nearly 3% yield. On the other hand, EPS for the next five years is expected to only rise by 4.52%. Sales and EPS are down quarter over quarter and the company's net profit margin is a measly 4%.
Technically, HPQ has gapped down 10% since earnings were released and is currently testing its 52 week lows. Avoid this stock like the plague.
The Ugly
Salesforce.com (CRM)
Salesforce was trading for $143 the day of my recommendation to buy in July. The company is now trading up 4% at $17.58.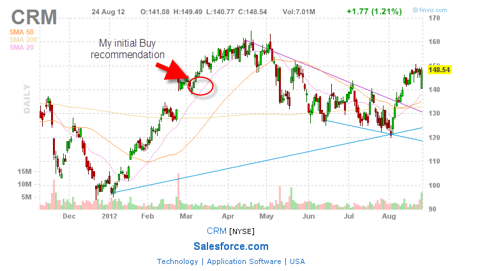 Click to enlarge
Salesforce fiscal second quarter EPS of $0.42 beat by $0.03. Revenue of $731.6M, up 34% year over year, beat by $3.3M. Nevertheless, pointed questions were asked about the deferred revenue growth slowdown in the recent quarter. Salesforce.com execs blamed forex, pricing volatility and a shift to annual subscriptions on the recent earnings call. Furthermore, Salesforce said it was seeing a modest impact from macro problems in Europe, its slowest-growing region.
I love Salesforce.com's CEO Marc Benioff''s attitude. Look up the word charisma in the dictionary and you will find a picture of Benioff. Yet I am concerned the worm may have turned for this high flyer. There is an old saying on the street I feel is apropos for the current situation. High momentum stocks take the stairs up and the elevator down. I can't get behind the stock with the recent slowdown in growth combined with the sky high valuation.
The Bottom Line
History seems to be repeating itself. We are 12 years removed from the dot con debacle. I posit many of today's investors in Facebook and Salesforce were most likely not even in the market at that time. Facebook doesn't have a product like Apple or eBay which seems to be the key to longevity for these companies. I think Salesforce will survive, but at a much lower valuation while FaceBook is doomed to go the way of MySpace.com. Regarding HPQ, all I am sure of is it will be down or dead money for the foreseeable future. Go long Apple and eBay, short FaceBook and Salesforce and avoid HPQ altogether.
This is not an endorsement to buy or sell securities. Investing in securities carries with it very high risks. The information contained within this article for informational purposes only and is subject to change at any time. Do your own due diligence and consult with a licensed professional before making any investment decisions.
Disclosure: I have no positions in any stocks mentioned, but may initiate a long position in AAPL, EBAY over the next 72 hours. I wrote this article myself, and it expresses my own opinions. I am not receiving compensation for it (other than from Seeking Alpha). I have no business relationship with any company whose stock is mentioned in this article.