by Craig Mellow, Senior Editor
Mexico is in vogue among emerging markets financial punters and commentators. The great Bill Gross of PIMCO recommended buying Mexican sovereign debt earlier this summer. Jim O'Neill of Goldman Sachs revealed how his new MIST countries – Mexico, Indonesia, South Korea, Turkey – are stomping the tired old BRICs in market returns. The Financial Times gushed over new production records for Mexico's auto industry.
But our chart of Mexican vs. Brazilian government bonds shows this ascendancy of Mexico is old news to informed emerging markets investors. Mainstream media may stereotype Mexico as a semi-failed state wracked by drug violence and massive emigration. Fixed income professionals have a ton of confidence in the place. Yields on 10-year peso-denominated debt have tightened more or less steadily over the past two years from over 7.5% to less than 5.5% — an epic gain in bond-market terms.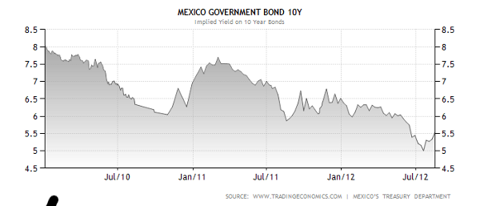 Click to enlarge
Compare that to Brazil, whose equivalent paper has bounced around with more volatility, and now yields about the same as summer 2010, 12.5%. The accident of its huge population led O'Neill to include Brazil as a BRIC nation of the emerging markets future ten years ago. These days investors are remembering the old adage that Brazil has been the country of the future for the past 100 years.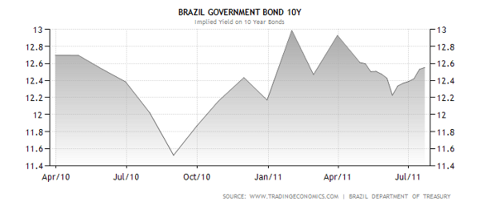 Click to enlarge
Much-maligned Mexico, with its more diversified, skills-oriented economy and the world's biggest market at its door, is emerging as Latin America's new star. Does that mean average everyday emerging markets investors should pile into Mexican securities? Maybe, maybe not. Our graphic shows clearly that professionals have been way out ahead on this trade. Mexico's equity market (NYSEARCA:EWW) has also had a big run-up already, gaining 18% this year compared to 12% for the benchmark global emerging markets fund (NYSEARCA:EEM).
Much of the excitement about Mexico stems from the idea that newly elected president Enrique Peña Nieto will launch a raft of pro-market reforms, including loosening the grip of decrepit state monopoly Pemex on the country's strategic oil sector. But Nieto does not take office until December, and he has been conspicuously short on specifics since winning the vote a month ago.
Bill Gross has gotten it wrong before, too. He famously dumped all U.S. treasury bond holdings in PIMCO's flagship Total Return Fund in March 2011, since when T-bill yields have sunk by 30%. Heckuva market call. On the other hand, 12.5% yield from the Brazilian government does not sound so bad.
Disclosure: No positions