Shares of salesforce.com, inc. (NYSE:CRM) have posted a strong YTD return of 46.40%. Disappointing financial forecasts in the last week appear to have had almost no impact on the stock. After dropping 5% after-market on Thursday, the stock recouped all the losses on the following day. However, I believe the forecast miss may likely be another indication that CRM's valuations are becoming increasingly risky.
In this article, I will illustrate the thoughts that helped formulate my investment decision. My comparable analysis primarily includes a set of CRM's comparable peers such as Oracle Corporation (NASDAQ:ORCL), SAP AG (NYSE:SAP), and NetSuite Inc. (NYSE:N) etc., and the vale analysis is based on five peer-average trading multiples - EV/Sales, EV/EBITDA, EV/FCF, P/E, and P/S.
Click to enlarge

In terms of growth potential, CRM outperforms almost all of the peers. Analysts on average predict CRM's revenue, EBITDA, and EPS to rise by 2-year CAGRs of 29.9%, 169.4%, and 109.8% over the current and next fiscal years, substantially faster than the peer averages of 19.7%, 55.6%, and 20.3% (see table above). The fast growth, along with CRM's leading market position, are the primary valuation drivers at present.
On the profitability side, CRM has an excellent LTM gross margin at 78.1% compared to the peer average of 66.5%. However, as the company spends (i.e. acquisitions, marketing and attractive pricing) significantly in driving the exceptional revenue growth, other profitability measures suffer. Its LTM EBITDA margin is only 4.5% compared to the peer average of 17.5%. The firm is not even breaking even at the EBIT level. Net profit margin is also negative as well. As such the company did not generate a positive return on the invested equity and total capital measured by LTM ROE and ROIC (see table above).
Despite weak profitability, CRM's free cash flow generating capability remains robust. Its LTM FCF margin of 24.0% is above the peer average of 19.7%. But it assumes an above-average leverage, and both the current and quick ratios are below the peer averages, suggesting a relatively weak corporate balance (see table above).
Overall on the growth and financial fundamentals, CRM's only bright spot is on the fast growth, which is achieved by sacrificing profitability. However, as a company grows and becomes more matured, enhanced competitions in the industry will eventually weigh on the top line growth. The market will then increasingly focus on the company's profitability in valuing the stock. The same case would likely happen to CRM. Big competitors like SAP and ORCL are heating up the competition in the SaaS industry, and CRM will suffer in a way or the other.
The current situation is somewhat reflected in CRM's financial estimates. Revenues estimated have multiple upward revisions over the past 12 months, suggesting growth may continue. But the EPS estimates have been slashed significantly over the same period, implying an increased competition is likely going to undercut margins (see tables below).


CRM's current price of $148.54 implies a valuation premium of 35% over the five peer-average trading multiples (assuming each multiple is equally weighted in determining the stock value) (see below). The large valuation gap is tough to be justified by CRM's weak profitability and the current industry headwind.

Moreover, the CRM's P/S multiple remains at the same level as where it was in five years ago (see below). But the revenue growth around five years ago was much higher at 75.7%, 60.4%, and 50.6% in 2006, 2007, and 2008, respectively. There was also less participants and thus competition in the industry five years ago. As such, the P/S multiple today should have been discounted to factor in the slower growth and the less attractive industry environment.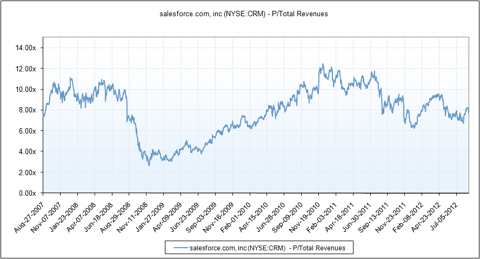 Accounting for the estimated earnings growth, CRM trades at a whopping 3.4x PEG, a much higher level than the peer average of 2.2x, indicating a possible overvaluation relative to the firm's growth potential.
Bottom line, as CRM is facing increased competitions, growth will continue to slow down and profitability will be of critical importance. Nonetheless, the current stock valuations are not reflecting that situation and still have plenty of optimistic expectations factored in. I am of the view that at $148.54 per share, the investment in CRM would offer almost no margin of safety, and thus investors should avoid this stock with a lot of speculative substance.
Comparable analysis table and relative valuation tables are created by author, other charts are sourced from Capital IQ, and all financial data is sourced from Morningstar and Capital IQ.
Disclosure: I have no positions in any stocks mentioned, and no plans to initiate any positions within the next 72 hours. I wrote this article myself, and it expresses my own opinions. I am not receiving compensation for it (other than from Seeking Alpha). I have no business relationship with any company whose stock is mentioned in this article.