We recommend Intel Corporation (NASDAQ:INTC) as a buy, based on its low valuations and high future growth prospects. The stock is relatively undervalued, and is trading at P/E and P/S of 11x and 2.4x, and it has a significant upside potential. Our 12-month price target is $40, with an upside of 50%. INTC is only up 3% YTD. We are bullish on Intel's tablet and smartphone prospects, especially given that consumer preferences have changed manifold, and the consumption of smartphones and tablets has reached new highs. In 2Q2012, the company paid $1.1 billion in dividends and bought back shares worth $1.1 billion to increase its shareholder value. The company's synergies with ASML Holding NV (NASDAQ:ASML) will help it sustain growth by introducing next-generation technology.
In order to revamp its position, Intel is injecting $3 billion in ASML, manufacturers of semiconductors and microchips. Intel's 15% stake in the company will help it introduce new technology and enjoy a better advantage in lithography systems for mapping of computer chip circuits. Intel is also spending $829 million in R&D to fasten the innovation productivity of next-generation technology.
The deal with ASML will help Intel significantly reduce its manufacturing costs. ASML is developing a groundbreaking chip manufacturing process, which will enable Intel to etch chips onto larger silicon wafers, thereby reducing its production costs by around 30%-40%. RBC analyst, Doug Freedman, predicts that the company will save up to $2 billion in manufacturing costs. The innovation in the manufacturing process will also make Intel a potential supplier for companies like Google (NASDAQ:GOOG) and Samsung. Therefore, this deal is very promising in terms of improving the company's profitability.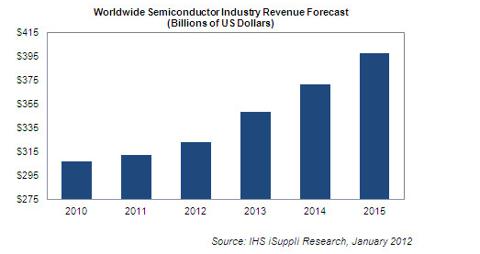 Recent research by IHS iSuppli Research revealed the strong future growth prospects of the highly dynamic Semiconductors Industry. Due to an uncertain economic situation and slow movement of semiconductor inventory to bring new production, the industry is expecting slow growth in 2012. The slow growth in 2011 and 2012 is subject to poor global economic conditions. The weak economic conditions in the United States, Japan, Europe and China are not helping the semiconductor business grow. The decreasing consumer spending across the globe is one of the basic determinants of this sluggish growth. Last year, NAND flash demand showed a dramatic increase, but now the deteriorating condition has raised concern over the demand of memory devices in mobiles and media tablets. The projected revenue decline of dynamic random access memory (DRUM) decreased from 26.8% to 16.1% over the last one year. However, in the coming years, this industry has a growth potential of 6.6% to 7.9% with good future economic prospects, as depicted by the chart above.
The changing consumer preference from desktop computers to smartphones, tablets and other wireless devices, is a revenue driver for the industry. However, 66% of INTC's revenue is coming from the PC business and sales of microprocessors and chipsets to PC manufactures. Intel has to shift its focus to smartphone components like radio frequency transceivers, mobile basebands and power integrated circuits in order to capture the increasing demand.
The rapidly emerging smartphone market is replacing demand for PCs; looking at this trend, Intel, like many other companies, is moving its focus from PCs to smartphones. In this sector, Intel has a strong competitor, ARM Holdings (NASDAQ:ARMH), which produces chips found in almost all smartphones. To come at par with ARMH, Intel is looking forward to reducing the energy consumption of its superior processors, as battery life is a very important factor in the smartphone market. Intel also wishes to get its Ivy Bridge processor used in different tablets. At the same time, it is also working on improving the energy efficiency of its chips.
On the other side, ARMH is also moving into the PC market by producing energy efficient chips for computers; however, Intel should be more concerned with the growing smartphone sector.
INTC's Revenue Breakdown: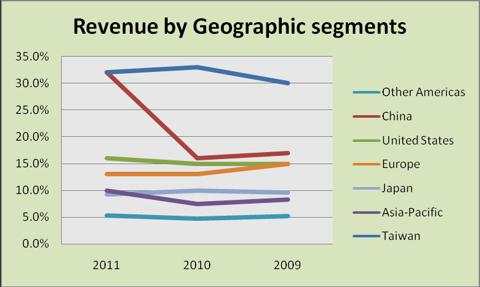 Due to the unpredictable economic environment, demand for Intel products has slowed down in various parts of the world, as reflected by the graph above. Under such negative global economic circumstances, we can see an increase in growth rates in China, Brazil and Asia-Pacific, because of the shift in outsourcing manufacturing units to these areas. Moreover, Intel can optimize on its cost efficiencies by moving its operations into these low labor-cost areas.
The company's horizontal integration will help it increase its market share for both the microprocessor and chipset markets. Its recent acquisitions of the wireless solutions of Infineon Technologies (IFNNY.PK), McAfee Inc. (MFE), the InfiniBand product line of QLogic Corporation (NASDAQ:QLGC), and the hardware development product line of Cray Inc (NASDAQ:CRAY) will sustainably increase its revenue in the coming years. The management is also able to translate its philosophy to sustain its leadership position through both organic and inorganic growth.
| | | | | | |
| --- | --- | --- | --- | --- | --- |
| Direct Competitor Comparison | | | | | |
| | | | | | |
| Market Cap: | 131.43B | 2.96B | 19.40B | 34.02B | 106.49B |
| Qtrly Rev Growth (yoy): | 4% | -10% | 10% | -4% | 28% |
| Revenue (NYSE:TTM): | 54.53B | 6.38B | 7.37B | 13.34B | 18.37B |
| Gross Margin : | 64% | 34% | 50% | 50% | 63% |
| EBITDA : | 23.77B | 95.00M | 1.14B | 4.21B | 6.72B |
| Operating Margin : | 31% | -3% | 11% | 22% | 32% |
| Net Income : | 12.39B | -629.00M | 772.00M | 1.58B | 5.15B |
Intel's sales have grown at a CAGR of 41% over the last five years. This strong growth was witnessed due to rapid technological transformation and innovation, which helped the company increase its profits by 85% in the last five years. Intel, as one of the important component suppliers to technology manufacturers, is sustaining its high operating gross and profit margins of 64% and 31%, respectively. Due to cost efficiencies in its operations, Intel is enjoying an edge on margins over its competitors, as visible in the table given above. Intel's high market capitalization of $131.43b enables the company to do concentric diversification in the more profitable segments of media tablets and smartphones.
From 4Q2011 to 1Q2012, Intel's revenue and net income decreased from $13.8 billion to $12.9 billion and $3.3 billion to $2.7 billion, respectively; in 2Q of this year, the company showed an upward trend of 5% and 3.2%, respectively. The company's 2Q revenue is consistent with its guidance estimate, made possible due to its robust distribution channel. The launch of Windows 8 is expected in a few months time, which will further increase the company's revenue. Its net and operating margins are higher than 142 companies operating in the Semiconductor Industry.
In the smartphone market, Intel is considered a new entrant, and has to compete against very strong existing competitors like ARM Holdings , Texas Instruments (NYSE:TXN) and Qualcomm Corporation (NASDAQ:QCOM). The company needs to make space in the market by producing products that outperform ARMH supplies.
The way forward for Intel is to focus on its timely innovation, known as the tick-tock strategy, where it rapidly launches new micro-architecture or a new technology node. This will give Intel an advantage over ARMH, whose release cycle is quite long and is dependent on other companies, such as Taiwan Semiconductor (NYSE:TSM). Intel should fully utilize its advantage in semiconductor manufacturing, along with its leading micro-architecture, to secure a significant market share.
Valuation
| | | | | | |
| --- | --- | --- | --- | --- | --- |
| Direct Competitor Comparison | | | | | |
| | | | | | |
| EPS : | $2.36 | $-0.88 | $1.37 | $1.37 | $3.39 |
| P/E : | 11.15x | N/A | 25.4x | 21.9x | 18.4x |
| PEG (5 yr expected): | 0.93 | 1.41 | 0.8 | 2.19 | 1.18 |
| Forward P/E | 10.3x | 4.7x | 11x | 13.9x | 15.29x |
| P/S : | 2.4x | 0.46x | 2.6x | 2.5x | 5.8x |
We estimate our 12-month target price as $40 (average industry p/e times 2013 earnings), with an upside of 60%. The high volume growth of Intel's 22-nanometer chip technology, 3D Tri-Gate Transistors and smartphones, will boost the company's sales going forward. INTC showed an upside of 30% over the last 52-week price, and has a significant upside potential.
INTC, as per its P/E of 11x, is trading at a significant discount. Its direct competitors, BRCM, TXN and QCOM, are trading at high multiples of 25.4x, 22x and 18.4x, which shows INTC's discounted value. The company's expected five-year PEG ratio when compared to Advanced Micro Devices (NYSE:AMD), Texas Instruments and QUALCOMM Corporation , depicts investors can buy growth much cheaper. The company's EPS growth rate of 27% is greater than 130 out of 142 companies in the industry. INTC's P/S of 2.43x show that it is trading at a significant discount as compared to Broadcom (OTC:BRMC), Texas Instruments and QCOM.
INTC offers a dividend yield of 3.4% and a ROE in north of 25%. Its free cash flow yield of more than 5% and a very low debt/equity ratio of 15% makes it a safe dividend stock to hold. We think there is a lot of potential for dividend growth.
Therefore, we suggest a long position in Intel Corporation based upon its discounted value, synergies with ASML Holding NV, and growth potential in the smartphone and tablet markets.
Disclosure: I have no positions in any stocks mentioned, and no plans to initiate any positions within the next 72 hours.
Business relationship disclosure: The article has been written by Qineqt's Technology Analyst. Qineqt is not receiving compensation for it (other than from Seeking Alpha). Qineqt has no business relationship with any company whose stock is mentioned in this article.