Shorting stock can be a lucrative investment method, though highly risky. For long-term investors, stocks that are heavily shorted may provide a great investment opportunity. It's important to check the fundamentals and make sure the company is in good financial health before going against the crowd, however. The stock I am interested in is Skullcandy (NASDAQ:SKUL) with a short interest of over 80% as of August 24th.
To put this in perspective of the market environment, the next closest heavily shorted stock is MagicJack (NASDAQ:CALL) at 55%. It's not clear why SKUL is so heavily short sold but it seems like it's been that way since its IPO in 2011. It could be that IPO investors weren't sold on the brand, which isn't surprising since it is still very young. Either way, the shorts never moved to cover their positions, which leaves the stock on the brink of a major reversal.

Investors stay away from young brands in established industries because they find it difficult to believe that a new company can compete with companies that have been around for decades with a sound business model. Let's take Monster (NASDAQ:MNST), for example. Investors had little faith in a beverage company that would be competing with the likes of Coca Cola (NYSE:KO), Pepsi (NYSE:PEP), and Red Bull. The high short interest turned out to be a boon for long-term investors who had a chance to get in cheap. Once shorts realized that the stock was only headed up, they need to cover their positions with heavy buying, pushing prices up further.
The same thing looks like it could happen with Skullcandy. There's high short interest because of the novelty of the brand and it is trading well below its rightful price. While it's a relatively new player in an already established space, it has done a great job of marketing its products. Its products range from cheaper headphones that you can find at your local Wal-Mart (NYSE:WMT) to high end headphones whose only real competitors are Monster's Beats by Dre line. While there are higher end headphones out there for audiophiles that are more expensive than both Beats and Skullcandy (think Segio, Klipsch, and Shure), they're not marketed towards the general population. Skullcandy, on the other hand, is also teaming up with Zumiez (NASDAQ:ZUMZ) to expose its brand even more with a fast growing retail chain.
Before investing, I always look at Graham valuation for companies with predictable growth and Reverse Discounted Cash Flow valuation for companies such as Skullcandy, whose growth is difficult to predict accurately. Reverse Cash Flow determines what kind of growth the market expects from a company over a given period of time to justify its current share price. For Skullcandy, the expected growth over 10 years is 27%.
For a young company which still has a massive market to infiltrate, I think this is easily doable. Management is talented and the company is efficient. They have managed to beat analyst earnings expectations for the past five quarters. Not only is management talented, but they clearly have faith in their own future success. The vice president, Ron Ross bought 18,000 shares valued at $13.82 last quarter. The director of the company, Rick Alden, also purchased 17,400 shares valued at $14.40 last quarter. There are many reasons for an insider to sell stock. They could be selling to buy a home, for example. There's only one reason for them to buy stock; they think the value will go up.
The fundamentals tell much of the same story. Revenue has grown 45% in the past year and 92% in the past five years. Efficiency has also increased; operating income is up 135% from last year and 114% over five years. While capital expenditures have increased 158% over the past year, this is likely due to expansion since it is a young company. In fact, assets have increased 80% over the past year while liabilities have decreased 40%. It's currently trading at 14.88 times earnings, which is cheap when compared to the industry average of 19.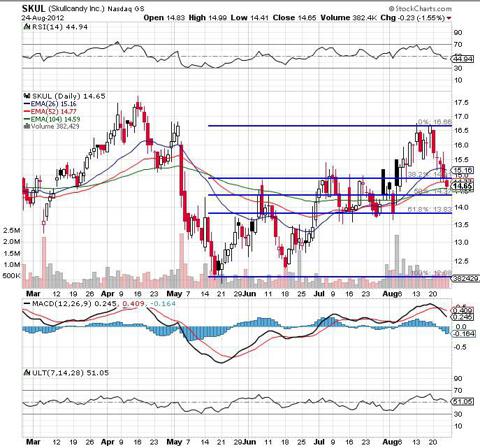 Technical investors should look to buy in if price bounces off the $13.83 support level or manages to break it and bounce off the $12.08 level. This is a long-term investment, so entry does not matter as much as something that would be more short-term. I would recommend buying in before the next earnings release. Skullcandy only needs a small catalyst before shorts start to cover. At current levels, it would take 13 days to cover their positions. Any positive news from within the company could trigger a short squeeze and long-term investors should be able to ride it up and take their profits or stick with the company in the long-term since its business model has worked for other companies such as Monster and Zagg (NASDAQ:ZAGG).
In an industry that has only grown 1% over the last year, Skullcandy has managed growth of over 15% in EPS. This is a great growth stock for the future with a great opportunity for a short squeeze. Even without a squeeze, this is an awesome value for P/E Growth investors. Nasdaq's Guru Analysis gives it a score of 93% for the Peter Lynch methodology.
Disclosure: I am long SKUL. I wrote this article myself, and it expresses my own opinions. I am not receiving compensation for it (other than from Seeking Alpha). I have no business relationship with any company whose stock is mentioned in this article.