In this article, I take a look at Citigroup Inc. (NYSE:C), a money center bank. We'll evaluate Citigroup as an equity investment. We'll examine the industry, valuation, and financial position and performance. That said, Citigroup is undervalued.
Industry
Citigroup is in the money center bank industry. Its U.S. based competitors in the industry are Wells Fargo & Co. (NYSE:WFC), JPMorgan Chase & Co. (NYSE:JPM) and Bank of America Corporation (NYSE:BAC). The firm operates in the financial sector. Its primary business activity is borrowing from depositors and lending to borrowers.
Revenue and earnings are strongly correlated with the economic cycle, making the firm cyclical. The money center bank industry is in the mature life-cycle stage. Currently, macroeconomic weakness is a contributing factor to revenue declines at money center banks. Further, the regulatory environment of increasing capital buffers is weighing on industry financial performance.
Citigroup does face some threat of substitute products as some financial institutions may be more socially preferable. Further, the firm's customers and suppliers don't have much, if any, bargaining power. Also, the threat of new entrants is low and there isn't much rivalry in the banking industry. In other words, the barriers to industry entry are high and the industry is concentrated.
Generally, industry conditions aren't favorable for investors. Financials are typically early cycle leaders and are currently performing poorly.
Rating System
Buy - Be long
Neutral - No Position
Sell - Be short
(The ratings, research and analysis in this article should be considered as starting point for further research.)
Citigroup - Buy
Investment Thesis
The unwinding of Citi Holdings is weighing on revenue. When Citigroup finishes unwinding, Citi Holdings' revenue and earnings should stabilize and probably increase. Citi continues to trade at depressed valuations. I'm reiterating my buy recommendation.
Financial Performance and Position
In 2012's second quarter, revenue declined 9.6 percent to $18.64 billion, compared to the year-ago quarter. Income from continuing operations declined 10.4 percent to $2.99 billion and net income declined 12 percent to $2.95 billion. The net profit margin is 15.8 percent.
Total assets declined 2 percent to $1.9 trillion. Deposits increased 6 percent to $914 billion. Long-term debt declined 18 percent to $288 billion. Tier one capital increased to 14.46 percent. The leverage ratio increased to 7.66. The financial leverage ratio is just over 10.
In the first six months of the year, earnings were low quality. Cash from operating activities was enough to cover capital expenditure, but not enough to cover the cash spent in investing activities in total. Citi raised about $15 billion in financing activities and net cash increased by $5 billion.
Segment Data
Revenue was flat in Global Consumer Banking and Securities and Banking. Revenue increased 5 percent in Transaction Services. The unwinding of Citi Holdings weighed on revenue. Put differently, Citi's financial performance is good.
Company v. Industry [TTM]
Return on Assets: 0.56 v. 0.44

Return on Investment: -- v. 0

Return on Equity: 5.77 v. 6.14
(Management effectiveness ratios courtesy of Thompson Reuters)
Click to enlarge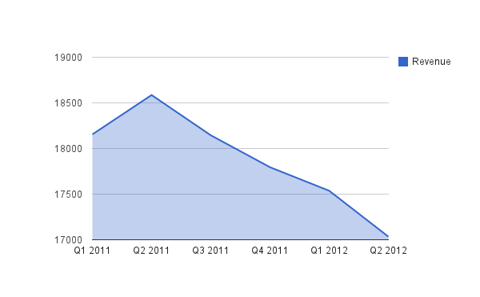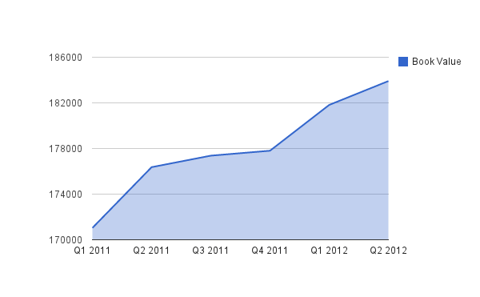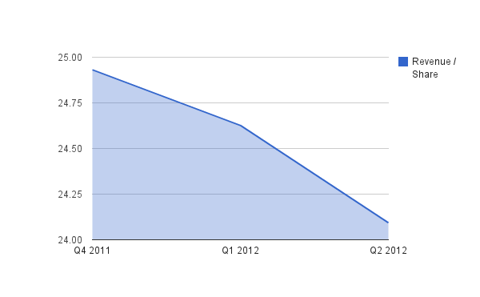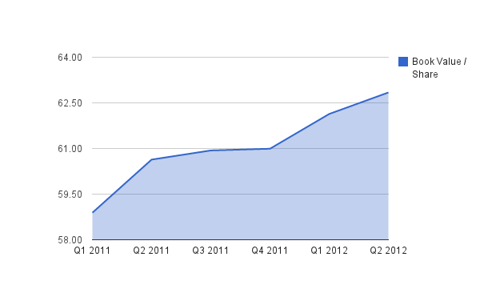 Revenue is declining, while book value is increasing. The indicators are giving conflicting messages. That said, Citi's revenue reached the bottom line.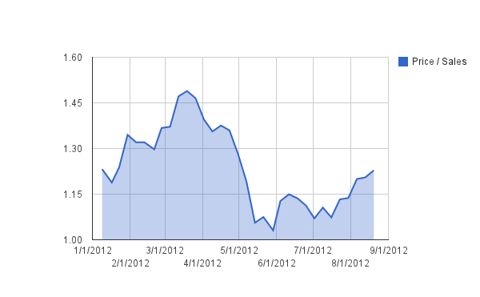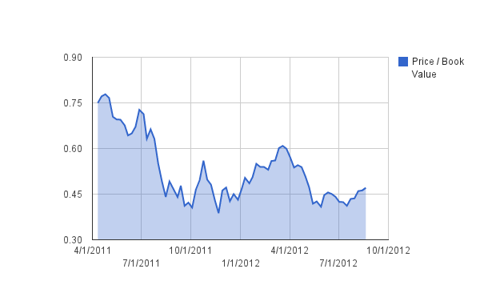 Price-sales have started increasing: At the current price-sales level Citi could be considered undervalued. The price-book value suggests investors aren't thrilled with Citi's growth prospects.

Disclosure: I have no positions in any stocks mentioned, and no plans to initiate any positions within the next 72 hours. I wrote this article myself, and it expresses my own opinions. I am not receiving compensation for it (other than from Seeking Alpha). I have no business relationship with any company whose stock is mentioned in this article.
Disclaimer: This article is not meant to establish or continue an investment advisory relationship. Before investing, readers should consult their financial advisor. Christopher Grosvenor does not know your financial situation and ability to bear risk and thus his opinions may not be suitable for all investors.