Momentum traders, and those who chase good news at (sometimes) bad prices, are loving footwear retailers right now. Nike's recent introduction of $300 Lebron James sneakers have put the group into the national media spotlight following an already very good period of profitability.
Foot Locker (NYSE:FL), Designer Shoe Warehouse (NYSE:DSW) and Brown Shoe (BWS) have all surged by more than double from their 2011 lows. FL and DSW are each on track to achieve all-time record EPS in FY 2012.
Should you be looking to ride this train further or lock in gains?
At last week's close of $34.40, FL now trades for 14x this year's estimate and yields 2.09%. That might sound moderate until you realize that these shares were available at under 10x earnings and with 3.94% - 6.06% current yields not too long ago. Looked at that way, FL is not a bargain.
It's a similar story with DSW. The present multiple is about 40% - 45% higher than it was at the best buying opportunities of the past few years.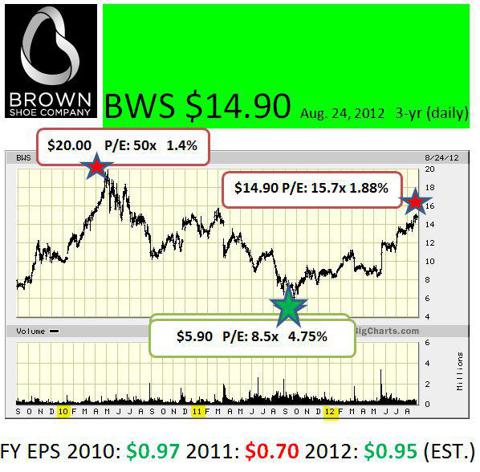 Click to enlarge
Brown Shoe Company had the worst three-year profit performance of this group as EPS dipped from FY 2010 to FY 2011 before rebounding this year. The stock came back strongly as fundamentals improved. BWS now commands a P/E 84.5% higher than it did just about one year ago.
Today's yield of 1.88% pales in comparison to the 4.75% that buyers last summer were able to lock in.
There's another big reason to avoid taking new positions in these stocks right now. While all three companies have been putting up big numbers, that trend can reverse quickly. That's especially true if the economy slows down or goes into outright recession. Note both the share price action and the EPS changes that occurred during the period 2007-2009 for each of these. It wasn't pretty.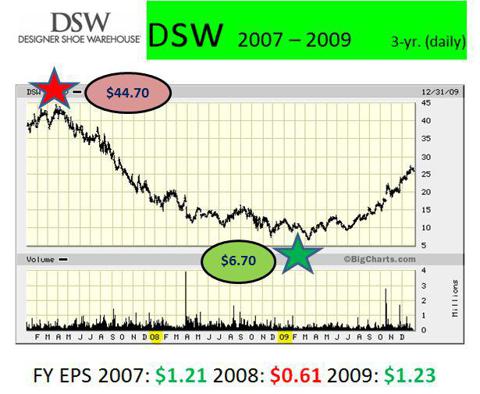 Click to enlarge
I am not expecting a replay of 2008, but I do perceive that risks far outweigh rewards in the footwear retailing industry group. You need to sell before the crowd in order to get the best prices. Overstaying with these might end up proving as painful as those bunions.
The Trades: FL, DSW and BWS are all SELLS while they're still pricey and popular.
Disclosure: I have no positions in any stocks mentioned, and no plans to initiate any positions within the next 72 hours. I wrote this article myself, and it expresses my own opinions. I am not receiving compensation for it (other than from Seeking Alpha). I have no business relationship with any company whose stock is mentioned in this article.