On Friday, shares of Intel (NASDAQ:INTC) closed at their lowest levels since reporting earnings last month, and it was the first close under $25 in over a month. The $25 level has been a key level of support for the name, and with shares back below $25, I believe investors should take advantage of a great opportunity to get into this name. Here are just a few reasons.
Growth Expectations Now Realistic
Going into Intel's fiscal second quarter, I detailed how Intel analysts saw weakness ahead and expected a cut in guidance from the chip giant. At that point, Intel's full year forecast called for 7% to 9% revenue growth, and analysts were looking for just 5.4% growth.
When Intel reported its second quarter results, the company did in fact cut its full year forecast. Revenue growth was now expected to be in the 3% to 5% range. That seems very fair at the moment, and the average analyst forecast now stands at 3.3% growth. That leaves a bit of room for Intel to surprise on the upside. Also, should analysts trim their expectations a bit more, it would potentially allow Intel to cut its forecast again by another full percentage point, and yet still be in-line to above analyst expectations.
For the current (third) quarter, Intel analysts were expecting $14.6 billion in revenues going into the Q2 report. Intel guided to a midpoint of $14.3 billion, and analysts are now expecting $14.28 billion, essentially what Intel guided to.
Now that analysts have brought their expectations down to where Intel guided to, it should provide a more realistic picture of where Intel's business stands. Also, if Intel just maintains guidance at their next report, it will be seen as a positive, because the 4% midpoint will be a bit above the 3.3% growth currently expected.
Intel, the Dividend Champion
A few months ago, Intel announced it was raising its quarterly dividend from 21 cents to 22.5 cents per quarter, and it has declared the first of those higher payment quarters (too late to get it though). At 90 cents per year, Intel is now yielding over 3.6% on an annual basis. As of now, that puts it as the highest yielding top tech name in terms of dividend. Intel has been a solid dividend paying company for several years, and has always been one of the highest paying names (in terms of yield) in this sector, if not the highest.
Buying Back Shares
Intel started its current buyback program in 2005, and it was amended since, allowing up to $45 billion to be used for share repurchases. At the end of the second quarter, Intel had $7.5 billion left on the current program, representing about 6% of the company's current market cap. In the second quarter, Intel repurchased 40.6 million shares at a cost of $1.1 billion. In the first half of the year, Intel bought back 97.5 million shares at a cost of $2.6 billion. I would expect Intel to buy back another billion dollars or so per quarter, meaning about $1.5 billion worth of shares should be repurchased the rest of this year.
Buying Into Support Levels
Intel has traded mostly in a range over the last several months, with $25 as the low and $29 as the high. Intel is back down at $25, and as you can see from the following chart, that has been a level of support. It probably is also a good time for the company to buy back shares, so there could be a bit of a floor put in here.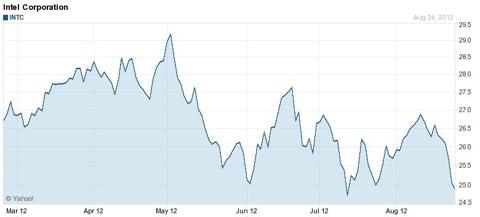 Click to enlarge
(Source: Yahoo Finance)
Alternative Ideas
While you can always just buy shares if you believe the stock will rise, I'm often asked for other ideas when it comes to these names. Well, if you are thinking that Intel's stock may remain flat or even slightly lower the rest of this year, put selling might be a decent idea.
For instance, let's take the December $24 puts, which right now if you sold, you would collect a premium of $1.07, several times what you would get in a dividend. If Intel remains above $24 by December, and the options aren't exercised, you pocket the $1.07. If the options are exercised, you are forced to buy Intel at $24, but since you keep the premium, your effective price is $22.93. That's currently $2 below where shares are now.
The following table shows the selling prices you could receive for each of the December put strikes now. The yield column shows how much that premium would yield between now and December based on Friday's closing price. Remember, if you just sell puts, you don't get the dividend Intel pays. The entry column shows what your effective purchase price would be should the puts be exercised.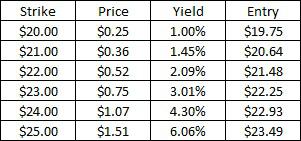 Conclusion
Intel shares have hit a lull recently, and that provides an attractive entry point. Growth expectations have come down to more realistic levels and are now aligned with analyst expectations. Intel's stock is now yielding 3.6% for those that love dividends, and the company is buying back more than $1 billion worth of its shares each quarter. This is the low end of the recent range, which has provided some nice support, but if investors don't want to go long the shares, put selling also provides an attractive opportunity.
Disclosure: I have no positions in any stocks mentioned, and no plans to initiate any positions within the next 72 hours. I wrote this article myself, and it expresses my own opinions. I am not receiving compensation for it (other than from Seeking Alpha). I have no business relationship with any company whose stock is mentioned in this article.