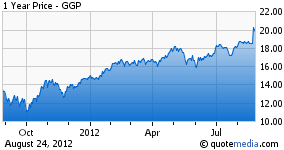 Last week, activist investor Bill Ackman's hedge fund, Pershing Square Capital Management, sent a letter to the board of directors of General Growth Properties (NYSE:GGP), urging the mall owner to consider a sale. Pershing owns 72,233,712 common shares of GGP, long-term warrants on 18,224,213 shares and cash-settled swaps on 7,569,272 million shares, which combine to give the hedge fund a 10.2% stake in the company.
In particular, Ackman said he had discussed a potential acquisition of GGP by Simon Property Group (NYSE:SPG), and that Pershing believes Brookfield Asset Management (NYSE:BAM) may have plans to purchase GGP at a price below that which SPG would have paid. More particularly, Ackman implied that BAM Brookfield currently owns about 40 percent of General Growth, that "It is only a matter of time before Brookfield de facto controls the company," and that "if control of the company is ceded to Brookfield, shareholders will suffer enormous and irreparable harm for they will lose the ability to capture an appropriate control premium for their shares."
Brookfield Asset Management is a Canadian real estate company that manages a portfolio of assets valued at over $150 billion. The firm's assets are concentrated in real estate, renewable power generation, infrastructure and private equity. Subsidiaries of BAM include Brookfield Infrastructure Partners (NYSE:BIP), Brookfield Office Properties (NYSE:BPO) and Brookfield Residential Properties (NYSE:BRP). It would appear that Pershing is suggesting that a Brookfield Retail Properties or some similar entity is desired by BAM.
Brookfield almost immediately responded to Pershing's letter by stating that:
"Brookfield is not taking any steps to acquire GGP nor is it having any discussions with third parties in that regard.

Brookfield has no interest in selling its stake in GGP. We are 100% supportive of the current management team of GGP and believe that GGP's business plan has and will continue to create significant long term value for all stakeholders. When Brookfield was chosen as an investor in GGP, it was explicitly on the basis that we were a long term investor. We have invested considerable capital, time and attention to support management and the Board as they enhance the value of GGP for all concerned. The results to date bear testimony to their success."
In response to Perhsing's letter, shares of GGP climbed about 10 percent on Thursday, August 23, and shares declined by about 3 percent on Friday, August 24, in response to BAM's letter. The jolt up on potential acquisition talks and the more active position taken by Pershing's Bill Ackman, an investor often described as an activist, pushed GGP shares to a four-year high, indicating both that Pershing and BAM have done well investing in GGP.
According to Ackman's letter, SPG was "effectively handcuffed and gagged" by Brookfield's influence over GGP. Apparently, Pershing Square and Simon Property group had discussed a deal in which SPG would acquire GGP for 0.1765 of a Simon share for each General Growth share. Based upon SPG's share price at the time the letter was written, such a deal would value GGP at about $28 a share, or roughly a 65 percent premium GGP's price before Pershing's letter, or a 40 percent premium to its current valuation.
According to Brookfield's statement, it has considered "a variety of possible transactions which would facilitate Pershing Square's desire to maximize the value of and create liquidity for its interest in GGP," but also added that such discussions "are not continuing."
Given Brookfield's considerable position in GGP, Simon is unlikely to try to again attempt to acquire GGP without Brookfield's unambiguous cooperation. Nonetheless, SPG would be a logical buyer for General Growth, both because of the potential for cost savings, the elimination of one of its most substantial competitors and the acquisition of some of the most desirable mall properties in the United States, presently owned by GGP.
According to Perhsing, back in April, Brookfield proposed buying GGP and simultaneously divesting itself of 68 of GGP's malls to Simon, but Simon allegedly rejected the proposal because it did not like the selection of malls and also that the price was too high. Ackman goes on to allege that Brookfield subsequently tried to acquire GGP without Simon, where Brookfield would likely sell about 14 of GGP's most valuable malls to raise money.
Pershing and many other GGP investors that got into the REIT at or near its bottom have been richly rewarded over the last four years. Ackman's letter noted that from Pershing's initial purchases of stock in the GGP on November 13, 2008, at an average price of $0.35 per share, it made a 77-fold return on the investment, including the value of the Howard Hughes (NYSE:HHC) and Rouse (NYSE:RSE) spin-offs and all dividends paid.
Despite this highly appreciated performance since what might the most successful bankruptcy restructuring ever, GGP shares are still potentially unloved and underowned by the broader market. This is both because GGP was in bankruptcy, which likely scared away many would-be investors, and also because GGP does a very publicity hungry organization and has maintained a relatively low profile. I do recall speaking with GGP's CEO, Sandeep Mathrani, at this NAREIT's REITweek 2012 in June, where he expressed to me his general disinterest in speaking to press (he was friendly yet unambiguous about this fact).
Unlike Mr. Mathrani, Bill Ackman is not so press or camera shy. Ackman frequently makes public his belief that an investment of Pershing's is undervalued and/or that the management of an investment is not doing enough to increase the price of the company's shares. While Ackman's letter does appear highly self-serving, that does not nullify its probable validity. If anything, it appears Ackman is attempting to both ensure a high potential sale price and also press for a stock purchase deal, and likely one that would minimize Pershing's potential tax liability.
Since many investors in GGP, including Pershing, have considerable capital gains built into their investments, selling-out is not necessarily a desirable option. A significant gain can make it undesirable to exit a position and take a substantial tax haircut, especially since it is currently paying a dividend too. This likely indicates why Pershing is so interested in seeing a non-cash deal for GGP, and is stressing a deal for shares of SPG. Moreover, given the potential for tax reform to increase the capital gains rate next year, it is possible that the desire to defer selling out of the position will only increase.
Recently, most REITs have appreciated and substantially outperformed the broader market. SPG shares have appreciated by over 36 percent in the last year. SPG and GGP were trading with a very high correlation over the last 12 months. Before Pershing's letter last week, both up about 22 percent from the start of the year, with GGP appreciating about another 10 percent after the letter. Brookfield Asset Management has appreciated by about 28 percent so far in 2012.
Given the substantial increases REITs have seen over the last several quarters, it is likely that many REITs are now, at least in the short-term, overbought and it may make sense for there to be some sort of stock transaction that rakes advantage of a buyer's higher stock price. Alternatively, this also means that any potential acquisition target is probably also short-term overbought. Nonetheless, similar points could have been made about the industry months ago, at which point Pershing, SPG and BAM were apparently discussing potential schemes to acquire and potentially further split-up GGP between the other REITs.
At this point, it does appear highly possible that some sort of deal is being worked on, and the significant jump that GGP shares received after word of Pershing's letter radiated indicates that many investors agree with Ackman that GGP is still undervalued. More information on a deal for all or a substantial portion of GGP's properties is likely forthcoming within 2012.
Disclosure: I have no positions in any stocks mentioned, and no plans to initiate any positions within the next 72 hours. I wrote this article myself, and it expresses my own opinions. I am not receiving compensation for it (other than from Seeking Alpha). I have no business relationship with any company whose stock is mentioned in this article.