In my last article I indicated that "after the first quarter is announced people will realize just how BIG this little company is." Well the first quarter came and went and eFuture (NASDAQ:EFUT) seems to be having a hard time getting any recognition. There are a couple of reasons why it may not be getting recognition and obvious reasons why it should.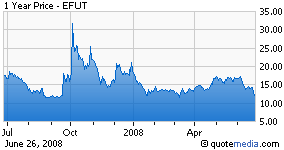 The elephant in the room on why it isn't getting recognition is the market has been in the dumps for the entire month of June, but I believe the primary reason it isn't getting noticed is the first quarter was not nearly as strong as many hoped. I would have to agree on the last point, as I had expected a much stronger quarter due to the tremendous backlog they had generated in the 4th quarter. Now, lets not get to upset here as the quarter was still 100% stronger than last year! I have inquired about the quarter being weak and why more of the backlog was not done during the first quarter. I have been informed from the IR department that the reason for more of the backlog not being done in the first quarter was due to the lunar new year and the tremendous snow storm whipping out more than half of the quarter.
This seems to be a very likely scenario since it was explicitly stated in the quarterly results that they had a large increase in accounts receivable at the end of the quarter. I speculate that this means that the first part of the second quarter therefore also had a large increase in accounts receivable. In addition, I think that management will try to perform as much with the backlog as its clients will allow them to do in the second quarter in order to make room for the busy season of sales for EFUT.
Let's not forget the other elephant in the room in that e-Future again increased their full year guidance to around 20M! I personally feel that is a very conservative estimate as that represents around 80% growth. The reason this is conservative is that they were able to have a quarter of 100% growth, yet it was weak because of the large snow storm that significantly slowed down their sales force.
After the past couple of weeks e-Future is now trading at a price to sales ratio of just a little over two times trailing sales and an incredibly low ~1x forward sales. This is all while the company continues to grow and position itself for perhaps China's biggest growth story of the next decade… its domestic retail services.
Disclosure: Long