According to a report by the China Internet Network Information Center, the number of Chinese mobile internet users surpassed that of desktop internet users as of June 2012. Heading forward, mobile search growth will inevitably increase in the future, given the proliferation of low-cost smartphones.
Click to enlarge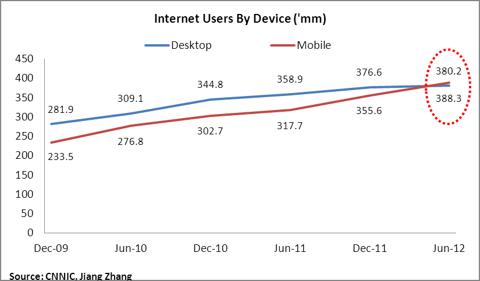 While it is the clear leader in desktop search with 80%-90% of the market share, Baidu, Inc. (NASDAQ:BIDU) does not enjoy such luxury in the mobile search space, given that it only has 35% of the mobile search volume, followed by Tencent Holdings Ltd (OTCPK:TCTZF) at 23% and Easou (22%). For a detailed report, please see my April 4 note, titled "Baidu's Mobile Push: Not As Easy As It Seems."
Baidu's weak position could be attributed to:
The company never seriously pursued a mobile search strategy until recent years, as more people began to access search via mobile devices
Its weakness in client-end products, such as the browser and Chinese character inputs, that play a significant role in directing search traffic by leveraging its massive installed base.
On the client-end, both QIHOO 360 Technology Co. Ltd. (NYSE:QIHU) and Sohu.com Inc. (NASDAQ:SOHU) understood that users must bypass a browser in order to access online search. Therefore, both companies introduced free web browsers to build user base and drive search traffic. Because Baidu is a late-comer in client-end, its search traffic is partially at the mercy of its rivals (eg. Internet Explorer, Google Chrome, FireFox, Qihoo360, Sogou Browser). For a better of understanding of the significance behind the client-end software, please see my April 10th note titled "Sogou: An Emerging Threat To Baidu's Dominance."
To address its weaknesses in mobile browser and search, Baidu is pushing for pre-installation of its search engine in mobile devices. According to management, Baidu's search function covers over 80% of the Android phones in China.
Aside from pre-installation, Baidu also introduced its own mobile OS, Baidu Yi to mimic Google's (NASDAQ:GOOG) Android strategy. While the strategy was sound, the execution was poor because the company's partners in both the high-end and low-end device segment lack the brand awareness among the Chinese mobile users.
Finally, the introduction of Baidu Yi ROM for the Samsung Galaxy Nexus device was also a sound strategy of moving into the high-end device segment, given Samsung Galaxy's strong brand recognition among high-end users. However, the ROM installation process was too complicated for the average user and the Yi ROM adoption was insignificant. In the near term, I do not believe that Baidu Yi will be success.
Baidu's long-term mobile search strategy is based on web application that run on HTML 5 and JavaScript, compared with native apps that are installed in the mobile device. Web app has several advantages, namely:
It is based on a simpler HTML language that can be adopted across platforms. From a developers' perspective, web app is cost-effective in that there is no need to develop the same app for multiple platforms (eg. iOS, Android, Blackberry)
Ther is no need for installation and requires little approval
However, the biggest weakness behind HTML 5 is that it is still not proven, as some ad networks do not fully support it yet. In addition, there are also cross-domain issues, such as restrictions on JavaScript when loading external assets. Finally, advertisements can be simply taken out using browser add-ons and this raises another obstacle in Baidu's mobile monetization strategy.
Disclosure: I have no positions in any stocks mentioned, and no plans to initiate any positions within the next 72 hours. I wrote this article myself, and it expresses my own opinions. I am not receiving compensation for it (other than from Seeking Alpha). I have no business relationship with any company whose stock is mentioned in this article.