Recently, the Securities and Exchange Commission issued a bulletin outlining the risks of ETFs that serve up double or triple the exposure of a given index or its short inverse. The problem as the SEC sees it is that these leveraged ETFs are rebalanced daily, making their returns diverge sharply from their indexes.
So who cares?
OK, so these leveraged ETFs achieve their trading objectives on a daily basis only, and that makes them unsuitable for market participants who invest long-term instead of along short-term and intermediate trends. Check this bull trend 3x leveraged SPXL chart and note how money could have been made with a leveraged bull on the way up, only to be followed with a leveraged bear on the way down. Also note how history is repeating itself when during this latest June to August rally, extremely low trading volume suggests that most retail investors are still waiting at the sidelines watching the parade go by, while they keep falling further behind this market.
So, correctly deciphering the trends of the indexes and sectors is of utmost importance when trading leveraged ETFs, and that is a very subjective exercise.
A popular method to determine a trend are the moving averages which every chart service displays on the charts they publish, including different time frames to suite the different temperaments of the users. The methods of market timing used in my articles are combinations called the market's Troika, which are occasionally checked by the market's Achilles heel and the market's junk-bond Canary.
No, Virginia, you won't find these names in the text books.
OK, so what is the market like these days? Consolidating occasional pullbacks notwithstanding, this market appears to be levitating under the lowest volume levels in four years while Wall Street keeps advancing at a snail's pace. Still, the large cap S&P 500 index has reached a high not seen since early May. It appears that expectations of further easing by the U.S. Fed; and Europe's central bank are the catalyst behind this advance. But if that's all there is, then this rally is advancing on its last leg.
While for most of this year economic data has been pretty lousy, it has been changing in recent weeks. Retail sales reports came in stronger than most economists had expected, and it appears that consumers are feeling better about spending again.
The economically sensitive Technology sector advanced, and so did the Consumer Discretionary and Industrial sectors, all early signs that the economy is finding traction again. Add to this that a building permits report came in at a four year high, and keep in mind that this report is a reliable, forward-looking economic indicator.
It also helps the market that German Chancellor Andrea Merkel has stated her support for the European Central Bank's effort to use all its tools to keep the eurozone together, and that the China's premier has committed his government to spare no effort to restore China's economy to its full potential again. So all in all, it appears that the market is finally rallying for the right reasons, and not just in anticipation of a QE 3 down the road.
But the proof lies in the projections of these charts, and here the (NYSEARCA:SPXL) bull-trend, (NYSEARCA:SPXS) bear-trend and (SPX) large cap index Troika has proven its mettle.
While in need of some more pulling back and more consolidation, this Troika bull-trend index remains well supported by the bullish configuration of its green, red and yellow MA lines, and the MACD momentum index as well as the RSI strength indicator, both of which are solid in their respective bullish territories.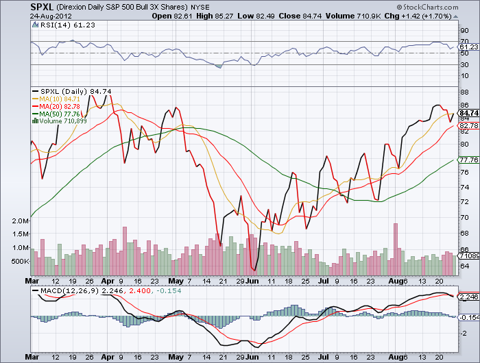 While the bull-trend index is all bullish for the bulls, this Troika bear-trend index is all bearish for the bears. For as long as its green, red and yellow core MA lines remain in their current negative configuration, the bears will continue to dig a deeper hole at the bottom of a deep pit.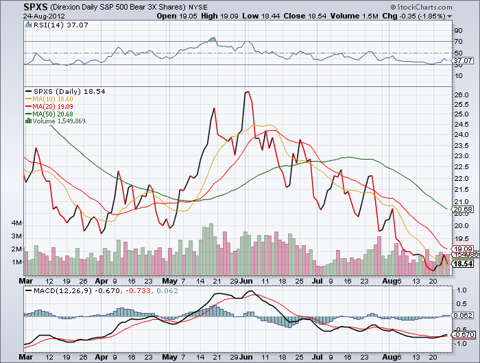 With this Troika large cap S&P index displaying the same positive MA line configuration as does the bull trend, along with a bullish MACD index and ditto for the RSI indicator, the market's bias remains poised to the upside for as long as this Troika's internal configurations remain positive.
This XLP:XLY index represents the Achilles heel of the market and is a contrarian indicator. For as long as the core MA lines of this index remain in a positive configuration while this index is rising, its heel remains exposed to the downside, and so is the market. But if this index declines while the MA lines are in a negative configuration, its heel is exposed to the upside, and so would be the market. Even though this index is declining, for as long as the MA lines are still in a positive configuration, this Achilles heel and the market remain exposed to the downside. But by the looks of it, not for long.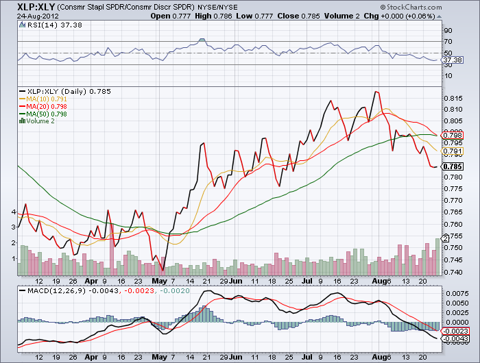 This (NYSEARCA:JNK) Junk Bond market Canary has proven to be an excellent market forecasting bird, and with its core MA lines in a solidly bullish configuration, it bodes well for positive market action ahead.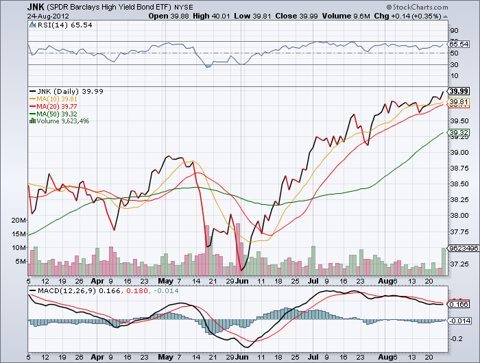 Look at this (Pending:CRB) index as commodity supply, and at the (BDI) Baltic Dry as commodity demand. While the CRB has had a pretty good run to the upside and is well supported by the bullish configuration of its core green, red and yellow MA lines, the Baltic Dry is in pretty bad shape. This means that the demand for commodities, especially the hard stuff, just is not there. So something is out of whack here, and something's got to give. Either demand for hard commodities is going to pick up and so is the commodity market, or the production of commodities is coming down along with the market.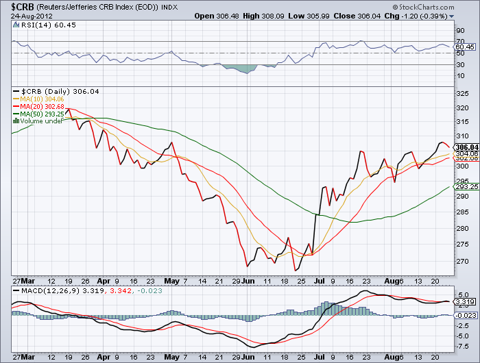 This sick looking (USD) greenback is the main reason why gold and commodities generally are spiking. For as long as its core green, red and yellow MA lines remain in their negative configuration while the MACD momentum index and the RSI strength indicator are both in their respective bearish territories, the U.S. dollar has no chance to rally.
(clickck to enlarge)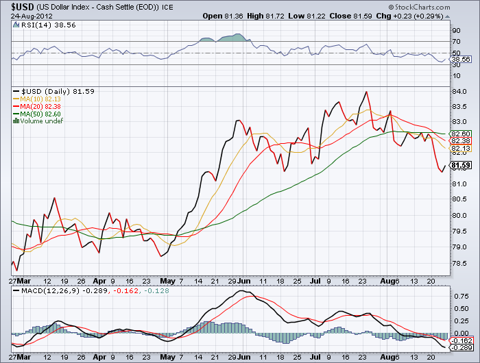 While this (GOLD) Gold index remains well supported by its positive core MA line configuration, as well as by its bullish MACD momentum index and ditto for its RSI strength indicator, this index rose way too far too fast, and is now in danger of keeling over.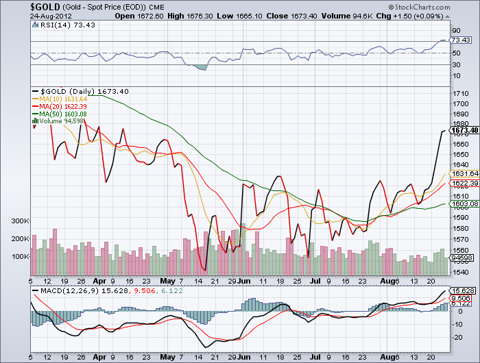 Although the weakness in the greenback is the main reason for the relatively high level in the price of oil (WTIC), crude remains well supported by the positive configuration of its core MA lines and its bullish MACD momentum index, along with the bullish RSI strength indicator.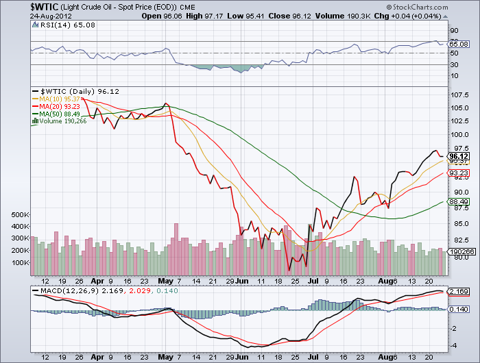 This commodity laden (TSX) index is in a bullish mode and well supported by the positive configuration of its core green, red and yellow MA lines. Also lending support are its MACD momentum index which, along with the RSI strength indicator, are both solid in their respective bullish territories.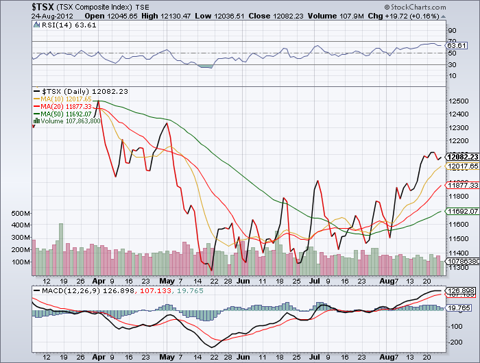 So, with consolidating intervals, this market is all set to keep on levitating to higher highs, until such time that the crowd of market participants still on the sidelines are getting tired of looking at the market's tail-lights disappearing in the distance, and start running after it. That's when trading volume will rise dramatically and a genuine, demand driven rally kick into gear.
Meanwhile, well performing sections so far are the Consumer Discretionary, Housing, Financials, Industrials and Technology.
Among favoured leveraged ETFs: Russell 3x 2000 (NYSEARCA:TNA), NASDAQ 100-3x (NASDAQ:TQQQ), Mid Cap 400 3x (NYSEARCA:UMDD), Tech; Bull (NYSEARCA:TECL), Energy Bull 3x (NYSEARCA:ERX) and Semis; Bull 3x (NYSEARCA:SOXL).
Non leveraged long ETS: Info Tech (NYSEARCA:VGT), Homebuilders (NYSEARCA:XHB), Russell 2000 (NYSEARCA:IWM), NASDAQ 100 (NASDAQ:QQQ), Retail (NYSEARCA:XRT), Grains (NYSEARCA:JJG) and Agriculture (NYSEARCA:JJA).
When the market slides into a downdraft of more than just one trading session, here are a few leveraged shorts to consider: Developed market Bear 3x (NYSEARCA:DPK), Short DOW 30 2x (NYSEARCA:DXD), Mid Cap Bear 3x (NYSEARCA:MIDZ), Financial Bear 3x (NYSEARCA:FAZ), Mid-Cap 400 Short 2x (NYSEARCA:MZZ) and NASDAQ 100 Short (NYSEARCA:QID).
GOOD LUCK!
Disclosure: I have no positions in any stocks mentioned, and no plans to initiate any positions within the next 72 hours. I wrote this article myself, and it expresses my own opinions. I am not receiving compensation for it (other than from Seeking Alpha). I have no business relationship with any company whose stock is mentioned in this article.