Research In Motion (RIMM), the maker of Blackberry devices, released its First quarter earnings Wednesday (June 25). The company reported revenues of $2.24 billion, up 107% from the year-earlier period. And it generated $483 million in net income, or 84¢ a share, compared with net income of $223 million in the same quarter last year, or 39¢ a share.
It also said that wireless operators added 2.3 million new BlackBerry subscribers in the quarter, bringing its industry-leading total in the smartphone market to more than 16 million subscribers. RIMM is ramping up its investments to capture more market share, with operating costs rising 22%, instead of the expected 17%. Also, analysts were expecting the company to report $2.27 billion in revenue, and 85¢ a share in net income, which the company missed.
However, what the street looks for is the future, and the guidance came in weaker than expected. Even here, RIMM had nothing to cheer investors. Even though RIMM raised its revenue guidance from $2.44 billion to a range of $2.55 billion to $2.65 billion, it lowered its profit forecast from 90¢, to between 84¢ and 89¢ per diluted share. It plans to ramp up its capital expenditures from the $190 million in the first quarter to an average of $250 million over the next two quarters.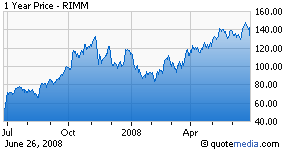 RIMM's dream run is beginning to look like a thing of the past. Its shares are up a whopping 70% over the past 5 months, and 33% since its last quarterly report. In a choppy market, investors were paying too much premium for a company that depends on just one basic product, albeit in different versions. It also runs a risk of being banned in India due to regulatory issues. RIMM's position will be threatened significantly when Apple's (NASDAQ:AAPL) 3G iPhone hits the market in less than 3 weeks. Many consumers have held off on buying any cellphones since June 9, when the iPhone 3G was announced.
The 3G iPhone will support corporate email, which has been the Blackberry's USP and the only major reason why executives and managers have been devoted to Blackberry. Also, the number of applications being developed for the iPhone will generate a huge interest among younger consumers to go for the "cool" factor which is missing in the Blackberry. And the iPhone sells at $199, which puts enormous pressure on RIMM to slash rates on the Blackberry Bold (its next model) to a competitive level. The news that Blackberry Bold will be delayed could be the kiss of death for RIMM, which will then miss the sales in back-to-school and the holiday season. A significant advantage RIMM had over the iPhone till now was that the iPhone's reach was very limited to 3 or 4 countries. The next iPhone will be launched in 22 countries and will take away market share from RIMM slowly.
The bottom line is that it's time to sell RIMM. The company has had its run, as long as it had no competition. With Apple entering the phone space, RIMM will suffer the most. I think a Forward P/E of 23 is too much for RIMM right now. I expect the market to punish this stock, and return it to the $100 levels within the next 4 weeks. That is when you should look at buying.
AAPL stands to gain a lot from RIMM's impending trouble, but I suggest buying AAPL only after the earnings report in July. The Q2 results will not be very impressive since the first version iPhones were almost sold out in May. Buying at $140 will insure you against any collapse due to market forces, so wait till then.
Good luck trading in this unpredictable market!
Disclosure: None