People don't buy for logical reasons. They buy for emotional reasons. -- Zig Ziglar
The Summer Surprise of higher highs has caused many to question how much longer risk assets can rally, given that the S&P 500 is flirting with new multiyear highs. After all, the economy continues to grow at a slow to moderate pace and nothing structural has been fixed in Europe. Is any of that news? Could it be that much of the pessimism regarding the future has been too priced in? The end of the world trade is indeed breaking, as "dividendsanity" and the love for low beta/defensive sectors unwinds.
I try to focus on interpreting price, and intermarket analysis continues to suggest that the rally is still early and has more room to run. Behaviorally, risk sentiment has a while to go before it reaches an extreme. Emerging markets appear to be in the very early stages of outperforming as I noted recently on CNBC, and central bank paranoia likely means SuperBen and the League of Extraordinary Bankers will ensure that reflation is forced on us independent of the current economic trend.
One relationship I think is telling is that of the need vs. want trade. Take a look below at the price ratio of the Consumer Staples Select Sector SPDR ETF (NYSEARCA:XLP) relative to the Consumer Discretionary Select Sector SPDR ETF (NYSEARCA:XLY). As a reminder, a rising price ratio means the numerator/XLP is outperforming (up more/down less) the denominator/XLY.
Click to enlarge image.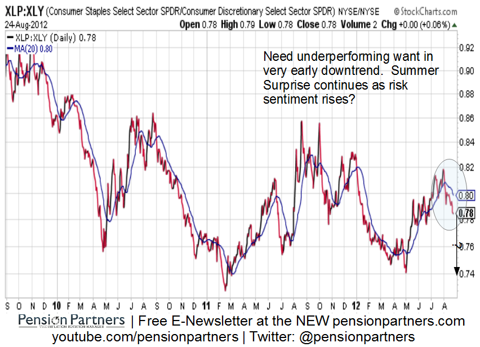 Consumer Staples (need) tend to outperform Consumer Discretionary (want) when investors fear a slowing economy, volatility, and when expectations for deflation are rising. When Consumer Discretionary outperforms, it means money is betting on the exact opposite. You can see historically how the ratio has trended up or down in the past three years, and how uptrends coincided with deflation panics and corrections, while downtrends coincided with a better environment for equities.
Note that the trend is only just now started to break down from the August peak, and that the ratio has a long way to fall before reaching the May 2012 low. The trend remains intact for further risk-taking in the want trade relative to the need trade. So while the S&P 500 on an absolute basis is flirting with highs, from a relative perspective risk-taking is only just now getting started. The Summer Surprise seems ever more likely to persist, which means a great chase may soon begin into equities as reflation takes a firmer stronghold on global investor psyche ... at least for now.
Disclosure: I have no positions in any stocks mentioned, and no plans to initiate any positions within the next 72 hours. I wrote this article myself, and it expresses my own opinions. I am not receiving compensation for it (other than from Seeking Alpha). I have no business relationship with any company whose stock is mentioned in this article.
Disclaimer: Pension Partners, LLC, and/or its clients may hold positions in securities mentioned in this article at time of writing.