Our model continues to forecast positive 6-month expected return for the S&P 500, currently 4.3%. Accordingly, asset allocation recommendation is still Overweight public equities.
The PAR Model is a factor model that estimates expected equity return over a six-month period. The model is based on a dynamic multi-factor regression of S&P 500 returns over economic, valuation, and market variables. Factors are chosen automatically each month based on their statistical significance from the initial set of 22 factors that have proven to be significant over time.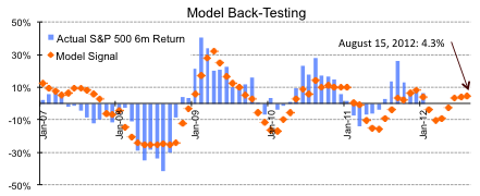 Significant Factors - Summary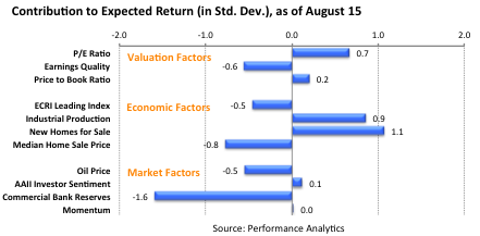 Valuation: Net Positive
The effect of valuation factors on the model's expected return is net positive, though slightly lower due to the rally in equities so far in August. The P/E ratio continues to extend a significant positive contribution at 0.7 standard deviations ("SD" in this report), followed by the Price to Book ratio (0.2 SD), and partly offset by the negative effect of Earnings Quality (-0.6 SD).
Economic: Net Positive
Due to an improvement in the Industrial Production index in July, its effect to the expected return improved from 0.7 SD to 0.9 SD.
The ECRI Weekly Leading Index, on the other hand, weakened in August, and its effect deteriorated slightly, to -0.5 SD. We consider the ECRI index to be the most important economic indicator to watch this year. Now at 122.1, if the index improves to 126-128, it would be very positive for stocks.
New Homes for Sale is significantly positive, at 1.1 SD. The Median Home Sales Price continues to weighs on the result (-0.8 SD), though it improved in the last two months.
Market: Net Negative
The current level of oil price, around $95 per barrel (down from over-$100 earlier in the year) is positive for equities - its effect improved in August from -0.7 SD to -0.5 SD, as we expected. Even if oil stays at this price level, its effect on the expected return will continue to improve.
Commercial Bank Reserves (-1.6 SD) is the factor with the largest negative contribution in terms of the number of standard deviations (or z-score). This improved from -2.5 SD in March of this year. We will be watching this trend closely - we hope it continues.
The level of bearishness of individual investors, according to the AAII Investor Sentiment index, dropped in August as equities rallied. Accordingly, its contribution to the expected return dropped from 1.1 SD to just 0.1 SD. This is "normal" - bearishness typically drives the early rebound in the market. If it gives way to improved economic and other indicators, the rally will continue - we will see if this is the case from the results of the model.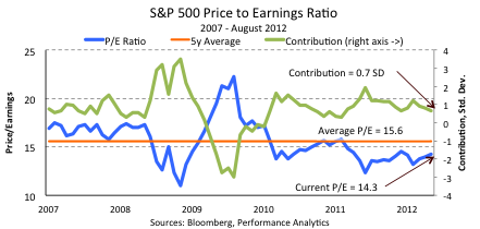 Price to earnings ratio is one of the key measures of index valuation in the model. A healthy trend in U.S. corporate earnings has contributed to the below-average P/E ratio, and in turn to its positive contribution to the model's expected return of around 1 SD in the previous two years.
The S&P 500 rallied so far in August by 2.6%, with the P/E ratio itself rising to 14.3 from 14 - still very attractive by historical standards, well below the five-year average of 15.6. This explains why P/E provides a significant positive contribution to the expected return as part of the model.
Current Quarterly Earnings - Fear of Slowdown Overblown
With the Q2-2012 earnings season being almost over, let's look back at it in some detail. Q2 earnings are growing at 5.5% YoY - a healthy growth rate, considerably better than the 3.3% blended actual/expected rate as of July 31st, and than 2.1% expected as of June 30th. Analyst expectations are typically depressed to allow companies to "beat the number". But this time there is another trend - sales and earnings expectations are quite depressed for this year, but actual earnings for Q1 (6.1%) and Q2 came out much better than those reduced expectations. Is the fear of earnings slowdown overblown?
An argument has been circulating lately that due to Bank of America's easy comparison to the year-ago loss, earnings excluding BofA will be dismal. We think that this argument is flawed. There is always the fastest-growing sector, quite often due to an unusual one-time development in earnings of one or several large companies. In Q2, the fastest-growing sector happens to be the Financials (60% earnings growth). The worst-performing sectors, on the other hand, happen to be commodity-based sectors Energy and Materials in Q2. The Energy sector results were driven by the decline in oil prices in Q2, and by very low natural gas prices. However, oil price rebounded from $85 per barrel of WTI crude in June to $95 now, natural gas prices rose as well. These trends will benefit future sales and earnings for the Energy sector, and in our view, it will be a big driver of better S&P earnings in H2-2012 than currently expected.
The U.S. economy undoubtedly faces significant headwinds. Debt levels in the consumer and public sectors continue to be very high, and the economy is unable to generate a sufficient number of jobs to reduce unemployment. Global economies are slowing, with much of Europe in or near recession (also largely due to debt), which now affects U.S. multinational corporations. These factors contribute to the "new-normal" U.S. real GDP growth of around 1.5% to 2%. In Q2, the S&P 500 revenue growth was just 0.8% - this was, again, due to the Energy sector, and we expect revenue growth to revert to the real GDP growth plus inflation.
So, the answer is "yes" - we believe that the fear of earnings slowdown is overblown. Growth in H1-2012 was very respectable 5.5% to 6%, especially in the context of the economic headwinds. We believe that Energy will rebound in H2, and both revenue and earnings for the S&P 500 will be better than currently feared.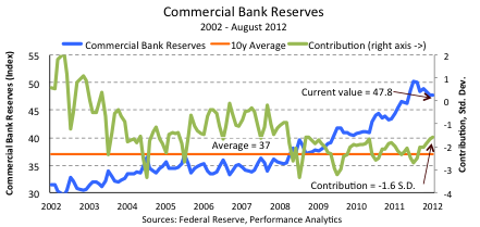 In this mid-month report, we wanted to highlight the indicator with the largest negative contribution to the expected return - Commercial Bank Reserves (-1.6 SD). As can be seen from the chart above, commercial banks have been growing their reserve ratios starting from 2008-2009 (the blue line on the chart). We know that bank lending has been reduced since then - higher reserves may not have been the only reason, but certainly a major driver. However, this changed recently for the better, and the contribution improved from -2.5 SD in March of this year. Knowing the importance of credit to the economy, we will be watching this trend closely - we hope it continues.
Disclosure: I have no positions in any stocks mentioned, and no plans to initiate any positions within the next 72 hours. I wrote this article myself, and it expresses my own opinions. I am not receiving compensation for it (other than from Seeking Alpha). I have no business relationship with any company whose stock is mentioned in this article.