Is this really "the most hated stock rally in history?" That seems to be the phrase that the financial media has currently latched on to. But that simply isn't bore out by the facts, and if it was the most hated rally, the key word in that phrase is "was."
A few weeks ago I wrote an article (link here) in which I reviewed several measures of sentiment. Even then, I was confused why media pundits were calling this "the most hated a rally ever," when most of the sentiment indicators were showing that investors were fairly optimistic.
Here's an update of those indicators:
The Put/Call Ratio ($CPC):
The put call ratio measures the rate at which option traders are buying puts (bearish bets) compared to calls (bullish bets). This indicator is the most useful once it reaches extremes; when the market is topping investors are typically far too optimistic and when the market is bottoming they are far too pessimistic.
Source: Chart created at stockcharts.com
We can see a couple of things on this chart. First, according to the $VIX, traders are not expecting volatility. Second, option traders have been buying calls at a rate much higher than puts and have pushed the five day moving average to the one standard deviation mark. Third, we can see from past history that option traders usually get it completely backwards. They bet on continuing declines and high volatility when the market is bottoming, and they bet on continuing rising prices and low volatility as the market is topping.
Grade: Based on the position of the $VIX and the $CPC, and the fact that the $CPC has declined further since my previous article, I grade this chart bearish.
Investors Intelligence:
Investors Intelligence is a weekly poll that surveys newsletter writers. While they are professionals they too are subjected to group think, fear, greed, excitement and all the other broad range of emotions that can hamper objective market analysis. One interesting note; when the market is topping, peak optimism is generally reached before the final index price high.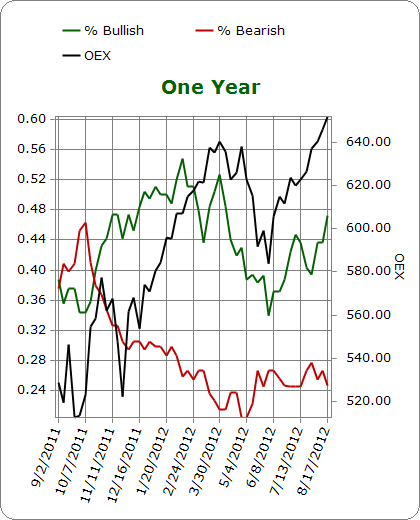 Source: Courtesy of schaeffersresearch.com
Since the previous update, percentage of bulls has risen and percentage of bears has ticked down slightly. While the spread between bulls and bears isn't extreme, it is interesting to see that with each new price high, newsletter writers have become less and less bullish. As I noted earlier, this is a behavior that occurs near market peaks. This is because as the market index approaches its final high, many stocks at this point are not participating and are in fact already declining. The overall index however can continue to make new highs because the large blue chip names that dominate the indexes (and are perceived as relatively safer) begin to draw the last remaining bit of demand.
Grade: Earlier this month I graded this chart as neutral. Since then the spread between bulls and bears has increased and there is potential for a market topping divergence in bulls. Therefore I am downgrading Investors Intelligence from neutral to bearish.
The American Association of Individual Investors (AAII):
The AAII is a service that polls individual investors. Individuals tend to be more sensitive to price movements than the respondents for the Investors Intelligence survey, though the indicator works much the same way.
Source: Chart courtesy of www.sentimentrader.com
In my previous update I noted that despite the stock market rally, individuals weren't biting. Now it seems that this last bit of rally is just what the doctor ordered to convert the non-believers. Also note the gradually declining peaks in optimism.
Grade: Previously, due to the large spread between the very few bulls and plentiful bears, I graded the AAII survey as bullish. Now that the spread has collapsed, I'm downgrading the AAII survey from bullish to neutral.
CFTC Commitment of Traders (S&P e-mini contract):
Every week the CFTC releases the aggregate futures positions of commercial hedgers, large traders, and small speculators. Since commercials and large traders tend to direct money flow, and small speculators tend to be terrible at market timing, it often pays to look at the juxtaposition of these groups.
Source: Chart courtesy of www.cotpricecharts.com
Since my previous update there has been some small fluctuation in position sizes, though the picture at large remains little changed. Commercials and large traders are net short, and small speculators are net long.
Grade: Assuming that commercials and large traders are the smart money, and that small speculators are the dumb money, I grade the COT report bearish.
National Association of Active Investment Managers (NAAIM):
The NAAIM polls active investment managers. While this poll hasn't been around very long, its short history tells us what we already suspected; professional managers tend to perform no better than most individuals, they're overinvested at tops, and caught short at bottoms. We can however turn their group think into something useful and use this data as a contrarian sentiment indicator.
Little has changed since the previous update: active managers remain very bullish and long this market. The fact that they are fully invested (or nearly so) is a double negative. Not only does it indicate over-optimism, but it also means that there is less cash on the sidelines available to push prices higher.
Grade: Since little has changed in the survey, my grade remains the same: bearish.
Short Interest:
In the last few years ETFs have become a popular instrument for individuals and institutions alike to quickly and easily get long or short the market. Their overall popularity has skyrocketed, so it pays to pay attention to short interest in some of the most popular index ETFs.
Source: Courtesy of schaeffersresearch.com
Little has changed since the previous update. While there has been a slight uptick in overall short interest, short interest as a whole remains near multi-year lows. This could magnify a decline should a correction occur; the low short interest indicates that traders are completely unhedged and are playing without a safety net.
Grade: Since short interest remains near multi-year lows, I grade short interest bearish.
Summary:
We've looked at the options market , newsletter writers, individuals, the futures market, professional money managers, and ETF investors. This should provide a pretty complete view of overall market sentiment.
Previous Grades:
Bullish:1/6
Neutral: 1/6
Bearish: 4/6
Current Grades:
Bullish:0/6
Neutral: 1/6
Bearish: 5/6
Since my last sentiment update, the AAII survey has been downgraded from bullish to neutral, and the II survey has been downgraded from neutral to bearish. Media pundits have seemed to latch onto the phrase, "this is the most hated a rally in history." My work however shows that investors seem pretty well enamored by the current market.
Financial media pundits tend to unduly sensationalize in order to create attractive headlines. Singling this rally out as somehow unique throughout all of financial history is a stretch; every rally climbs a wall of worry and this rally has been no different. The question now is, in what stage of the rally are we? Based on my sentiment work, I would venture a guess and say we are near the peak of the proverbial wall of worry, and about to begin sliding down the slope of hope.
Final Recommendations:
Investors should use this opportunity to become a bit more defensive. This may entail trimming exposure to equities, or using the incredibly low VIX as an opportunity to purchase cheap put protection. Those who play both the long and short side may want to begin looking at stocks that have become the most overextended as possible shorts if the market doesn't the rollover.
Disclosure: I am long SPXS. I wrote this article myself, and it expresses my own opinions. I am not receiving compensation for it (other than from Seeking Alpha). I have no business relationship with any company whose stock is mentioned in this article.