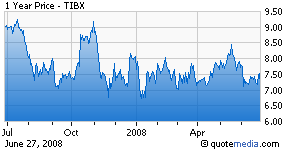 Tibco (NASDAQ:TIBX) shares are higher this morning, reversing a post-earnings after-hours slide, thanks in part to an upgrade of the stock this morning by Jefferies & Co.'s Katherine Egbert.
Egbert raised her rating on the stock to Hold from Underperform, asserting that "investor expectations for a buyout have created a floor on TIBX stock that we believe is unlikely to come undone anytime soon." She says the stock should "remain steady, even as the fundamentals deteriorate."
Egbert notes that results for the fiscal second quarter ended May were a touch better than the company's pre-announcement, but she reports that the company reduced guidance for the full year. The company now sees 14% revenue growth for the fiscal year, down from 15%, with new license growth to 10%, from 18%. Cash flow guidance is now 15%-20% growth, down from 20%-plus previously.
But she says that, while management remains "a fairly unwilling seller," investors seem convinced that the company is a takeover target. "With activists circling, the potential for a takeout seems a bit more possible," she says. "We suspect it might be a long process, but it's not in our best interest to fight the trend."
TIBX today is up 34 cents, or 4.6%, to $7.71.