On August 8th, 2012 Eaton Vance (NYSE:EV) announced the adoption of a 10% repurchase program for the outstanding shares of all of their option-income Closed End funds (CEFs). According to the press release, here:
The repurchase program will be directed by Eaton Vance Management (NYSEMKT:EVM), the Funds' investment adviser. Each Fund's repurchase activity, including the numbers of shares purchased, average price and average discount to NAV, will be disclosed in the Fund's annual and semi-annual reports to shareholders. Establishing the repurchase program does not obligate the Funds to purchase specific amounts of shares.
This is certainly a positive step by Eaton Vance to take action to try and reduce the fund's discount levels which are, by far, the widest of all the option-income fund families despite having some of the best funds in the class. I wanted to wait a few weeks before commenting to see how the funds reacted to the news and the reaction has been fairly predictable with most of the funds initially improving their wide discount levels a bit only to see them drop right back down to the -11% to -14% range. The only EV fund that has significantly reduced its discount over the past year has been the Eaton Vance Tax-Managed Buy/Write Income fund (NYSE:ETB) at a -6.5% discount.
Repurchase programs can usually give a short term boost to market prices, but the real advantage can be providing a floor under these funds during weak markets over a longer period. I'm hoping this announcement will finally convince investors to just hold onto their shares of the EV option-income funds knowing that the fund sponsor now has their back on any market weakness, but the initial reaction has been, as expected, a big so what. I'm still optimistic that this vote of confidence by Eaton Vance will help lower their discounts over time, but patience seems to be the operative word right now.
Most investors misunderstand option-income funds, and in particular the Eaton Vance option-income funds, because of their high Return of Capital (NYSE:ROC) in their distributions and due to a series of distribution cuts over the past few years. I can appreciate how investors would interpret these developments as negatives but if they had just considered what should matter most to them, i.e. the total return Net Asset Values (NAVs), then they would have realized that many (not all) of the Eaton Vance funds were outperforming their benchmarks as well as most other option-income funds from BlackRock (NYSE:BLK), ING (NYSE:ING), Nuveen and Allianz/PIMCO.
Why High ROC And Distribution Cuts Can Actually Be A Positive
In articles I've written here on Seeking Alpha, I have attempted to explain that high ROC in option-income funds does not mean that this has to be destructive to the fund's NAVs. High ROC is inherent in almost all option-income funds because of the way they are managed, not because the fund is forced to give you back your investment. In the case of Eaton Vance, the fund managers try to maximize ROC in their option-income funds because of the tax-benefits. That is why most of their funds include "Tax-Managed" in their titles.
Only option-income funds are in a unique position to be able to take advantage of capital losses no matter which direction the market is going. These funds rely mostly on option income and not investment income (dividends and interest) to pay for their distributions, so when they can harvest capital losses in all market environments (in up markets by closing out options and in down markets by selling losing stock positions), then their distributions can be classified as mostly ROC.
The other negative stigma that has hurt option-income fund valuations is distribution cuts. Option premium over the past few years has generally been in decline due to a more competitive options market, lower volatility and a lower interest rate environment so option-income funds do not have as much premium income to work with. Combined with some of the highest yields available to investors and the end result has been gradual distribution cuts in almost all option income funds, not just Eaton Vance's.
However, distribution cuts are not necessarily a negative if they are designed to better balance a fund's distribution with its income and thus, allow the fund to sustain and grow its NAV. Some of the worst performing funds at the NAV level are from fund families that refuse to cut their distributions and maintain unsustainably high yields. Uber high yields may look attractive to investors but it usually comes at the price of severe NAV erosion, destructive ROC and poor overall NAV total return performance.
Sorting The Best Option-Income NAV Performances YTD
This can be seen in the following table which sorts the top option-income funds by their YTD total return NAV performances through August 24th, 2012. Many of the funds with the highest NAV yields are towards the bottom of the table, including funds with 12%+ NAV yields shown in red. On the other hand, most of the top performing funds have much more reasonable NAV yields in the 7%-9% range. Though this table only goes back to the beginning of the year, it should be noted that this trend would generally continue over longer periods as well.
Distribution cuts (far right column) have also been wide spread over the past year though I don't believe we will see many cuts in 2012 like we saw in 2011. NOTE: Due to space constraints, only the top 40 of about 50 funds are shown.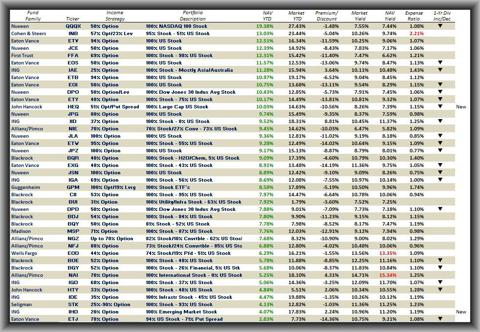 Click to enlarge
As you can see, 4 out of the top 10 performers are from Eaton Vance and yet, if I sorted this table by market price discounts, Eaton Vance would have the top six funds with the widest discounts. On the other hand, popular funds like the Allianz/PIMCO Dividend, Interest & Premium Strategy fund (NYSE:NFJ) and the ING Global Equity Dividend & Premium Opportunity fund (NYSE:IGD) have both seen substantial discount reductions over the past year to the -3% and -4% level and yet both have had underperforming NAVs over the past year or so. It's been an ongoing joke how little respect the Eaton Vance funds get despite their NAV outperformances.
Even though I have been recommending leveraged CEFs over option-income CEFs for 2012 to take advantage of a more bullish market environment, some of the Eaton Vance option-income funds are particularly undervalued based on their current market prices compared to their NAV performances and I'll go over each one now.
Eaton Vance Enhanced Equity Income II Fund (NYSE:EOS)
48,492,000 shares outstanding
4,849,200 share potential buyback
146,000 shares average daily volume
No other Eaton Vance option-income fund is more attractive than EOS in my opinion. Currently at a historically wide -13.1% discount and a 9.7% market yield, EOS has usually been one of the higher valued funds and yet it finds itself at one of the wider discounts. This is unusual since EOS includes a lot of technology stocks in its portfolio (Apple, IBM, Microsoft, Google, Qualcomm, Amazon are all in the top 10 holdings) and only sells 56% option coverage on its portfolio, thus allowing more appreciation capture than funds with higher option coverages. EOS' NAV is up a very strong 11.6% YTD though I would still like to see even better upside from this fund considering its Russell 1000, NASDAQ 100 and S&P 500 benchmarks. Still, the fund has generally outperformed its buy/write indices and I believe the fund is significantly undervalued. EOS could be a prime beneficiary of Eaton Vance's buyback program.
Eaton Vance Enhanced Equity Income Fund (NYSE:EOI)
39,970,000 shares outstanding
3,997,000 shares potential buyback
117,000 shares average daily volume
EOS' sister fund, EOI is similar to EOS except that its stock portfolio is more S&P 500 focused as opposed to technology focused. EOI and EOS are unusual among the Eaton Vance option-income funds in that they sell call options on individual stock positions rather than indexes. There is some debate as to whether this is a better approach and unless the fund is managed closely, I prefer funds that sell index options. The reason is because when you sell call options against a position like Apple Computer (NASDAQ:AAPL), which has far outperformed the indexes, you're not able to realize the full appreciation potential than if you sold call options against a more diluted index. AAPL is the largest position in many of the Eaton Vance option-income funds and represents 7% and 4% of EOS and EOI portfolios respectively.
Like EOS, YTD total return performance has also been strong for EOI, up a solid 10.8% YTD, though historically, both EOS and EOI have lagged their benchmark indices and need to continue to show that their NAVs can keep up during strong market periods and can outperform during weaker market periods. At a -13.1% discount (same as EOS though EOS is usually much higher valued) and a 9.5% market yield, EOI is attractive in my opinion. The other attraction of EOI and EOS over the other Eaton Vance option-income funds is that they are monthly pay as opposed to quarterly pay.
Eaton Vance Tax-Managed Buy-Write Income Fund (ETB)
24,654,000 shares outstanding
2,465,000 shares potential buyback
113,000 shares average daily volume
The best performing Eaton Vance option-income fund YTD at market price, ETB has been on a tear recently hitting 52-week highs. Market price is up 19.2% YTD though its NAV is up about 11%. ETB sells up to 95% S&P 500 index options against its all US stock portfolio so it's generally difficult for the fund's NAV to match its S&P 500 benchmark (up 13.8% YTD) in a strong up market environment. Over time however, ETB's total return NAV performance has been one of the best of all option-income funds, solidly outperforming its S&P 500 benchmark and other funds in its class. For that reason, I have written extensively on ETB as a must own option-income CEF, however, I do believe a lot of the low hanging fruit has been picked on ETB with a discount now down to a more normalized -6.5% (from -11.3% at the beginning of the year). With a relatively low 9% market yield, I think there are better opportunities among the Eaton Vance option-income funds right now.
Eaton Vance Tax-Managed Buy-Write Opportunities Fund (NYSE:ETV)
63,816,000 shares outstanding
6,381,000 shares potential buyback
180,000 shares average daily volume
ETV is very similar to ETB in that both sell up to 95% index option coverage on their US stock based portfolios. ETV has also seen excellent market price performance YTD up 16.3% and is nearing a 52-week high even after distributions. The only real difference between the two is that ETV is more tech heavy and thus uses both the S&P 500 and the NASDAQ-100 indexes to sell options against. On a total return NAV performance basis (i.e. NAV + distributions), no other option-income funds from any fund family have matched ETB's and ETV's longer term performances. With an NAV up 12.5% YTD and at a -11.6% discount, ETV is still very attractive and offers a very generous 10.2% market yield.
Eaton Vance Tax-Managed Global Buy-Write Opport Fund (NYSE:ETW)
107,008,000 shares outstanding
10,700,000 shares potential buyback
330,000 shares average daily volume
Also selling up to 95% index options, ETW is a unique fund due to its large US tech stock exposure (about 23% of portfolio) as well as its European and international stock exposure (about 45% of portfolio). As a result, its hard to find an appropriate index to compare ETW's performance against since it sells index options on the S&P 500, NASDAQ-100, FTSE-100, Nikkei and Euro Stoxx 50 indices. I don't know if that has contributed to investor confusion about the fund, but ETW often suffers the worst selling pressure of all of the EV funds when the markets turn weak despite having the best longer term total return NAV performance after ETB and ETV.
On a YTD total return basis, ETW's NAV is up a respectable 9.3% for a global fund and its market price is up 12.5% but it still has one of the widest discounts of all the Eaton Vance option income funds at -14%. For that reason, I like ETW as a global fund and with a 10.6% market yield, is particularly attractive on any weakness.
Eaton Vance Tax-Managed Diversified Equity Income Fund (ETY)
152,472,000 shares outstanding
15,247,000 shares potential buyback
430,000 shares average daily volume
The next two funds, ETY and EXG are the largest of the Eaton Vance option income funds on a market capitalization basis but yet can be the most volatile due to their higher risk/reward. That high risk/reward comes from their relatively low 47% index option coverages on their global stock portfolios and their relatively high 10.8% and 11.4% current market yields, even after three distribution cuts since 2010.
Both funds came public not long before the financial crisis in 2008 and with their low option-coverages and high payouts, suffered the worst NAV erosion of all the Eaton Vance option-income funds. Still, both fund's NAVs have held up better than most international indices when their distributions are added back despite the grumblings most investors have with these two funds market price performances.
ETY has a relatively high 80% US stock exposure and only sells S&P 500 index options against its portfolio so I'm not as interested in ETY because its not as defensive as some of the other Eaton Vance option-income funds in case of a more difficult market environment and I can find higher rewarding leveraged funds for a continued up market. Still, at a -13.8% discount, and an NAV up 10.2% YTD, ETY offers a compelling valuation, particularly with the potential of over 15 million shares to be bought back.
Eaton Vance Tax-Mngd Global Diversif Equity Income Fund (EXG)
305,443,000 shares outstanding
30,544,000 shares potential buyback
1,077,000 shares average daily volume
EXG is a very large and liquid fund with $3.1 billion in assets. Like ETY, EXG sells index options against a relatively low 47% of the fund's global stock portfolio. Unlike ETY, EXG sells index options on the S&P 500, FTSE-100 and Euro Stoxx 50 indices. This is because EXG has the highest overseas stock exposure of all the Eaton Vance option-income funds with 55% of its portfolio in international stocks, mostly Europe.
I've written several articles on EXG suggesting to investors that the fund's NAV was not performing nearly as bad as the market price and that the fund was attractive at such low valuations. Even though EXG's NAV was holding up better than the most popular international ETF's over the past couple years, investors wanted nothing to do with EXG. At the end of 2011 when tax-loss selling hit its peak, EXG's market price discount had reached almost -18%, the widest since the market lows back in early 2009. So far this year, EXG's market price has rallied a bit up 13.5% YTD, better than its NAV performance up 8.9%. As a result, EXG has cut its discount to -14.2%, still quite wide considering where most global option-income funds trade with worse NAV total return performances than EXG.
I don't own EXG for the same reason I don't own ETY. EXG and ETY are the most aggressive of the EV option-income funds and I would just rather own leveraged CEFs to capture more appreciation potential in an up market environment.
Eaton Vance Risk-Managed Diversified Equity Income Fund (ETJ)
72,958,000 shares outstanding
7,295,000 shares potential buyback
289,000 shares average daily volume
ETJ is the least attractive Eaton Vance option-income fund in my opinion, even at a -14.4% discount. The reason is because ETJ is a "risk-managed" fund which buys 100% put option protection along with selling index call options. This added expense of buying put options has been a huge financial burden to the fund and takes away from income that could be used for growing its NAV or for distributions. Yes, EV has tried to offset this huge expense by selling deeper out-of-the money put options but that hasn't helped much.
What's most worrisome about ETJ is that it has not been able to sustain its NAV even in a down market when its strategy should excel let alone having very little NAV upside in a strong market. Option-income funds are inherently defensive to begin with so adding an extra layer of protection by buying 100% put options is unnecessary in my opinion. YTD, ETJ's total return NAV performance is up only 2.8%, the worst of all the Eaton Vance funds (see table above).
Conclusion
I believe Eaton Vance has been under pressure to do something about the wide discounts of its option-income funds, and short of converting all of their funds to "open-end" ETFs or mutual funds, this is a logical step. Though a conversion was probably never an option, it's fun to imagine what immediate 10%+ gains on their funds would have looked like.
Still, a share repurchase program should help these funds over time as it is basically an acknowledgment by the fund sponsor that their funds are undervalued, something that I have been saying for over a year for many of their funds. Looking into my crystal ball, the buyback program may signal a broader strategy change for their option-income funds as well. None of the funds had near the cash reserves to repurchase the amount of shares authorized according to the latest semi-annual reports this past March and June, so I'm guessing that Eaton Vance's longer term plan may be to raise cash reserves in preparation for any repurchases. What this could also mean is that Eaton Vance may be more inclined to sell stock positions at realized gains now. Considering how strong the market has been as we head into the notoriously more difficult September and October months, this could be a smart move. If that's the case, then taking some realized gains in stock positions instead of holding mostly unrealized capital gains will also result in a lower Return of Capital in their distributions too, something that may please the ROC crowd.
We'll have to see how all of this unfolds but I will say that I feel more positive about the developments for the Eaton Vance option-income funds going forward now than I have for awhile.
Disclosure: I am long ETV, ETB, EOS, EOI, ETW. I wrote this article myself, and it expresses my own opinions. I am not receiving compensation for it (other than from Seeking Alpha). I have no business relationship with any company whose stock is mentioned in this article.