Based on an overwhelming bearish negative bias on the euro (NYSEARCA:FXE) from multiple sources (individuals, banks, analysts, and fund managers) we believe selling the euro on any run-up is a viable strategy.
This last move to a near 1.26 provides a good example. Fundamentally, nothing changed with euro last week. But a combination of central banker news, both from the Fed and the ECB, contributed to the euro rise from 1.23 to nearly 1.26.
Much of this news, such as the Spain bailout news, was all talk and no action. In the case of the Spain news, the report from CNBC said:
The euro soared to a seven-week high against the U.S. dollar on Thursday on a report that Spain is negotiating with the eurozone over conditions for international aid, although the country has not made a final decision to request a bailout.
The keyword here is negotiating -- and finally it says the country has not made a final decision to request a bailout. So Spain is potentially negotiating for a bond bailout that may or may not happen, and this accelerates a euro climb to 1.26?
Daily Chart Analysis
Click to enlarge image.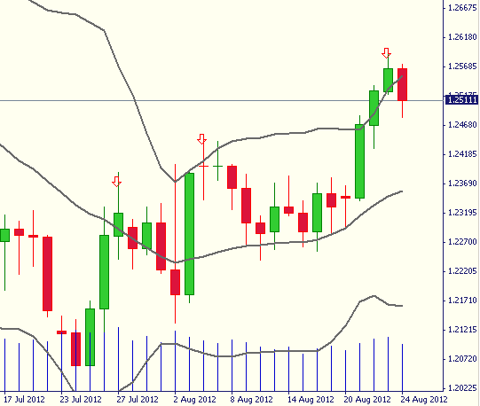 Click to enlarge
This daily chart of the euro shows a good example of how on every increase in price it is shot down, although usually not immediately.
Strategy: Sell the Euro on Any Run-Up
As the euro is going up, wait for it to settle down and sell. If it goes higher, sell more (not with a larger size). This trade will require patience and will cause you to experience a little pain, unless you are able to pick the top. However, timing is not important as this is a fundamental trade. The euro is one bad news items away from a 100 or 200 pip drop. August has been a slow month, as is the case with the markets and economy in any August. However, in three attempts by the euro to go higher, each attempt encountered resistance. Do not use high leverage for this strategy because while fundamentally the euro should go down, that doesn't mean jawboning from European central bankers or some other news may not make traders move the price up quickly. This is the opportunity to sell.
For more research, see the Elite Forex Blog.
Disclosure: I have no positions in any stocks mentioned, and no plans to initiate any positions within the next 72 hours. I wrote this article myself, and it expresses my own opinions. I am not receiving compensation for it (other than from Seeking Alpha). I have no business relationship with any company whose stock is mentioned in this article.
Disclosure: The risk of loss in trading foreign exchange markets, also known as cash foreign currencies, or the Forex markets, can be substantial. Click here to read our forex risk disclosure.