Dry bulk cargo ship leasing company Navios Maritime Partners (NYSE:NMM) has been able to maintain its level of profitability and dividend payout in a sector which has been hit hard by low lease rates. With a dividend yield of over 12%, the market seems to have little faith that Navios Partners can maintain the current rate of dividend payments, even though the company has never reduced the dividend.
Navios Maritime Partners is a master limited partnership that owns a fleet of 20+ dry bulk freight ships leased on long-term contracts. The general partner interest of Navios Partners is owned by Navios Maritime Holdings (NYSE:NM), which also owns and leases its own fleet of cargo ships.
When it works, the ship leasing business is very profitable. The Navios Maritime Partners operating surplus -- read distributable cash flow -- for the first half of 2012 was over 60% of revenues. When it goes wrong, it can go terribly wrong. The highly leveraged shipping companies which were making a ton of money in 2007 and 2008 pretty much lost it all when shipping rates dropped. The poster child of busted shipping companies, Dry Ships Inc. (NASDAQ:DRYS) was a $120 stock in late 2007 and now the shares are worth $2.30 each.
Navios Maritime went the conservative route and used the master limited partnership path to raise capital to finance ship purchases. Navios Maritime Partners was launched with a November 2007 IPO and a fleet of 6 vessels dropped down from Navios Maritime. Subsequent unit offerings were used to purchase new vessels or drop-down assets from the general partner. It is my opinion that Navios Partners has been able to cherry pick the best Navios Maritime assets and customers to build its fleet.
Cash Flow For Dividends
When you read about the revenue, EBITDA or net income growth from Navios Maritime Partners, these numbers have little effect on the dividend rate paid on a per unit basis. As the company acquires more ships, the purchase of those ships are at least partially funded with the issue of new partnership units. All MLP companies function in this manner and they can grow revenue and profits to the moon and it does not mean much unless net cash flow increases on a per unit basis. To monitor the safety of the Navios Maritime Partners dividend, you need to pull two numbers -- cash distributions paid and operating surplus -- from the company's earnings statements. The ratio of the two provides a view to the cash flow coverage of the dividend.
For the first six months of 2012, Navios Partners reported an operating surplus of $59.1 million and cash distributions paid were $51.8 million. The dividend coverage ratio was 114%. For the first six months of 2011, the distributions were covered 120% by the operating cash surplus. Even though the dividend was just increased fractionally over the previous year, the cash flow supporting the increased payout did not grow at an equivalent rate.
Cash Flow Prospects
As I was reading the 2012 second quarter earnings report, I was concerned about the percentage of available ship days already under contract, starting with next year. The report stated that 78.3% of available days in 2013 are contracted and 43.1% in 2014. In an era of falling lease rates, having less than half of your available inventory spoken for just two years out raises a red flag. To back-check if anything had changed over the previous year, I reviewed the 2011 second quarter earnings report. In that report, the numbers were 91% for 2012 -- a number now at 99% -- and 78% for 2013. A year ago, Navios Partners had much better visibility on cash flow for the next year -- 2012 -- and not much progress has been made on un-leased ship days for 2013.
This will not be a problem if dry bulk cargo ship lease rates are level or increasing. However, the Baltic Dry Index has been in a volatile down trend for at least the last two years, see the chart below.
Dividend and Investment Prospects
The dividend rate from Navios Maritime Partners currently appears to be secure, but with little room for growth. Many investors would be happy with a steady 12% dividend yield. Keep a close eye on the dividend coverage and the contracted future leasing coverage as the next few quarters unfold. I will work to keep posting updates. There is some reason to worry about the dividend in the second half of 2013, but those worries are small at this point.
A final word on the Navios Partners dividend. The company has elected to be treated as a corporation for U.S. tax purposes -- no income is generated in the U.S. -- so dividends are reported on a Form 1099 instead of the more typical K-1 for a MLP. Also, about 60% of each dividend has been classified as qualified dividends and the other 40% as non-dividend distribution. This MLP stock would be a suitable IRA investment.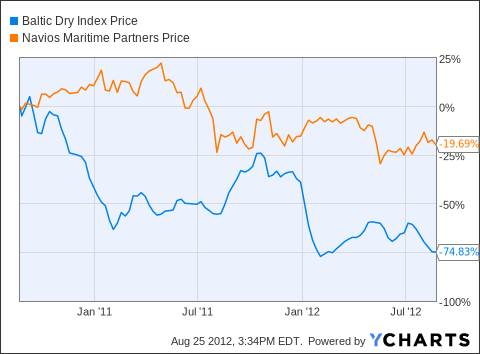 Disclosure: I have no positions in any stocks mentioned, and no plans to initiate any positions within the next 72 hours. I wrote this article myself, and it expresses my own opinions. I am not receiving compensation for it (other than from Seeking Alpha). I have no business relationship with any company whose stock is mentioned in this article.