Shopping mall REIT General Growth Properties (NYSE:GGP) hit the news this week with a proposed and quickly rejected buyout offer. The details of the proposed offer plus some information from the recent earnings report, allow the estimate of future share price, which General Growth Properties could hit in the next two years.
General Growth Properties was forced into bankruptcy in 2009 (for some background, read General Growth Properties Continues To Stabilize Coming Out Of Bankruptcy) and has been working to stabilize the REIT's balance sheet since emerging from the bankruptcy in 2010. Since receiving an infusion of capital in early 2010, the GGP share price has traded in a range approximately $12 to $18 per share.
The Buyout Offer
According to news reports -including this article - the buyout attempt was instigated by hedge fund manager Bill Ackman of Pershing Square Capital LLP. Pershing Square Capital was one of the investors putting capital into General Growth Properties in 2010. The deal was reported to have been blocked by Brookfield Asset Management Inc - a Canadian real estate company - the largest shareholder of General Growth Properties and another of the companies providing 2010 restructuring capital.
Simon Property Group (NYSE:SPG) - the largest REIT in the U.S. - made the actual offer for General Growth Properties. The offer was 0.1765 shares of SPG for each GGP share. With Simon Property Group trading at about $160, the offer valued General Growth Properties at $28 per share. Ackman indicated that Brookfield Asset Management was not willing to accept the deal, and it appears the stock market agrees that nothing will happen at this point, since the GGP share price closed below $20 on Friday - August 24.
General Growth Properties Real Value
If Simon Property Group is willing to pay $28 per share for General Growth Properties and the largest shareholder thinks the offer does not put enough value on the table, I would put that $28 number as my minimum target for the share price.
The projected 2012 funds from operations - FFO - also supports a higher stock value. FFO guidance or the year is 97 cents per share, well above the current 44 cent annualized dividend rate. General Growth Properties continues to work in reducing its debt load and the rates paid on the remaining debt. If General Growth was paying out 100% of FFO and the market priced the stock was price to match the 3.5% yield prevalent among the retail REIT stocks, GGP would be at $27.70 - not far off the $28 offer price from Simon Property Group.
It is very possible that General Growth Properties will hit the $28 to $30 share range by early 2014. A hedge fund manager may not be willing to wait two years for a 50% gain, but individual investors who get into GGP at less than $20 should be very happy by the year after next.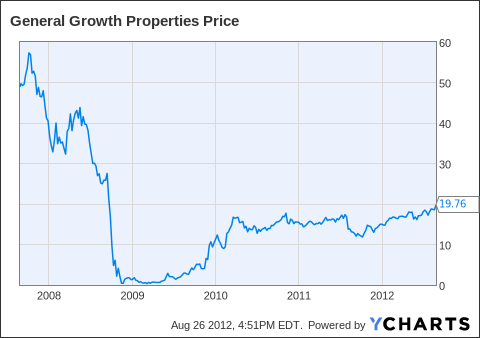 Recommended Reading:
General Growth's CEO Discusses Q2 2012 Results - Earnings Call Transcript
Best In Class REIT: Simon Property Group Continues To Grow
Disclosure: I have no positions in any stocks mentioned, and no plans to initiate any positions within the next 72 hours. I wrote this article myself, and it expresses my own opinions. I am not receiving compensation for it (other than from Seeking Alpha). I have no business relationship with any company whose stock is mentioned in this article.