Johnson & Johnson (NYSE:JNJ) has an impressive history of long term growth. For the past 29 consecutive years JNJ has increased adjusted earnings, and for the past 50 consecutive years JNJ has increased dividend payments. With such a record, the stock is a favorite among long term dividend growth investors. In this article I try to evaluate whether JNJ shares are attractive for the long term investor using a data set that would be realistically available to the average individual private investor. (The data in this article is derived from Valueline.com, JNJ annual reports, and Yahoo finance).
There are 3 general factors one should check when evaluating investment risk. They are:
The business risk - the risk that the business generates lower than expected profits or loses money (and yours!).
The financial risk - the risk the company has taken on too much debt which it is unable to finance and so goes bust.
The valuation risk - the risk we pay too much for a share, minimizing our returns even if the business performs well.
The Business Risk
The following graphs display the business performance of JNJ in terms of sales, earnings, cash flows and dividends per share, and its operating margin going back to 1994.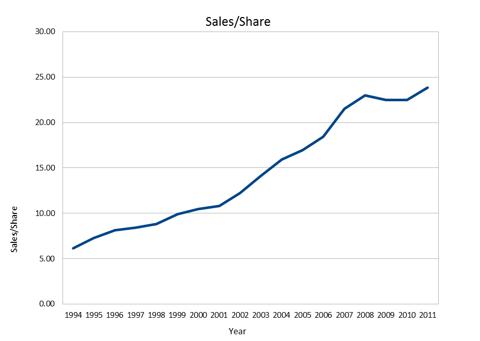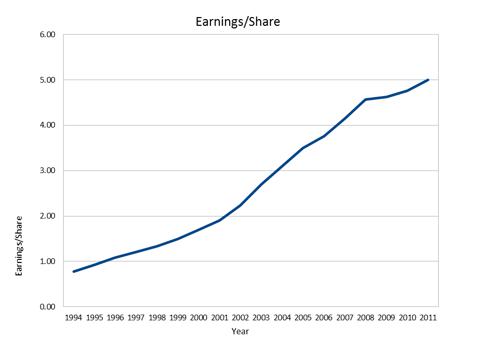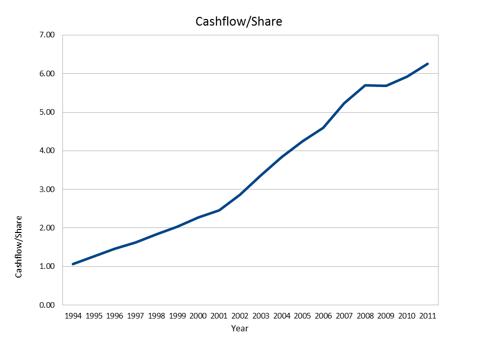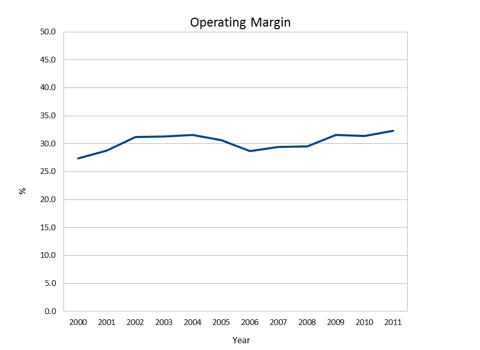 The trend of growth in sales, earnings, cash flow and dividend/share graphs over this 17 year period has been very consistent. JNJ has also maintained a consistent operating margin of around 30% going back to 2000 (this is as far as I could get data on this). This time period includes varying economic periods, including the recessions of the early and late 2000s. JNJ has also had its issues in recent years with product recalls, litigation settlements and product liability costs. These have been classed as "nonrecurring events" and are still ongoing, the latest of which was an additional $0.6B cost for ongoing civil litigation matters related to Risperdal. The data displayed in the earnings graph ignores nonrecurring events, but the fact cash flows, dividends and margins are being maintained demonstrates the robustness of the business and its operating performance. Despite the headwinds, JNJ continues to grow year on year albeit recently at a slower rate. Forecasts (discussed later) take into account these litigation and liability costs and come in significantly below the historical average.
As mentioned earlier, JNJ has raised its dividend for 50 consecutive years. The current payout ratio is 45%. There has been a gradual increase in the ratio since 2000 showing JNJ's determination to keep returning profits to shareholders even in a slow growth climate (see growth rates below).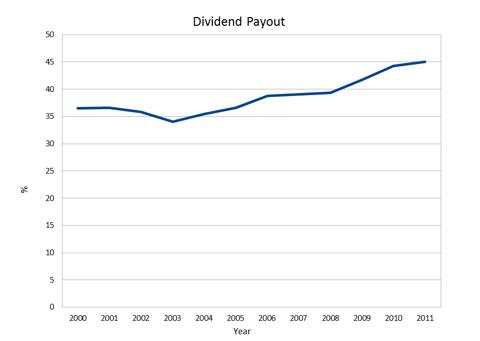 The table below summarizes the compound annual growth record of the relevant business parameters displayed above over the long term (17 years), the most recent trailing 5 years, and a prospective 5 year outlook:
(CAGR = Compound Annual Growth Rate)
Johnson and Johnson - Growth Record

Growth Parameter

CAGR over the past 17 Years

CAGR over the past 5 years

Prospective 5 year CAGRs

Sales per share

8.3

5.3

5.2

Earnings per share

11.5

5.9

5.7

Cash flows per share

11.0

6.3

4.9

Dividend per share

13.0

9.0

6.3
The table above shows JNJ has achieved low double digit growth over the long term. Over the past 5 years growth has just about halved from historical norms, and this slower rate of growth is predicted to continue for the prospective 5 year period.
Overall, the data suggests JNJ has a strong business model due to its ability to continually grow year on year over a range of economic environments and despite the headwinds of recent years. This achievement has earned it an Earnings Predictability score from Valuline.com of 100, the maximum score, meaning future estimates carry with them a higher degree of confidence against lower rated companies. Dividend growth is kept marginally higher than growth in earnings and cashflow, but at a payout ratio of 45%, does not seem under threat to stall or be cut in the medium term. We can be confident in receiving a growing annual dividend well ahead of the rate of inflation over the medium term based on what we know of JNJ's dividend payout culture.
Financial Risk
The following graphs help us evaluate JNJ's financial position.
The above graph shows JNJ's cash and debt positions over time, both long and short term debt (I could only get cash and short term debt back to 2001). JNJ has a strong cash position that completely covers both the short and long term debt it owes. Both short and long term debt positions have grown since 2006, however the pace of JNJ's cash balance growth has actually outpaced the growth in debt. As the debt has grown, so too has the interest expense JNJ pays on the debt. However, this cost is very small compared to their cash position ($0.5B vs $25B) and even more negligible when you take into account the cash flow provided by operations (see graphs below).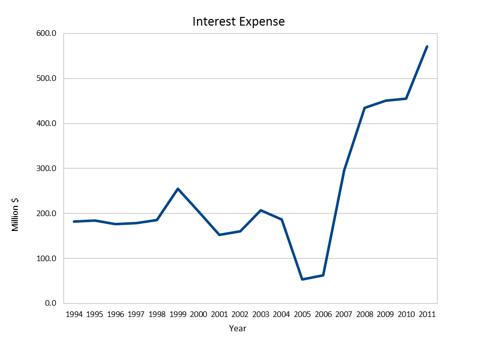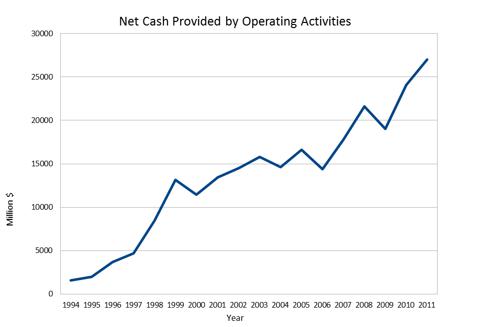 The graph of cash provided by operating activities against time re-affirms the earnings growth is good quality with its strong upward trend. There is little financial risk with JNJ in the medium term.
Valuation Risk
The following graphs show how much investors have been willing to pay for JNJ shares over the past 17 years.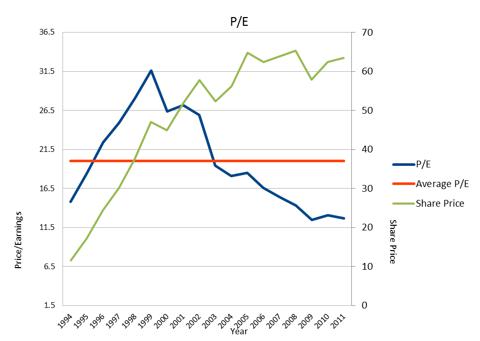 This graph shows that investors were willing to pay over 31x earnings for shares in JNJ 1998/99 and approximately 13x earnings from 2009/11. We have already seen that JNJ's business performance over the time period has been in a consistent uptrend and produced good CAGR rates in all areas examined. We also saw earlier how the rate of growth in JNJ has slowed in the past 5 years when compared to history. The share price has reflected this and has traded in a tight range since 2004. Growth may have slowed in the past 5 years, however the share price has remained essentially stationary, so the PE ratio is now as low as it has been in the past 17 years. The current forward PE ratio is approximately 13.
JNJ has a long history of dividend payments and, as stated earlier, has increased its dividend payment for the past 50 consecutive years. Today, the yield is approximately 3.6% which is as high as its been over the past 17 years.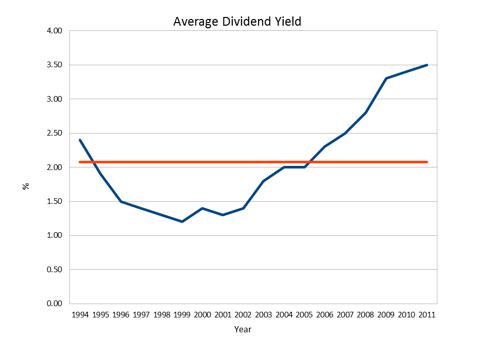 Based on P/E being at a historical low and the dividend yield being at a historical high JNJ can be considered undervalued compared to history, it is as cheap as it has been for the past 17 years.
Conclusion
I would argue based on the above data, the financial and valuation risk currently with JNJ is low. The business risk is not as clear cut. JNJ has maintained growth recently but has written off a number of issues as non-recurring events in the past 3 years. Unfortunately this still hangs over the company and has not been completely resolved. However, forecasts have been made taking JNJ's recent trouble into account and the historically low P/E and high dividend yield indicate this is largely priced in.
JNJ has a forecasted earnings CAGR over the next 5 years of 5.7% and a forecasted dividend CAGR of 6.3%. Using a share price of $67 and 2011 figures as a starting point, the following table provides a summary of possible outcomes using a range of P/E ratios from below the current ratio up to a ratio of 20, the historical average, combined with the accumulated dividends over that time.:
| | | |
| --- | --- | --- |
| Year | EPS ($) | DPS ($) |
| 2012 | 5.29 | 2.39 |
| 2013 | 5.59 | 2.54 |
| 2014 | 5.90 | 2.70 |
| 2015 | 6.24 | 2.87 |
| 2016 | 6.60 | 3.05 |
| | Total Dividends ($) | 13.55 |
| | | | |
| --- | --- | --- | --- |
| 2016 PE Ratio | Share Price ($) | Dividends ($) | Total Return |
| 10 | 66 | 13.55 | 19 % |
| 16.5 | 109 | 13.55 | 83 % |
| 20 | 132 | 13.55 | 117 % |
There is significant upside potential with JNJ at current levels for the long term investor, especially if JNJ's business performance recovers and investors regain confidence in the company. If the share price remains in the current trading range for the next 5 years, one could still receive a 20% total return through dividends alone.
Disclosure: I have no positions in any stocks mentioned, but may initiate a long position in JNJ over the next 72 hours. I wrote this article myself, and it expresses my own opinions. I am not receiving compensation for it (other than from Seeking Alpha). I have no business relationship with any company whose stock is mentioned in this article.