It is getting harder to find value in this market after a three month 10% plus rally. However, I recently came across a cheap drugmaker selling at $6 a share. The stock has more than half its market capitalization in net cash, low valuations, and technically looks like it has bottomed.
"Cumberland Pharmaceuticals (NASDAQ:CPIX) is a specialty pharmaceutical company, engages in the acquisition, development, and commercialization of branded prescription products for the hospital acute care and gastroenterology markets primarily in the United States." (Business description from Yahoo Finance)
Seven reasons CPIX has significant value at $6 a share:
The company has over $65mm in net cash on the books, which represents approximately 55% of the stock's market capitalization.
The stock is selling in the bottom third of its five year valuation range based on P/CF, P/B and P/S.
Earnings are going in the right direction. The company earned 28 cents a share in FY2011. CPIX is on track to post 35 cents in earnings this year and analysts have 48 cents a share penciled in for FY2013.
The stock is selling at 12.5 times forward earnings (under 6 times earnings taking out cash), a steep discount to its five year average (34.0).
CPIX was just added to Zack's "Strong Buy" list on Friday. It was added to the Russell 3000 Index in June as well.
The stock is selling at one times revenues after subtracting cash. Given the company's $50mm market capitalization after net cash is taken out, this would make an easy bolt on acquisition for a larger player looking to fill out its product portfolio.
The stock looks like it is forming a medium term bottom at this level (See Chart).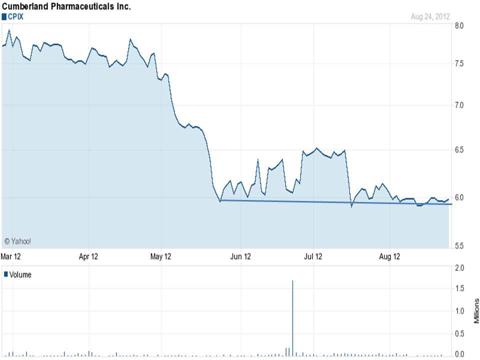 Click to enlarge
Disclosure: I have no positions in any stocks mentioned, but may initiate a long position in CPIX over the next 72 hours. I wrote this article myself, and it expresses my own opinions. I am not receiving compensation for it (other than from Seeking Alpha). I have no business relationship with any company whose stock is mentioned in this article.