Last week's dividend hike of 7.3% makes Altria Group Inc. (NYSE:MO) a great dividend stock to hold in your portfolio.
Altria recently reported excellent quarterly results. Second quarter adjusted earnings were $0.02 higher than consensus estimates; earnings increased by 9.3% to $0.53. Revenue grew to by 9.6% to $6.5 billion, beating market estimates. It has an above average dividend yield of 5.2%. The company's consistent and increasing dividend yield makes it a great stock for investors seeking dividend income. The present annualized dividend rate is $1.76 per share. High dividend yield in a low yield environment makes it an attractive stock. Altria's consistent performance enables it to pay high dividends and buy back shares. The company has been one of the best performing stocks in the market, and its stock price is up nearly 30% in the last year. The stock has an upward potential from its current levels. We recommend a long term buy for Altria Group.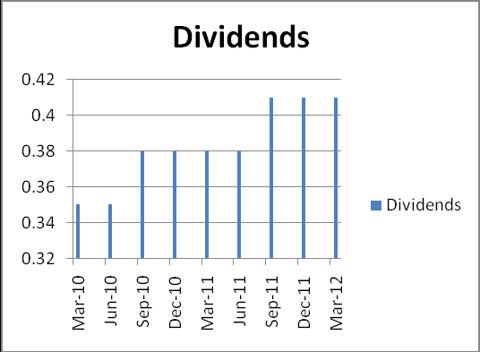 Click to enlarge
Source: The Street.
Altria engages in the manufacturing and sale of cigarettes, smokeless products and wine in the U.S. and internationally. Altria gets over 80% of its overall revenues from the cigarette division. It owns almost 50% of the U.S. cigarettes market share. Altria's tobacco segment is divided into smoke-able and smokeless tobacco segments. In the smoke-able segment, Marlboro is the most known and profitable product. The smokeless tobacco segment enjoyed profit growth and higher revenues. Altria's performance has been strong, as reflected by its profit margin of 25.68% and operating margin of 42% in the past year. The company's cost reduction plan was announced in 4Q2011; the plan remains on track and expects annualized savings of around $400 million. The expected savings will boost earnings and investor confidence.
In the past, the company has shared its success with shareholders through paying dividends and share repurchase programs. The consistent and above market average dividend yield has led to the company's stock price doubling in the last three years, and if the dividend trend continues, it might experience an upward move in the future as well. Altria has announced a $1 billion share repurchase program; as a part of this program in the second quarter of 2012, the company purchased 2 million shares at an average price of $32.37.
The cash flow and dividends have displayed a consistent relationship in the past, with dividend yield being slightly on the higher side as compared to the cash flow yield. In 2011, the dividend yield was 5.33% as compared to the cash flow yield of 5.29%. This relationship reflects that the company will be able to maintain its dividend without much problem in the future.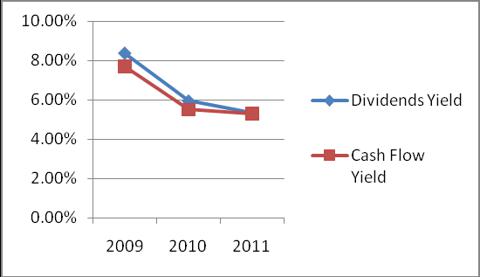 Click to enlarge
Source: Qineqt's Database
The major concern for investors should be the amount of debt, more than $12 billion, on its balance sheet. The debt-to-equity ratio of nearly 320% reflects that the management is leveraging its balance sheet through debt and share repurchase programs to inflate the ROE. Interest coverage ratio of 5.16% represents that the company won't have problems in paying interest. Altria's debt is trading at a yield of 5%-to-7% and if the company pursues its share buyback program, it will further increase its debt-to-equity ratio, which might increase interest costs and put significant pressure on the company's profit margins and ability to sustain dividends in the coming years.
Altria is a highly leveraged company. In 2013, the company might face cash flow problems as it has to repay nearly $1.8 billion of debt. The company might issue new debt to repay maturing debt in 2013; after which, the debt structure and debt maturity does not display an alarming picture, as not a significant amount of debt is expected to mature in the coming years.


Click to enlargeSource: Thomson Reuters.
Altria's stock is trading at a discount relative to its competitors; its P/E of 16.5x is below the industry average of 20.1x and its competitors P/E. Profit margins and dividend yield compared to its industry make it an attractive stock. Based on its industry P/E ratio, the stock will have a value of almost $41.
| | | | |
| --- | --- | --- | --- |
| | P/E | Net Profit Margin | Dividend Yield |
| Altria Group Inc. | 16.5x | 26.7% | 5.2% |
| British American Tobacco plc (NYSEMKT:BTI) | 21.7x | 25.9% | 2.4% |
| Philip Morris International (NYSE:PM) | 18.3x | 28.5% | 3.4% |
| Reynolds American Inc (NYSE:RAI) | 19.2x | 20.4% | 5.1% |
Source: Yahoo Finance.
We recommend a long term buy for Altria, based on its strong profit margins and dividend history. However, investors should keep an eye on its debt structure, since it could significantly impact the profitability and payout to shareholders, which might signal a decline in the stock price.
Disclosure: I have no positions in any stocks mentioned, and no plans to initiate any positions within the next 72 hours.
Business relationship disclosure: The article has been written by Qineqt's Retail Analyst. Qineqt is not receiving compensation for it (other than from Seeking Alpha). Qineqt has no business relationship with any company whose stock is mentioned in this article.