The primary and most popular ETF for gold investment is the SPDR Gold Trust ETF(NYSEARCA:GLD), but few investors know that it is also expensive. It charges a hefty 0.40% maintenance fee every year. This may not seem much in the short-term, but in the long-term, it could make a big difference in your return.
A much cheaper, and less publicized, ETF is the iShares Gold Trust ETF (NYSEARCA:IAU), from BlackRock. It charges only a 0.25% maintenance fee per year. The 0.15% difference plays out over time. As the graph shows, over a 7-year period, this difference contributes as much as 20% in returns. Since both ETFs are run and managed by respectable institutions, there is no reason to pay more for the same thing.
Now to be fair, IAU only lowered its expense ratio to 0.25% in 2010. Before that, it also had a 0.40% expense ratio. Even in the period before 2010, IAU has consistently outperformed GLD. I suspect this was due to a bigger net asset to price difference as a result of the popularity of GLD. Whatever the reason, IAU's consistently better returns make it a more worthwhile investment than GLD.
(click image to enlarge)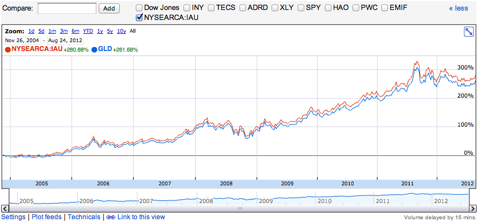 How The IAU And GLD ETFs Work
Some ETFs play commodities through futures. These have high rolling costs, and they don't track commodity prices well after long periods of time. IAU and GLD are different. They are backed by physical assets. In other words, iShares -- the company that manages IAU -- and State Street Global Advisors -- the company that manages SPDR GLD -- buy physical gold and store them in vaults. SPDR GLD's assets are stored in London in a HSBC vault, and IAU stores the assets in different cities.
The expense you pay keeps these vaults operating. Each company publishes the serial numbers on the gold bars they own as proof that the gold really exists. Since the ETFs are backed by physical metal, their price pattern trade is almost identical to gold's spot price. Owning these ETFs is just as good as owning the real physical metal, but they can be liquidated much easier.
ETF Vs. Physical Metal?
Gold has definitely been a hot topic in the past few years as many investors have been become increasingly interested in the precious metal. There are three ways to have gold in your portfolio: gold futures, the physical metal and ETF. Physical metal is good, but it's highly illiquid and there is the potential risk of being exposed to fakes. The easiest way to have gold in your portfolio is through a gold ETF. There has been speculation and rumors about how these gold holdings don't really exist, or how the gold has been loaned out, but because IAU and GLD are both operated by respectable and too-big-to-fail institutions and backed by physical assets, counterparty risk should not be a major concern.
Disclosure: I have no positions in any stocks mentioned, and no plans to initiate any positions within the next 72 hours. I wrote this article myself, and it expresses my own opinions. I am not receiving compensation for it (other than from Seeking Alpha). I have no business relationship with any company whose stock is mentioned in this article.