It appears from recent reports that the housing market has finally bottomed. Although it is unlikely the market will accelerate significantly in the near term, at least it will not be the anchor it has been to the economy over the past five years. This has certainly helped the fortunes of homebuilders in 2012 as well as buoying the fortunes of housing driven retailers like Home Depot (NYSE:HD), which is up some 80% over the last year. One cheap retailer that should also be helped by the bottoming of the housing market is Bed Bath & Beyond, which also has had some other recent catalysts.
Recent catalysts for Bed Bath & Beyond:
Barclays just reiterated its "overweight" rating on the stock making BBBY its top pick in its hardline retailing space.
The company is pursuing the ability to sell beer & wine as a result of its recent acquisition of Cost Plus.
Bed Bath & Beyond will also start to sell Starbucks' (NASDAQ:SBUX) Verismo coffee machines which should provide a significant sales boost.
Consensus earnings estimates for both FY2012 and FY2013 have gone up over the past two months.
Technically the stock looks like it has recently bottomed and just crossed its 200 day moving average (See Chart).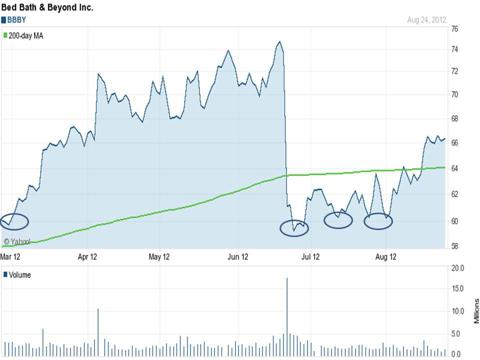 Click to enlarge
"Bed Bath & Beyond (NASDAQ:BBBY) operates a chain of retail stores. It sells a range of domestic merchandise, such as bed linens and related items, bath items, and kitchen textiles; and home furnishings, including kitchen and tabletop items, fine tabletop, basic housewares, general home furnishings, consumables, and certain juvenile products.." (Business description from Yahoo Finance)
4 reasons BBBY is a solid play at $67 a share:
The company has over $1.5B in net cash on its balance sheet (more than 10% of market capitalization)
The company has beat earnings estimates for twelve straight quarters. The average beat over consensus over the last four quarters has averaged some 9%.
The stock is selling at less than 13 times forward earnings, a discount to its five year average (15.7).
In addition to Barclays, both BB&T Capital Markets and Canaccord Genuity have both upgraded the shares from "hold" to "buy" over the last few months. Credit Suisse has an "outperform" rating and a $91 price target on the stock.
Disclosure: I have no positions in any stocks mentioned, but may initiate a long position in BBBY over the next 72 hours. I wrote this article myself, and it expresses my own opinions. I am not receiving compensation for it (other than from Seeking Alpha). I have no business relationship with any company whose stock is mentioned in this article.