Edited by Kate Boehme
John Paulson, a prominent hedge fund manager, founded his company Paulson & Co. in 1994. Paulson has become a legend for famously betting against the subprime housing market in 2007 where he earned a payout of $3.5 billion. Currently, Paulson manages about $30 billion in assets. As a former investment banker, Paulson uses both merger arbitrage opportunities and credit default swap options. His style of fund management is distinctive and extremely complex. Known as a gambling investor, he made $4.9 billion in 2010 from his portfolio thanks to his gigantic bet on gold, a record in the hedge fund industry.
Paulson made five big buys in the second quarter of 2012, the most remarkable of which is his recent big bet on gold. He expanded his fund on GLD for the first time since the first quarter of 2009. Paulson now has 44 percent of its $24 billion fund exposed to gold prices. Aside from Paulson, George Soros has also increased his gold holdings. In fact, Soros recently doubled the amount of gold in his hedge fund.
As of the end of last quarter, Paulson had a portfolio that is dominated by SPDR Gold, followed by other basic material stocks, and healthcare companies. In the second quarter, Paulson increased his holdings in 15 stocks and opened new positions in five. In this article I investigated stocks near the top of Paulson's portfolio. In particular, I screened for stocks where Paulson fund invested at least $100 million. Here is a brief analysis of 5 big buys by Paulson:
Company

Ticker

Shares Held

%Change

% of TSO*

SPDR Gold Trust

(NYSEARCA:GLD)

21.8 million

26.00%

12.40

HCA Holdings

(NYSE:HCA)

7.95 million

396.00%

2.45

J P Morgan Chase & Co

(NYSE:JPM)

4 million

NEW

0.14

Quest Software, Inc.

(NASDAQ:QSFT)

4.93 million

146.00%

9.57

Equinix Inc.

(NASDAQ:EQIX)

1.013 million

NEW

2.0

*TSO: Total share ownership by Paulson & Co. obtained from Nasdaq.com; data as of August 27, 2012
SPDR Gold Trust
For the first time since 2009, Paulson & Co. has increased its holdings in the SPDR Gold Trust. GLD is the world's No.1 exchange-traded fund; as of August 27, its market capitalization stands at $70 billion. GLD stocks also currently sell about $162 and its year to date return stands at 6.7 percent.
Paulson boosted his investments in GLD by 4.5 million shares this second quarter, and now owns a total of 21.8 million shares. This is 26 percent higher than the first quarter's 17.3 million shares. Paulson, who owns 12 percent of GLD, is the ETF's biggest shareholder. It can be recalled that the prominent hedge fund manager had cutbacks in his gold fund during the third and fourth quarters of 2011, but remained steady in the first quarter of this year. The second quarter increase in gold stakes indicates, as analysts put it, Paulson's continuing faith in gold and is boosting investors' confidence in the precious metal.
Gold has made a remarkable comeback; it is now seen to carry the same risk levels as treasury bills. Gold is now being used more as collateral. Its big comeback is spurred by the falling stock market and caused by the economic crisis and fears of mounting inflation. Since the last quarter of 2011, the price of gold has fallen, but is now managing to crawl back up because of huge investments now pouring into this classic "fallback" investment.
Gold's prices are increasing at a daily average rate of 0.11 percent. The figure (below) shows the trend in the price of gold within the last three months. Notice the consistent climb over the recent weeks in August. Since August 14, gold's daily price has not yet been diminished, though its current price of $1,669.10 (as of August 27) is still below that of last year's peak at $1,858.30 an ounce: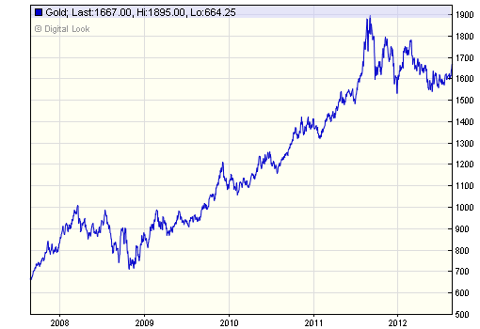 Source: Moneyweek.com (using simple moving averages)
Many believe that the price of gold will continue to rise due to the recent surge in buying by central banks. The increase in purchases has already occurred at a rate of 156 percent; that amounts to a purchase of 400 metric tons of gold, as opposed to only 156 metric tons during the same period last year. Another potential cause of this price increase is exhibited high performance from countries such as India, where there is a high demand for gold. Ultimately, as people continue to worry about recent inflation hikes - especially those impacted by the eurozone crisis - U.S. credit downgrades, and persistently high unemployment rates, among other issues, a return to investment in this rare commodity seems a likely choice.
However, once needs to be careful when investing in this commodity. Similar to tulip-mania of 18th century, and tech-mania of late 90s, we are experiencing a gold-mania in 21st century. The gold prices are being driven to insanely high levels, thanks to the above mentioned issues. While it was a brilliant idea, to invest in gold 10 years ago, I would not buy any gold today, especially when the prices are hovering around $1700. Holding seems like the best choice at the moment.
HCA Holdings
HCA Holdings, Inc. is the largest private operator of healthcare facilities in the world. It currently manages 163 hospitals and 110 freestanding surgery centers across the US and the UK. As of August 24, 2012, it has a market capitalization rate of $12.39 billion. John Paulson clearly favors the Tennessee-based healthcare company, since he drastically increased his shares in HCA by about four times the amount held last quarter. Paulson & Co now owns 7.95 million shares in HCA, which amounts to 2.45 percent of the total institutional ownership.
HCA Holdings, Inc. has an EPS of $6.37. Meanwhile, the stock's year-to-date performance stood at 37.71 percent. Over the past five years, sales have increased annually at a rate of five percent. The company's P/E ratio is currently at 4.41, showing positive future prospects since the forward P/E ratio stands at 7.48. The long-term annual growth estimate for the next five years is 0.74 percent. HCA stock currently sells at a rate of $28.12. With a payout ratio of 33.17 percent, HCA is not only attractive to Paulson but also to other major investors such as Lone Pine Capital, Blackrock Advisors, and FMR.
JP Morgan Chase
Paulson initiated a new purchase of four million JPM shares in the second quarter. JP Morgan is a financial holding company with wide global operations. To date, it has a market capitalization of $141 billion and is the largest bank in the United States.
Paulson currently owns 0.14 percent of JPM, since the company is still profitably with a net margin of 19.48 percent and a dividend payout ratio of 25.51 percent. JP Morgan's EPS currently stands at 4.44. This company is a clear favorite among the major investors, as it has recently captured the interest of Allianz Asset Management and Westfield Capital as well. JPM's year-to-date performance is 14.26 percent. In fact, its performance has risen by a full 11.89 percent during the quarter. Meanwhile, the company's P/E ratio is 8.37 and its forward P/E is 7.09. Its long-term annual growth estimate for the next five years is 7.15 percent, and it currently has an annual dividend yield of 3.23 percent.
Aside from Paulson, Westfield Capital, Citigroup, and Putnam Investment all also believe that JP Morgan is a good stock pick, despite its recent legal troubles. The company has consistently posted profits in recent years, and is the only one among the three financial giants (a group that includes Citigroup and Bank of America) that is ranked among the fifty safest banks in the United States. Following relatively recent setbacks concerning lax controls in London, JP Morgan has lately appointed Timothy Flynn, the former Chairman of KPMG International, to its internal risk committee.
Quest Software
During the second quarter of this year, Paulson significantly increased his holdings in Quest Software by 146 percent. Now, with a current share of 9.57 percent, Paulson is currently QSFT's biggest investor. QSFT is a California-based company, which produces IT management software. Paulson's position on QSFT is seen as employing a classic merger arbitration strategy since the announcement of an acquisition deal with Dell Inc. in July. This kind of investment strategy is very typical of Paulson.
As of August 24, QSFT has a very high gross margin of 85.03 percent, but with very low net profit margin of 1.48 percent. Nevertheless, the company's future prospects remain optimistic, since the annualized long-term growth estimate for the next five years is 13 percent. The year-to-date performance is high at 50.32 percent. The performance of QSFT is up by 11.17 percent during the second quarter. Also, the company's average net profit margin of 9.37 percent over a three-year period is similarly positive. For these reasons, companies such as Halcyon Offshore Asset Management and Carlson Capital have also favored QSFT.
On August 16, 2012, Gartner Inc. announced that QSFT's Foglight® solution has been placed in the leaders' quadrant of the 2012 Gartner Magic Quadrant for Application Performance Monitoring (APM). Gartner is an independent body that evaluates vendors who offer APM solutions.
Equinix Inc.
Equinix Inc. provides data center services in 13 separate countries. Since its foundation in 1998, the company has grown to become a critical player in connecting businesses throughout the digital economy. Paulson currently owns 2 percent of Equinix. This company is a new addition to the hedge fund manager's portfolio.
The fundamental ratios of EQIX illustrate the company's critical role in providing data services. Its current P/E ratio is very high at 97.24, with a forward P/E of 50.13 as of August 24, 2012. The year-to-date performance of the Redwood City-based company is 90.84 percent, while its performance during the quarter is up by 22.54 percent. Equinix also improved its EPS by 14.1 percent in the most recent quarter, when compared to the same quarter last year. The stock has been labeled as a buy by TheStreet Ratings, which says that the company's strengths can be observed from multiple angles.
Equinix Inc.'s long-term annual growth estimates for the next five years are impressive, with a rate of 29.72 percent. Analysts suggest that EQIX is such an attractive stock pick because of the indispensability of the Internet. Both Google (NASDAQ:GOOG) and Microsoft (NASDAQ:MSFT) trust Equinix to ensure the connection between their server farms. The growth of EQIX will capitalize on the reliance of the financial industry on electronic trading and on the implementation of cloud computing services. Viking Global and Pointstate Capital have both recently purchased EQIX stocks, with Wellington and Vanguard also expanding their EQIX holdings.
Disclosure: I have no positions in any stocks mentioned, and no plans to initiate any positions within the next 72 hours. I wrote this article myself, and it expresses my own opinions. I am not receiving compensation for it (other than from Seeking Alpha). I have no business relationship with any company whose stock is mentioned in this article.