Novartis (NYSE:NVS) has been on a roll lately. Since late June, it has risen from a share price of around $50 to $60.26 on August 24th. This upswing came in spite of a slight drop in net sales in the second quarter of 2012. Sales and operating income fell by about 4%, while earnings per share (NYSEARCA:EPS) slid by 1%, according to the company's report for the first half of 2012.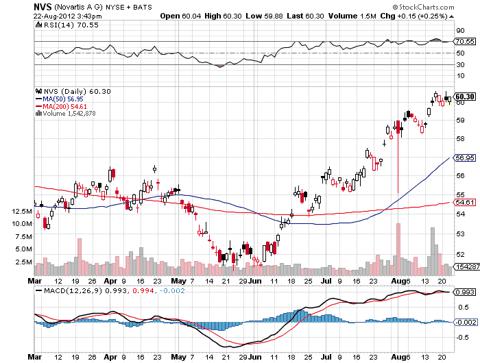 You're probably asking, why is Novartis's share price rising, even after the company reported that it made less money in the second quarter? The most likely answer to this question is that Novartis has some very promising new drugs in the pipeline.
One of these is ocriplasmin, which has been shown to improve vision in older people with vitreomacular adhesion (VMA). This is a degenerative disease of the eyes that is usually treated with expensive and risky surgery. Clinical trials conducted by Novartis and ThromboGenics NV (OTCPK:TBGNF) showed that 25% of people with VMA showed improvement after their eyes were injected with the drug. A press release from Alcon Laboratories (NYSE:ACL) and Novartis states that 300,000 people in Europe might benefit from ocriplasmin. Novartis will need to get approval from the Food and Drug Administration (FDA) and the European Union (NYSEARCA:EU) in order to market ocriplasmin. That means any added revenue from the drug will not show up on Novartis' financial reports for several years.
Novartis is also at the forefront of efforts to develop new immunotherapy treatments for cancer. In immunotherapy, genetically-engineered drugs actually reprogram the body's immune system to destroy cancer cells. Novartis has entered into a deal to fund research at the University of Pennsylvania using viruses. In this research, doctors used an altered and harmless form of the HIV-1 or AIDS virus to carrying cancer fighting genes into T-cells or white blood cells. The NY Times Dealbook reported that at least two patients with chronic lymphocytic leukemia went into complete remission when given the therapy. Novartis is now helping to fund a $20 million Center for Advanced Cellular Therapies at Penn to facilitate this research.
This strategy enables Novartis to get in on research efforts at the ground floor. That way, it will have first access to new drugs and new therapies. In the long term, working with universities might also cut Novartis' research costs. It will be many years before this kind of research leads to new products and revenues for Novartis.
Indian Supreme Court Ruling Might Affect Novartis
Novartis is also making a concerted effort to get a law in India that prevents pharmaceutical companies from patenting many drugs in that nation overturned. The company has asked the Indian Supreme Court to overturn Section 3(d) of that nation's patent laws. That law prevents companies from patenting drugs that regulators think are too similar to existing drugs. The idea is to keep drug prices low in India by keeping higher priced patented drugs off the market.
The Indian Supreme Court is scheduled to hear Novartis' claim on September 11th. If it rules in favor of Novartis, the court will give Novartis the ability to patent many more drugs in India. That will give it an added source of revenue on the subcontinent because it will enable Novartis to keep generic versions of some of its products off the Indian market.
Sales Figures are Good
Okay, potential profits from new drugs might lead to higher revenue at some point in the future, but what about today? How is Novartis doing right now, and is it in a position to generate more cash from more drug sales? The answer to this question is possibly.
Sales of some Novartis drugs, including the heart medicine Diovan and the cancer drug Femara, are down. Yet the sales of many other Novartis medicines are up, according to figures from the company. Sales of Diovan fell by 6% in 2011, while sales of Femara fell by 34%. The reason for the drop in Diovan sales is that the drug's patent ran out, which allowed for generic versions to hit the market.
Despite these drops, sales figures for most of Novartis' top 20 drugs were up in 2011. Some showed a substantial increase over figures from 2011. Sales of the cardiovascular and metabolism product Galvus increased by 73%. Sales of the oncology (cancer) drug Tasigna increased by 79%. Sales of the Lucentis Ranibizumab Injection increased by 34%, while sales of a cardiovascular and metabolism medication called EXFORGE also went by 34%. Sales of the respiratory drug Xolair increased by 30%, and TekturnaRasilze increased by 27%. Even sales of that old standby Ritalin LA increased by 19%.
These figures indicate that Novartis' sales were up across the board in the 2011. They also show that the company does an excellent job of marketing drugs, so it will generate more cash with or without new drugs in the pipeline. The sales figures also show that the increased share price for Novartis is justified.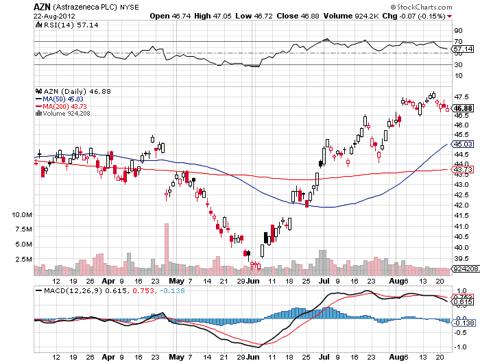 The company's performance indicates that this might be a good time to take another look at the entire pharmaceutical space. Several other pharmaceutical houses, including Abbott Laboratories (NYSE:ABT), AstraZeneca (NYSE:AZN) and GlaxoSmithKline (NYSE:GSK), have shown big gains lately. This sector seems to be doing well despite all of the changes affecting healthcare right now.
Disclosure: I have no positions in any stocks mentioned, and no plans to initiate any positions within the next 72 hours. I wrote this article myself, and it expresses my own opinions. I am not receiving compensation for it (other than from Seeking Alpha). I have no business relationship with any company whose stock is mentioned in this article.