My current focus with respect to investing for at least the next year is in companies that search for and produce natural gas. My basis for this is not only that these companies have some transparency through hedging, but in my opinion natural gas is undervalued with respect to oil. I think that natural gas is less tied to the dollar and hence, when the dollar recovers, the price of natural gas will be less affected.
The Fed's recent statement was the key. They didn't raise rates, as many on Wall Street were screaming for (probably would have been a good idea), proving that the housing and mortgage crisis still has a ways to go. This leaves us with a few ideas with respect to investing. You can get into commodities and stocks that benefit from higher pricing, or you can short companies with large lending exposure (Capital One  (NYSE:COF) could get crushed but you can still be long MasterCard (NYSE:MA) and Visa (NYSE:V)).
Southwestern Energy Co. (NYSE:SWN) is another natural gas company that seems well positioned due to pricing. Looking at their first quarter of 2008, we see production  was up 71%, net income rose 114% and discretionary cash flow climbed 99%. Capital investments also saw a rise of 25%.
SWN has a proven track record as they have increased production from 33Bcfe in 1999, to 113 Bcfe in 2007. The estimates for this year with respect to production are 168-172 Bcfe. Reserve replacement has positioned them well going forward. Since 1999, reserve replacement has been in the triple digits with respect to percentages every year. In 1999, they had the lowest percentage of replacement at 148%; last year was the highest at 474%. They are also moving towards low risk drilling as the price of gas gets higher, which makes this segment and this company particularly good investments.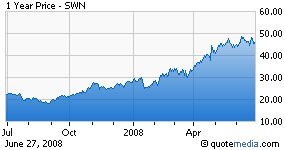 Outlook going forward is compelling. Although pricing in oil and gas may see some movement downwards, the trend should remain bullish for years to come. The only problem with increased demand is pricing. 2007 realized pricing for SWN was $6.86 for gas and $69.72 for oil. These prices equaled an EPS of $0.64 and net cash flow of $651.2 MM.
Management estimates that in 2008, pricing will be higher and that a gas price of $8 and oil at $80 will create an EPS of $1.24 to $1.26 and net cash flow will be an estimated $1,160-$1,170 MM. Respectively, gas at $9 and oil at $90 will have $1.36-$1.38 and $1,225-$1,235 MM. Lastly, gas at $10 and oil at $100 will create $1.46-$1.48 and $1,280-$1,290 MM, in EPS and net cash flow respectively.
Current pricing could easily be much higher than SWN's most recent estimates. From what the company said during its last earnings conference call, it wants to increase both its production growth and its cash flows. Regardless of the price of gas and oil, SWN's plan is to have reduced debt by 7%-12% by year-end. Even with all of the increases in E&P costs, SWN managed to reduce its finding costs from $2.72 to $2.55 per Mcfe. They also have a consistent hedging program that should give some transparency to their balance sheet. From 2002 to 2007, they have been between 80% and 70% hedged with last year at 72%.
Disclosure: None