On August 31, Federal Reserve Chairman Ben Bernanke will deliver a highly-anticipated speech at the Kansas City Federal Reserve's annual economic symposium in Jackson Hole, Wyoming.
The equity market is waiting anxiously for hints from the Fed chairman that suggest further policy accommodation is on the way. The market has been conditioned to think as much knowing that new policy accommodation ultimately followed in the wake of the Jackson Hole speeches in 2010 and 2011 when the eurozone debt crisis was flaring up, much like it is today, and when Congress was playing partisan politics, much like it is today.
In particular, the market is looking for hints that QE3 is on the way. That is all well and good and rational, but the question everyone should be concerning themselves with is this: Will QE3 even matter?
We think not.
The earnings factor is key to this discussion, because earnings drive the equity market. An announcement of QE3, or some type of policy accommodation, could ignite a short-term rally in the market, but the sustainability of that rally will hinge on earnings - and that hinge is looking rusty. Unfortunately, further monetary policy accommodation alone will not have a WD-40 effect on earnings growth.
That could change possibly with effective fiscal policy that reduces the high level of uncertainty plaguing consumers and businesses alike, but the U.S. Congress thus far has provided little reason to think it is willing, able, or capable of taking up that task before the presidential election in November.
Talking Points
The equity market is discounting the idea that the Federal Reserve and/or other central banks will save the day with additional policy stimulus. That is a dangerous belief for investors at this juncture, because it will become clear again that monetary policy alone is not an adequate mechanism for producing economic growth above potential. There is a growing risk, therefore, that the equity market's faith in the Federal Reserve and other central banks as market saviors will be lost.
Below we provide talking points that address the irrelevance of further policy stimulus, whether the Fed chairman hints at it or not in Jackson Hole.
QE3, as the market perceives it through the lens of further Treasury purchases and/or mortgage-backed security purchases, will not move the interest rate dial enough to make any true economic difference.
Nominal and real rates are already remarkably low, and yet real GDP grew just 1.5% on an annualized basis in the second quarter. Since the expansion of QE1 in March 2009, real GDP growth has averaged only 2.0%.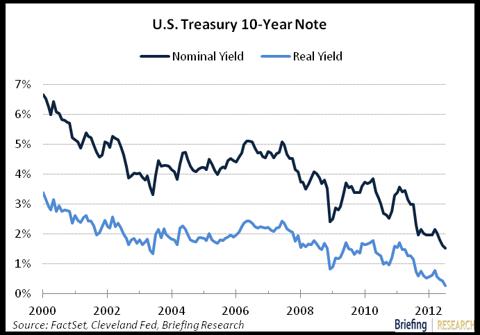 Click to enlarge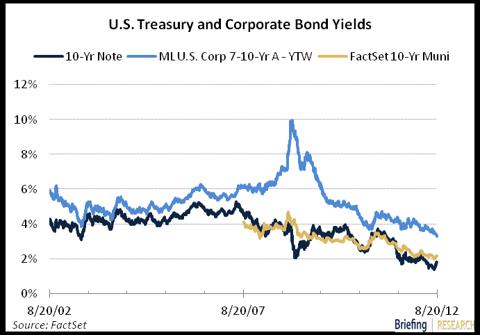 Click to enlarge
The Federal Reserve can always do more, but it is at the point of diminishing return given the specter of crippling fiscal policies in the U.S. and Europe.
Economic activity across the world's largest economic regions is flagging, and that is after QE1 and QE2 by the Fed, quantitative easing by the Bank of England and the Bank of Japan, and interest rate cuts and reduced reserve requirements by the People's Bank of China.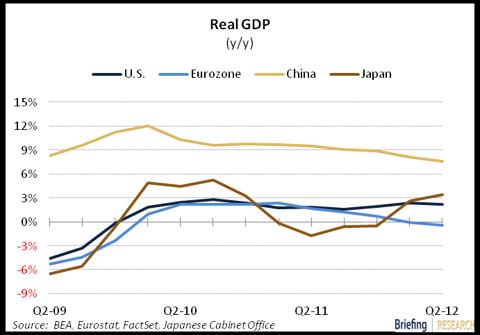 Click to enlarge
A new earnings growth cycle will not be ignited with further policy accommodation, because monetary policy alone at this point will fail to be an economic game changer.
S&P 500 earnings have increased for 11 straight quarters and profit margins are near peak levels, but world economic growth is slowing and key commodity prices are rising.
S&P 500 operating earnings are projected to decline 2.0% in Q3, according to Thomson Reuters. Q4 operating earnings, meanwhile, are projected to increase 10.0%, which still looks rather ambitious given what is going on around the world.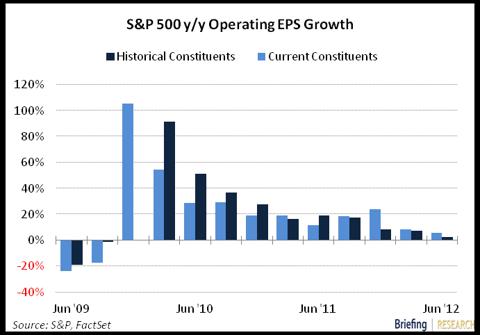 Click to enlarge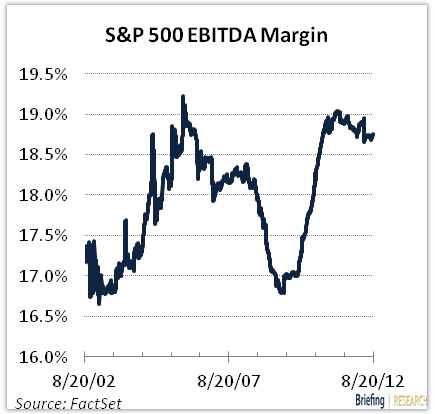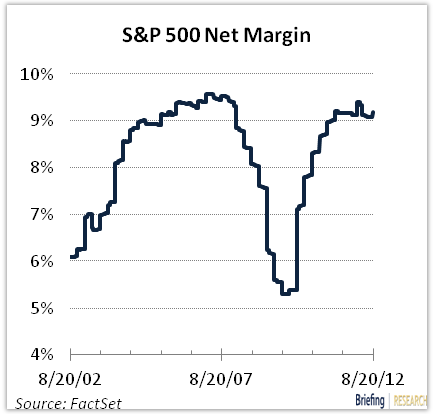 The U.S. Congress has provided little reason to think it is willing, able, or capable of taking up the task of dealing effectively with the fiscal cliff before the presidential election in November.
Current signs regrettably point to an encore performance of the partisan standoff that defined the debt ceiling debacle last year.
If the fiscal cliff is not addressed, the CBO's baseline projection is that real GDP will decline by 0.5% between the fourth quarter of 2012 and the fourth quarter of 2013.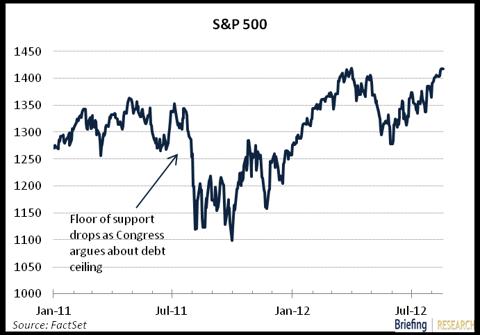 Click to enlarge
The unconventional tools the Fed has used thus far are now thought of as being conventional. More importantly, they are already viewed as being inadequate for spurring economic growth above potential.
The Fed has taken the fed funds rate to the zero bound; it has done quantitative easing; it has modified its communication; and it has set a target inflation rate. And here we are. Doing more of the same and expecting a different result is, well…
A Reality Check
Everyone is discussing whether further policy accommodation will be provided before the November election. Some say the September 12-13 meeting will be the last chance for such a move, lest the Fed be accused of having a political agenda.
The date of any subsequent policy move by the FOMC, if there is to be one, will be irrelevant if it is more of the same. What has gotten us to this point in terms of monetary policy has been supportive, but it has not been a game-changer in terms of economic growth.
For the Fed chairman to make an accommodative impact at Jackson Hole, he will need to show that the Fed is thinking outside its unconventional toolbox for the simple reason that the unconventional tools used thus far are now thought of as being conventional.
Earnings have grown tremendously, because they had fallen so significantly during the financial crisis. That growth is petering out along with the effectiveness of monetary policy as the market has come to know it.
With major economies around the globe slowing, or in decline, and profit margins already near peak levels, monetary policy is not going to jump-start a new leg of the earnings growth cycle. It might jump-start the equity market for a short time, yet weak earnings growth, or even an earnings decline, will ultimately keep the equity market in check.
Remain Defensive
The hope of QE3 - or central bank stimulus in general - has propped up the U.S. equity market in recent weeks. The S&P 500 has gained 11% since June 1, despite what can only be described as an uninspiring earnings season replete with paltry revenue growth, narrowly-led earnings growth, and predominantly cautious-sounding guidance.
If the equity market does not get what it wants (i.e., more monetary policy stimulus), the short-term fallout is likely to be material. Regardless, we are concerned the equity market is putting too much faith in monetary policy alone as a growth driver.
Monetary policy will help preserve the status woe of subpar economic growth, but it will not be the catalyst for sustained economic growth above potential. The past three years have proven as much. The key difference now, however, is that the earnings growth cycle is peaking as the world's major economic regions feel the effects of fiscal austerity, ongoing deleveraging, and political dysfunction.
With this in mind, we believe it is still a time to remain defensive. The gains of recent weeks, which have been driven by speculative hope, have increased the downside risk.
Money managers should consider strategies that mitigate that downside risk. Fortunately, the cost of hedging is inexpensive right now as evidenced by the VIX Index. Other specific actions might include:
Reducing exposure to high-beta stocks
Overweighting dividend-paying stocks with strong balance sheets
Trimming positions in big gainers within cyclical sectors
Favoring defensive-oriented sectors; and
Raising cash
Disclosure: I have no positions in any stocks mentioned, and no plans to initiate any positions within the next 72 hours. I wrote this article myself, and it expresses my own opinions. I am not receiving compensation for it. I have no business relationship with any company whose stock is mentioned in this article.