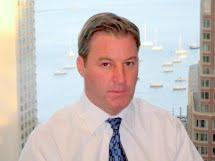 Sean Flaherty is vice president and Boston branch manager at Coburn & Meredith, a Connecticut-based regional stock brokerage and wealth management firm. Previously he was at Kidder, Peabody and Gruntal & Co.
Harlan Levy: How do you rate the biggest headwinds to the U.S. economy and how much of a threat they are?
Sean Flaherty: The biggest headwinds are political. We're facing in the next three months, and certainly through year-end, some major challenges, and they're all rooted in politics, unfortunately. And I think most investors have a hard time measuring their risk, because they're not used to quantifying these risks.
Also, risks from the European Union's debt problems are not behind us. We've had a little bit of a quiet period here in August where we have put this issue a side for a bit, but it will come back at us after Labor Day.
But on the problem in Washington, a lot of people don't talk in detail about the political risks that a lot of smaller investors aren't fully grasping. Last summer, the fallout from the debt ceiling debate was very, very negative on investor psychology. It scared a lot of smaller investors from the market. It created a feeling that they can't even trust their own government to get some things done that they would normally take for granted.
The economy has generally recovered from the late 2008 and early 2009 decline, thanks to massive monetary intervention by the Federal Reserve, but we're really in a flattish, low-growth phase that I believe will persist for a while. I think Washington has a lot to do with that. My sense is that many companies are looking to Washington for real leadership, and [they] are generally disappointed in what they hear. They are holding back on hiring, because they aren't seeing a demand increase at the margin. They do not want new employees without seeing real demand, and they probably feel they are the targets of an anti-business attitude in Washington.
With 2 percent Gross Domestic Product growth, I feel the Obama Administration should be doing everything it can to foster a stronger business climate in this country. A strong economy will go a long way toward fixing our fiscal mess.
We need legislators to work together and reform entitlement spending before the deficit explodes. We spend $10 billion a day and borrow $4 billion. This cannot continue forever.
H.L.: Some politicians insist on no tax increases, just spending cuts to deal with the deficit. Can this work in reality.?
S.F.: It's an excellent question but it's really complex, and the partisanship in Washington is not lending itself to any kind of agreement on that issue. They tried with the "super committee" that went six or eight weeks last fall and failed to reach a resolution, which created the fiscal cliff. and that's the big risk now. The stock market in the month of August has ignored it, but it will hit us right in the face right after Labor Day.
I think it's very difficult to think raising taxes now on anybody is a good idea, with the economy growing at less than 2 percent. I think Congress ought to act on tax reform quickly, which will simplify the tax code and ultimately bring in more revenue. It will create a sense of confidence on behalf of both businesses and individuals. The tax code is too complex, and we could easily take down corporate tax rates from 35 percent to 20 or 25 percent. Corporate tax revenues are only about $200 billion a year, not a lot.
H.L.: Do you think both parties will let us go over the fiscal cliff, that automatic $1.2 trillion in defense and social safety net cuts, as well as the expiration of all the Bush tax cuts on Jan. 1?
S.F: I hope not, but they are certainly not any closer to resolving the issue than they were last summer. The political risks that exist in our capital markets are the real dangers. I think these really partisan politicians will let this go right down to the wire and do some short-term measure similar to the last payroll tax cut agreement they made, so they can lived to fight another day politically.
H.L.: What would that do to the economy and capital markets?
S.F.: The Congressional Budget Office just put out a report on the budget and economic outlook for fiscal 2013, which starts in October. The CBO is forecasting a decline of Real GDP of one half percent and a 9.1 percent unemployment rate if the automatic spending cuts kick in.
If Congress kicks it down the road, then it becomes the issue for the next president, who must tackle it in short order. If Obama wins a second term faced with very difficult fiscal issues, he may have to deal with the same Congress to accomplish fiscal goals, and it won't be easy.
If Romney wins, it will be a complete shake-up. They'll use the victory as a mandate to push through spending cuts and real tax reform, and the American public will get behind him on that.
H.L.: Do you see the eurozone surviving the way it is, with the current dim prospects for both a governmental as well as a currency union?
S.F.: It will be a tremendous challenge. Angela Merkel made a comment Friday that she is absolutely 100 percent behind keeping Greece in the eurozone, just as Greece comes back for another loan and a two-year postponement to meet austerity requirements.
If they fail to keep Greece in the eurozone, it will certainly be a long-term shock, but in reality, Greece is so small in terms of its GDP, I'm certain they will be able to survive without Greece as a eurozone member.
H.L.: On the home front, what did you get from last week's reports on manufacturing, factory orders, housing, jobless claims, and consumer confidence?
S.F.: In terms of payrolls, we haven't had any great growth this year. The Bureau of Labor Statistics showed 12.8 million unemployed in July, 8.3 percent. The civilian labor force participation rate was 63.7 percent in July, showing no improvement year-over-year. Temporary help, employment in leisure and hospitality, and health care are adding workers, but only health care offers wages above the median national average income. Weekly jobless claims have been pretty steady at 400,000 a month. It is likely that we will continue to see very modest employment growth for the next year or two. The majority of hiring being done now is in the service sector, namely in industries that pay less than the median national average.
There are signs housing is improving, but we still have a backlog of foreclosures to get through, which will take time, and housing is one of the real engines of the economy. It's back from the dead and [it] is improving slightly. [It's] one of the more important areas of the economy that seems to be stabilizing.
Corporate balance sheets, on the other hand, are as strong as they've ever been, but many companies have adopted new, advanced productivity methods, particularly in manufacturing, that have made them quite efficient, negating the need for payroll expansion.
But 1.5 to 2 percent GDP growth is not strong. Consumer spending represents 70 percent of GDP, and consumers are not increasing consumption to any degree yet. Many consumer balance sheets remain damaged, and people are unwilling to borrow and consume at the pace of the last decade.
H.L.: What's your take on monetary policy?
S.F.: The next Federal Open Market Committee meeting is Sept. 12. The market is anticipating further easing, or at least a more hawkish outlook from the Fed. In my view, the extended period of low interest rates has really hurt savers, particularly retired savers. One basis point return on money markets is not helping anyone.
David Einhorn of Greenlight Capital wrote a paper this past spring called "The Fed's Jelly Donut Policy," in which he argued that the real "Fed put," the real strength of the Fed's balance sheet, is not under the stock market, but under the bond market. In other words, it's safe to buy low-yielding bonds with an implicit guarantee that prices won't fall. But if Bernanke wants investors to leave the safety of bonds, Einhorn argues, he has to demonstrate that bond prices can and will fall. This is what will drive investors into stocks. Einhorn also argues that raising short interest rates to a level of 2 or 3 percent would promote growth and stability, allow households to better balance their short-term assets with their long-term liabilities -- what he calls "the negative duration gap" -- encouraging consumer spending. Most people don't get that, and I agree.
H.L.: What do you think of the stock market's gyrations and where it's headed this year and next year?
S.F.: With the S&P 500 index up 11.4 percent year-to-date, and up 9.7 percent from the early June lows, the old saying "Sell in May and go away" hasn't worked this year, but I would be very surprised if we ended the year a lot higher than where we are today.
H.L.: How can we escape that fate?
S.F.: It all ties together, policy and industry. We cannot have a vibrant economy with such partisanship in Washington. It must be changed. What we need is an effective but limited government, simple effective tax reform, effective entitlement reform, and the resulting improvement in consumer confidence will lead to an increase in hiring, an increase in corporate profits, and a higher stock market. A stock market at new highs would do wonders for consumer confidence and spending. People need to see their 401(k) balances start to go up again more than a quarter or two. If that happens, you will see a new vibrant economy. Tax revenues will increase. Charitable contributions will increase. Welfare rolls will drop. People will spend and invest. Municipal projects will get funded.
The wealth effect is underrated politically. The current administration hasn't figured that out yet. The best stimulus program is the Dow Jones Industrial Average at new highs. We need to get back there.
Disclosure: I am long AAPL. I wrote this article myself, and it expresses my own opinions. I am not receiving compensation for it (other than from Seeking Alpha). I have no business relationship with any company whose stock is mentioned in this article.