On Friday, Goldman Sachs downgraded coffee and donut chain Tim Hortons Inc. (THI)  to a "sell" by Goldman Sachs on expectations that there would be few near-term catalysts for the shares. Despite the fact that the stock is expected to underperform other names the firm covers, analyst Steven Kron said Tim Hortons is not considered an outright short right now.
He said a more "visible path" to profitability growth in the U.S. must emerge before the stock is worthy of a premium multiple, but this is unlikely in the near term.
"We anticipate that while margin gains near-term may materialize, we think in a rising cost environment it will be tough to sustain," the analyst told clients in a note.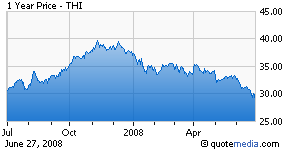 Mr. Kron has cut his price target on Tim Hortons shares to $30 from $34. He also lowered his earnings estimates for fiscal 2008 through 2010 to incorporate expectations for a stronger U.S. dollar versus the loonie.
He said:
We are not bearish on Tim Hortons operations (a compelling Canadian story) and thus would not short the stock here...
However, the analyst cited four reasons for his anticipated underperformance from Tim Hortons versus other names in the space:
An unlikely near-term operating improvement in the U.S. – home to roughly 12% of its locations – due to competition from Starbucks (NASDAQ:SBUX), McDonald's (NYSE:MCD) and Dunkin' Donuts.
The challenging prospect of improving margins to meet targets in a rising cost environment.
Tim Hortons' sub-par performance in the last two quarters and profitability questions leading to fundamentals that no longer warrant its current premium multiple.
The currency effect of Goldman's USD/CAD forecast of C$1.02, C$1.06 and C$1.10 for the next three, six and 12 months, respectively.