Valence Technology (VLNC) has been VERY strong despite an overall market correction (see Market Update - DOW down 19%). Perhaps Valence's strength is due to being an "alternative energy play" at a time record crude oil prices have the overall stock market down about 20% from its 2007 highs.
click to enlarge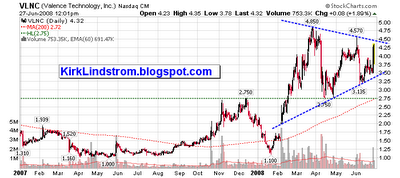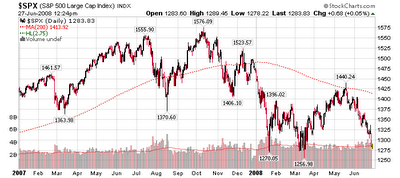 Will this "bull flag" pattern resolve to the upside as the pattern predicts? The stock is up over 20% in the past two trading days on news it received a "going concern" from its independent auditor. This is not news because it received the same certification in the past.
Also, Valence was added to the Russell 3000 at the close of the market Friday. Index fund buying could easily explain the strength these past two days.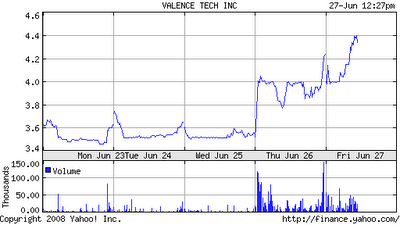 --------------------
Notes
A going-concern qualification refers to a company's ability to continue to operate indefinitely. The company received a "going concern" qualification for the prior fiscal year as well.
From stockcharts.com:
Flags and

Pennant

s

are short-term continuation patterns that

mark a small consolidation before the previous move resumes

. These patterns are usually preceded by a sharp advance or decline with heavy

volume

, and mark a mid-point of the move.


Pennant

:

A

pennant

is a small

symmetrical triangle

that begins wide and converges as the pattern matures (like a cone). The slope is usually neutral. Sometimes there will not be specific reaction highs and lows from which to draw the trend lines and the price action should just be contained within the converging trend lines.
 More VLNC charts here.

Disclosure: I have been accumulating Valence in my newsletter (testimonials) and personal portfolios and have good profits already. In an attempt to increase my overall return, I plan to continue to trade around this core newsletter position now "on house money" as of this article. I expect Valence to be a very volatile stock only for those willing to accept very high risk.