Platinum prices hit a 4-month high this past week as spreading unrest among mine workers in South Africa has reignited investor interest in the precious metal. Since the labor violence began to flare in South Africa two weeks ago, the price of the precious metal has risen nearly 12 percent. Platinum is used in jewelry and its main industrial use is in catalytic converters used to clean up tailpipe emissions in diesel cars.
South Africa is key to the future course of platinum prices since the African nation is the biggest supplier of platinum. Producing about 80 percent of the world's supply. It is also the world's fifth largest supplier of gold, so gold also rose on the back of the violence. Prior to the labor unrest, the price of platinum had languished in recent months due to a large supply surplus. In fact, earlier this year the price of platinum had reached the lowest point (.87) relative to gold in a long time. For the past 10 years, the platinum/gold ratio has averaged 1.65.
South Africa's main producers - Anglo American Platinum ADR (OTCPK:AAUKY) - which alone supplies 45 percent of global supplies, Impala Platinum ADR (OTCQX:IMPUY) and Lonmin ADR (OTCPK:LNMIY) - have already seen their output drop sharply over the last year thanks to strikes by workers, rising electricity costs (rising 25 percent annually) and a flurry of government-imposed stoppages due to safety concerns at the mines. Because of the conditions faced mining platinum, it is the most dangerous of all the country's mining sector. Adding to the industry's woes are slowing demand from Europe due to its automakers' problems and a volatile South African situation.
The labor unrest in South Africa does not bode well for the long-term future of platinum production and the South African platinum mining companies. Already, some of the smaller producers including Eastern Platinum and Aquarius Platinum have shut down several mines due to labor unrest, rising costs and low prices for platinum. It is highly unlikely the labor unrest will end anytime soon since much of the violence has been caused by the warring between two rival labor unions - the National Union of Mineworkers and the upstart Association of Mineworkers and Construction Union.
On August 14th I talked about how precious metal mining stocks could be the next big investment once they find a bottom. Market Vectors Gold Miners ETF (GDX) and Market Vectors Junior Gold Miners ETF (GDXJ) exchange traded funds will be a great way to get involved. But these undervalued platinum miners could be a screaming buy in the coming months.
What about the future course of platinum prices? The price has dropped from its peak in 2008 (when South Africa was facing electricity shortages) and has been struggling to recover ever since. Most Wall Street analysts are still bearish on the metal, believing the situation in South Africa will clear itself up in a few weeks. Bearish bets on platinum currently stand at record highs, according to data from the Commodity Futures Trading Commission.
The bears' scenario of a quick solution is unlikely though...the labor unrest will continue for longer than expected. However, the bears have a point. There is a huge surplus - 6.5 percent of total demand - right now and it may be 12 to 18 months of continued problems in South Africa to clear that surplus.
PPLT Platinum ETF vs Platinum Miners - 6 Month Performance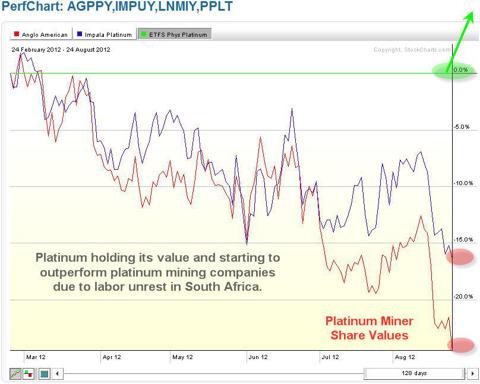 So holders of the platinum ETF - ETFS Physical Platinum Shares (PPLT) and others bullish on platinum's future should not expect its price to rocket to the upside anytime soon. However, the bulls may once again get to see platinum trading at a premium to gold before year end.
Platinum Investment Conclusion
In short, I feel the miner share values will continue to be under pressure and may see much lower prices yet because of the lack of production. Higher platinum prices will help hold the value up a little but not enough to stop prices from falling is my thinking at this time.
The strong 12% rally has taken a lot of potential gains off the table for getting long at this point but typically the first pullback in a rally can be bought. Also if gold and silver start to breakout of their 12 month consolidation patterns then I expect platinum prices to rise with them because of increased focus on precious metals as a whole.
Disclosure: I have no positions in any stocks mentioned, and no plans to initiate any positions within the next 72 hours. I wrote this article myself, and it expresses my own opinions. I am not receiving compensation for it (other than from Seeking Alpha). I have no business relationship with any company whose stock is mentioned in this article.