Windstream Corporation (NASDAQ:WIN) is facing intense competition in the industry. The company has aggressively relied on acquisitions to grow and compete. It has a stable dividend policy and currently offers a dividend yield of ~10%. Its high dividend yield in a low yield environment along with bullish insider activity make it an attractive stock for investors.
Windstream is currently trading at $9.73 and has a market capitalization of $5.72b. Its shares have dropped by 20% in the last one year. 2Q2012 results were recently announced, in which revenue and earnings were in line with estimates. Total revenues for the quarter were $1.54 billion, down by 1% YoY on pro-forma basis. Revenue guidance for the third and fourth quarters of 2012 is in line with second quarter revenues. A dividend of 25 cents was announced for the second quarter.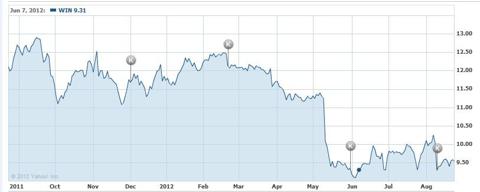 Click to enlarge
Source: Yahoo Finance
The company provides data network and communication services, and was formed in 2006. Ever since its formation, the company has been involved in the separation and acquisition of businesses. It currently has two segments; services and products. The services segment contributes 96% to total revenue. The services segment is comprised of business, consumers and wholesale services. For the last quarter consumer and business broadband grew by 2.5% YoY and contributed 68% to the company's total revenues. In 1Q2012, the company decided to suspend some of its wholesale services, which prompted a 12% decrease in wholesale revenue this quarter as compared to 2Q2011. Windstream struggled to maintain its subscriber base; total access lines and voice lines were down 3.96% and 4.2% respectively.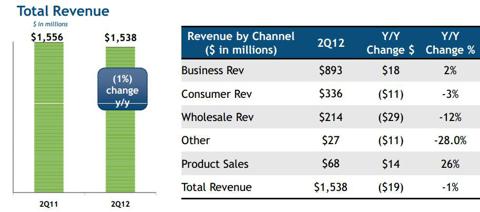 Click to enlarge
Source: Windsteam.com
Windstream is growing externally, having recently focused on acquisitions. Last year in December, it completed the acquisition of PAETEC Corp.; the transaction was valued at $2.3 billion. Estimated operating synergies from the acquisition are $100m by 2014, out of which $50m are expected to be achieved in 2012. Gross and EBITDA margins for FY2011 were 58% and 44%, respectively. A management reorganization plan was announced earlier this year to improve efficiency and managing expenses. The plan is expected to save up to $30m-$40m annually, and is set to be completed by the third quarter. The company offers a dividend yield of 10%. Historically, it has maintained a yield ranging from 7.5%-10%, which is backed by the company's strong free cash flow yield.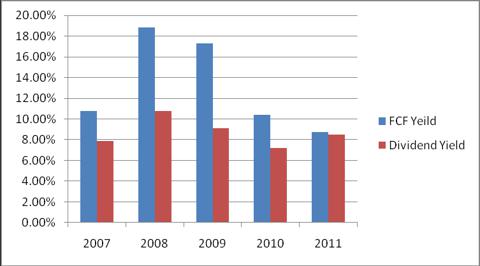 Click to enlarge
Source: Ycharts and Qineqt estimates
In the last 12 months, the company generated $1.5b in cash flow from operations (NASDAQ:CFO) and paid dividends amounting to $550m. This fact indicates that the company did not experience any problems in financing its dividends in the past, and will be similarly able to maintain its dividends in the coming years, except in 2013, when a debt of $1.1 bn is expected to mature. The company might opt for additional debt. We do not think the company will go for a dividend cut and will sustain its dividend yield. WIN is expected to generate $591m and $824m in free cash flows for 2013 and 2014 respectively.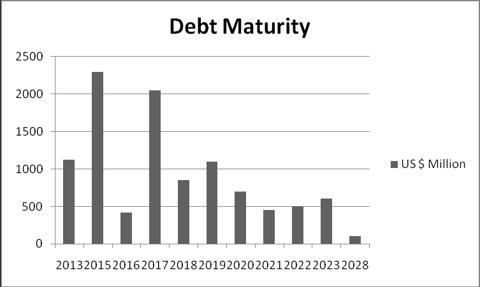 Click to enlarge
Source: Bloomberg and Qineqt estimates
Investors should watch out for future developments in the company. These developments could impact the company's performance and investor confidence. Windstream is a highly levered company, with a debt-to-equity of over 650. Interest coverage of 1.9x for FY2011 does not display a good picture, but the company is expected to improve upon this, as earnings are expected to improve in the coming years. 2012 earnings are expected to grow by 45%. The average earnings growth rate for the next five years is 10%. Recent acquisitions and their expected synergies, investments in profitable segments, and the management's intentions to reduce costs to improve margins, could spell a turnaround for the company and could create a bullish sentiment among investors.
Company insiders are bullish on the stock, which is evident from the fact that in the last six months, no insider sold the stock. The last stock sale transaction by insiders was observed in February, when the stock price was around $12.50. Ever since then, there has only been buying from insiders in a price range of $9-$10, displaying a bullish insider sentiment.
| | |
| --- | --- |
| | Forward P/E |
| WIN | 16.5x |
| AT&T, Inc. (NYSE:T) | 15.5x |
| Verizon Communications Inc. (NYSE:VZ) | 16.5x |
| CenturyLink, Inc. (NYSE:CTL) | 18x |
| Chunghwa Telecom Co., Ltd. (NYSE:CHT) | 17x |
We believe the stock should trade at its competitors' forward P/E average of 17x, based on which we estimate a price target of $10 and $10.70 per share for 2013 and 2014. In a bullish case scenario with earnings estimates of 68 cents for 2013, we calculate a price target of $11.5 for 2013. According to future developments and estimates, we recommend buying the stock. 10% dividend yield along with some capital appreciation makes it a very attractive stock to buy.
Disclosure: I have no positions in any stocks mentioned, and no plans to initiate any positions within the next 72 hours.
Business relationship disclosure: The article has been written by Qineqt's Technology Analyst. Qineqt is not receiving compensation for it (other than from Seeking Alpha). Qineqt has no business relationship with any company whose stock is mentioned in this article.