Even with macroeconomic conditions slowing in Europe and China, Caterpillar (NYSE:CAT) was able to report an all time record for sales in the second quarter with sales up 22% year-over-year and 9% sequentially. Of the 22% growth, 12% resulted from organic growth and 10% from recent acquisitions.
However, in the company's Q2 2012 earnings call held on July 25, 2012, Caterpillar revised its top-line outlook down a couple of billion dollars with $1 billion attributed to negative currency translation and $1 billion due to weaker than expected global growth. The largest portion of the negative currency translation was due to a stronger U.S. dollar as compared to European currencies.
The company experienced the largest sales growth clocking in at 68% year-over-year in the predominately mining related Resources Industries segment. Of the 68% sales growth, 37% was a result of the recent Bucyrus acquisition with 31% of sales growth attributed to organic.
Caterpillar's Power System segment was up 12% with 4% growth attributed to the acquisition of MWM with 8% of growth a result of organic. The strongest growth in this segment was associated with petroleum and rail with the bulk of the growth for rail attributed to North America.
The Construction Industries segment was up 8% with growth experienced in North America, flat growth experienced in Europe, growth down 3% in Latin America and growth down 11% in Asia-Pacific. More than half of the downward growth in Asia-Pacific was due to slowed sales in China.
In an effort to improve sales in China, Caterpillar is working with its dealers to introduce new sales programs. Additionally, Caterpillar dealers in China have reduced machine inventories. The company noted a good chance for better economic growth in China starting later in 2012. Leadership changes in the Chinese government will occur later this year and following that change, a better gauge of China's economic growth can probably be determined.
Caterpillar noted it is seeing some improvement in Brazil following the 2011 financial easing by the country. Additionally, the company expects continued improvement in Brazil due to the country's preparations for the World Cup and the next Olympics.
The company noted the U.S. housing market has improved some, but doesn't expect contractors to increase orders until at least next year. On a negative note, the company expects overall sales for Bucyrus to be lower than originally expected due to weakness in underground coal.
Caterpillar is cautiously optimistic the world economy in 2013 will be better than in 2012, even though Doub Oberhelman, Chairman and CEO, recently noted the current economic situation is more uncertain now than in late 2008, although not as severe as in 2008.
Caterpillar's stock price has been on quite a roller coaster ride over the last year as shown below: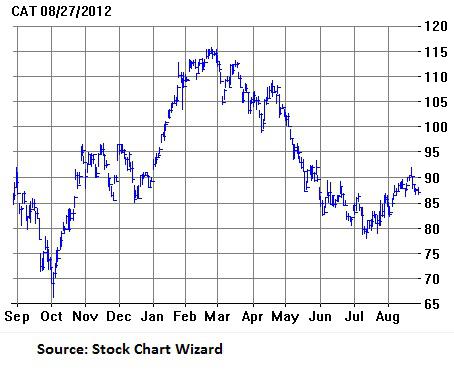 The company's stock price peaked around $115 in February of 2012, fell to around $78 in July of 2012, recently recovered somewhat and is currently trading in the $87 range.
Caterpillar has an attractive Price-to-Earnings (P/E) of 10 and a Price-to-Sales (P/S) ratio of 1, which is in the ballpark with its competitors Deere (NYSE:DE), discussed in this article, CNH Global (NYSE:CNH), Komatsu and AB Volvo.
With Caterpillar's earnings in the rear-view mirror, the retreat in the company's stock price and the company's cautious outlook for a better 2013, an investor might consider entering a bull-put credit spread for Caterpillar. A bull-put credit may be entered for a net credit by selling one put option and purchasing a second put option further out-of-the-money. The goal of the bull-put credit spread strategy is for the options to expire worthless with the initial net credited retained for profit.
A number of bull-put credit spreads for September option expiration are available as shown below: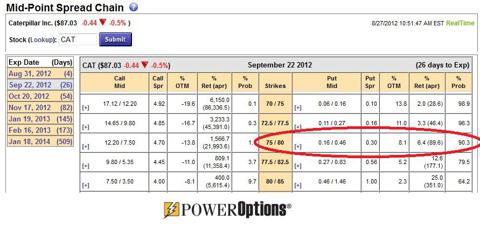 The CAT 2012 Sep 75/80 bull-put credit spread looks attractive as it has a potential return of 6.4% (89.6% annualized) and a separation between the strike price of the short put and the underlying of 8.1%. The position may be entered for a net credit of $0.30. The specific put option to sell is the 2012 Sep 80 at $0.46 and the put option to purchase is the 2012 Sep 75 at $0.16.
CAT Bull-Put Credit Spread Trade
Sell 2012 Sep 80 Put at $0.46
Buy 2012 Sep 75 Put at $0.16.
A profit/loss graph for one contract of the Caterpillar bull-put credit spread is shown below: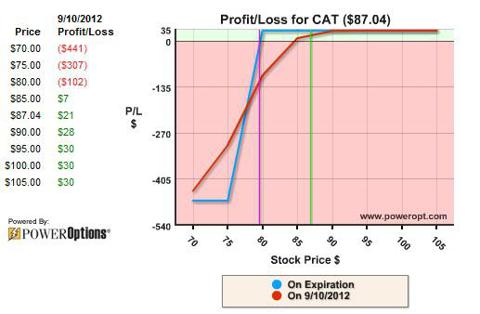 For a stock price at expiration above the $80 strike price of the short put option, the position will be full profitable realizing a return of 6.4% (89.6% annualized). For a stock priced at expiration below the $75 strike price of the long put option, the position will result in a total loss, however, the position should be rolled prior to realizing a loss.
A management point of $83 is set for the position. If the price of the stock drops below the $83 management point, then the position should managed for an exit or a roll.
Disclosure: I have no positions in any stocks mentioned, and no plans to initiate any positions within the next 72 hours. I wrote this article myself, and it expresses my own opinions. I am not receiving compensation for it (other than from Seeking Alpha). I have no business relationship with any company whose stock is mentioned in this article.