Over the past five years, online retailing has been shaped in large part by Amazon (NASDAQ:AMZN). The advent of the internet has enabled AMZN to create an incredible marketplace that appeals to and services nearly every type of customer. Through this process, retailers like Wal Mart (NYSE:WMT) and Target (NYSE:TGT) have seen heightened competition from ecommerce that has begun to erode the market share of big-box retail. AMZN trades at a price to earnings ratio that is beyond what any physical retailer would demand, but does not provide investors with the advantages of a high-tech/high-growth company. The company's second quarter earnings are as follows:
Operating cash flow was $3.22 billion for the trailing twelve months, compared with $3.21 billion for the trailing twelve months ended June 30, 2011.
Net sales increased 29% to $12.83 billion in the second quarter, compared with $9.91 billion in second quarter 2011.
Operating income was $107 million in the second quarter, compared with $201 million in second quarter 2011.
Net income decreased 96% to $7 million in the second quarter, or $0.01 per diluted share, compared with net income of $191 million, or $0.41 per diluted share, in second quarter 2011.
These results do not warrant the valuation premium that AMZN is trading and this puts the stock at risk from an investment perspective. In a divergent vein, WMT has several major advantages over AMZN that make it a stronger buy into the future. These advantages lie within the company's strong footprint, financial position, valuation, and dividend. When looking at these two stocks -- the largest in ecommerce and the largest in big-box retailing -- investors must ask the hard question of whether AMZN's internet platform is worth the immense premium over WMT's proven business model. The answer lies within the numbers.
Fundamentals:
Both WMT and AMZN are stable companies operating in a difficult retail environment. Today, retailers must fight for every sales dollar and in doing so must provide consumers with the strongest value proposition. AMZN has done an incredible job of making its retail marketplace a true resource for information and a value-centered endeavor for consumers. This being said, the company's growth is slowing and profit margins are diminishing in the face of currency issues along with an inability to drive cost savings. This is a result of increased competition from all angles. WMT has a fundamental advantage over AMZN due to the company's retail space and the power this space holds to drive revenue. WMT's most recent second quarter can be characterized by a 2.2% increase in store-for-store sales along with steadily rising profits (as evidenced below). Though the international markets are proving difficult for WMT, the company is focusing its efforts on providing value to its consumers and leveraging its store base. The charts below illustrate that although WMT sales increases are not nearly as dramatic as AMZN, WMT has shown consistency and higher profit margins than AMZN year-over-year.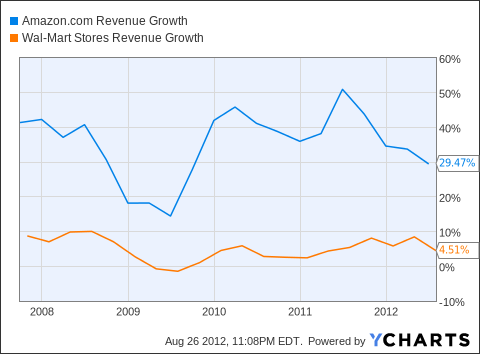 AMZN Revenue Growth data by YCharts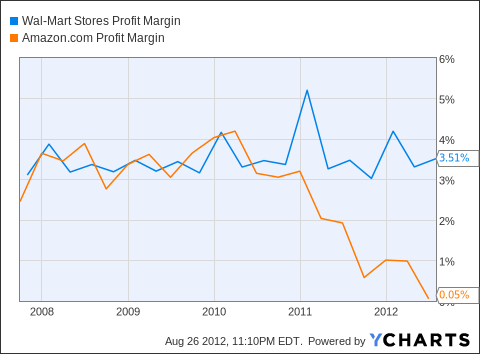 WMT Profit Margin data by YCharts
Valuation/financials:
AMZN valuation is what makes the stock particularly concerning. These metrics illustrate the valuation landscape between the two companies:
Forward Price/Earnings: 103.25
PEG Ratio: 9.32
EV/EBIDA: 54.73
Profit Margin: .69%
Quarterly Earnings Growth (yoy): 29.50%
Quarterly Revenue Growth (yoy): -96.30%
These results illustrate WMT being undervalued when compared to AMZN, while simultaneously showing higher margins. This combination makes WMT a stronger buy from an investor's perspective because AMZN's obscene valuation is a major risk to stockholders of the company.
Dividend:
In today's market, individuals have moved away from high-yielding stocks in favor of growth stocks. This has augmented AMZN stock price even further. This being said, in the coming years when volatility could easily increase due to international or domestic issues, yield will become more important. AMZN does not pay a dividend and this is a result of the company's pure focus on growth. WMT on the other hand pays a 2.20% dividend that has been rising steadily over the past five years. This provides investors with a solid return yet another advantage over its ecommerce counterpart AMZN.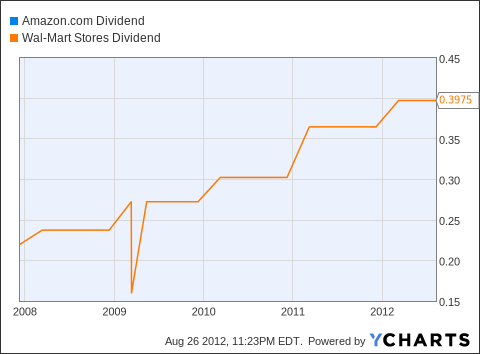 AMZN Dividend data by YCharts
Conclusion:
In the face of the uncertainty around the world and AMZN's overvalued nature, investors should look for a strong alternative within WMT. The company has been rebuilding its business model and has seen positive revenue and profit results in past quarters. WMT fundamentals, valuation/financials and dividend return make it a stronger buy today and into the uncertain future compared to AMZN.
All financial metrics referenced above are obtained from Yahoo Finance, CNBC Analytics, S&P Capital IQ and Thomas Reuters.
Disclosure: I have no positions in any stocks mentioned, and no plans to initiate any positions within the next 72 hours. I wrote this article myself, and it expresses my own opinions. I am not receiving compensation for it (other than from Seeking Alpha). I have no business relationship with any company whose stock is mentioned in this article.