Nvidia's (NASDAQ:NVDA) stock has risen over the last three months, from $11.73 on June 4 to Monday's close of $14.35. This is a return of 22%. What's driving this upward trend is revenue and earnings growth. Below is the revenue trend for the last eight quarters and the October quarter revenue guide.
(click images to enlarge)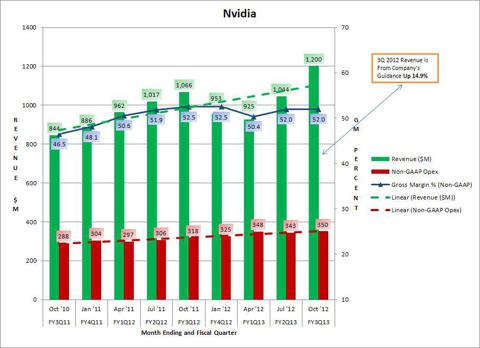 Click to enlarge
Profits have also turned around, with Nvidia reporting $0.27/share in Non-GAAP earnings for the July quarter. See trend below:

Click to enlarge
Can this revenue and earnings momentum continue? The best way to answer this is to look at each business segment individually.
Consumer GPU Business Unit
This business unit makes discrete GPUs (graphics processing units) that go into consumer desktop and notebooks. Many keep writing off discrete graphics as Intel (NASDAQ:INTC) and Advanced Micro Devices (NYSE:AMD) integrate graphic functions into their CPUs. Apparently the death of consumer discrete graphics chips has been greatly exaggerated, however, because Nvidia's discrete GPU business unit's revenue increased 11.7% sequentially in the July quarter.
It's true that tablets continue to take share from the traditional PC market, but it is hurting mostly the low end, low priced PCs -- a market Nvidia has not traditionally participated in. Consumers still want high end notebooks such as the Apple (NASDAQ:AAPL) MacBook Pros, which utilize Nvidia GPUs. As the push for higher density displays grows, the need for more graphics power to push the increased number of pixels around will only increase.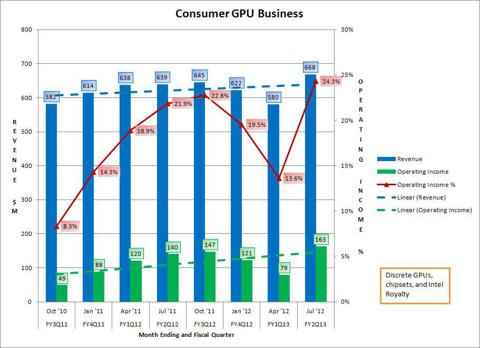 Click to enlarge
The increase in percent operating income for this business unit from 13.6% in the April quarter to 24.3% is even more encouraging.
Professional Solutions Business Unit
If there is a weakness in the Nvidia growth story, it is in the Professional Solutions Business. This business unit makes GPUs for the pro graphics workstation market -- Quadro and high performance computing GPUs for supercomputers, the oil and gas industry, and the financial industry. Its revenue has been trending down for the last four quarters. But the percent operating income is still phenomenally high at 44.2%. Essentially, Nvidia owns this market.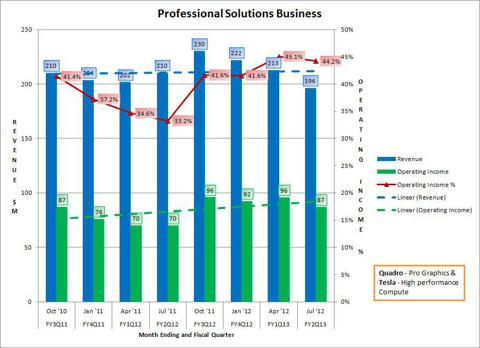 Click to enlarge
On the July earnings conference call, Nvidia's management said:
Well, Quadro and Tesla are unique in the marketplace and we've gained share if anything. So the market position of Quadro and Tesla are very good. Their value proposition are very unique and the people that buy Quadro and Tesla buy it because they need it. It's not a discretionary expense. They need those products. During times when the economy is a little slower and right now, as you know, the economy is rather slow in Europe and in China that affects people's enterprise consumption. So that's a factor.

The other factor is the Romley platform launch. It's a very important platform. And it started out in servers and it's in the process of moving into workstations and I've got a lot of confidence in Intel's execution. They will ramp up those workstation platforms and the OEMs are all fully charged up to ramp up those workstation platforms. And then on top of that we have the Kepler GPUs that are flowing into Quadro and flowing into Tesla and so I think the trajectory is good and I think things will work itself out.
Consumer Products Business Unit
This business unit consists primarily of the Tegra mobile processors. Revenue increased 35% sequentially due to the successful launch of the Google (NASDAQ:GOOG) Nexus 7 low cost tablet, which uses the Tegra processor. In addition, Microsoft (NASDAQ:MSFT) will start selling its Surface tablet in October, which also utilizes a Tegra processor. In the non-Apple/Samsung Tablet market, Nvidia competes with Qualcomm (NASDAQ:QCOM) and Texas Instruments (NYSE:TXN). A Texas Instruments mobile processor currently powers the Amazon (NASDAQ:AMZN) Kindle Fire, but a Kindle Fire 2 is due to be released September 6. No details have been announced yet.
Nvidia's Tegra mobile processor also is used in smartphones, with management citing 30 design wins for 2012 at their Analyst Day Presentation in May.
A little longer term is Nvidia's push into integrated baseband radios, where Qualcomm currently dominates. Nvidia has announced that it will include an Icera baseband radio integrated into the Tegra 4 sometime in 2013. This is critical for continued market share gain in the non-Apple mobile market.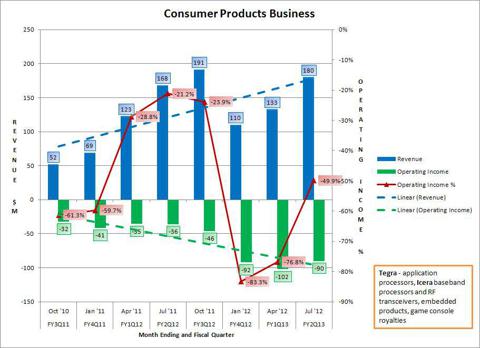 Click to enlarge
Financial Metrics
Forward P/E (fye Jan. 29, 2014) of 13.29. Cash on hand $3.28B, or $5.20/share, with only $20.2M in debt.
(Data from Capital IQ)
Conclusion
Barring a sudden swift downturn in the world's economy, Nvidia is poised to reap the rewards of years of investment in leading edge technology and should be considered a buy here.
Data from company's earning's releases, 10Qs and 10Ks.
Disclosure: I have no positions in any stocks mentioned, but may initiate a long position in NVDA over the next 72 hours. I wrote this article myself, and it expresses my own opinions. I am not receiving compensation for it (other than from Seeking Alpha). I have no business relationship with any company whose stock is mentioned in this article.