Over the past 12 months, shares of The Coca-Cola Company (NYSE:KO) have been trading within a tight range between $31.67 and $40.66 and gained 11.45%. Many investors consider Coca-Cola as a must-have dividend stock, given the company's high-quality fundamentals and a solid dividend yield of 2.7%. Is now a good time to build up a position in Coca-Cola? Let me walk you through some of my thoughts that could help in formulating your investment decision.
My comparable value analysis includes Monster Beverage Corp. (NASDAQ:MNST), Nestle (OTCPK:NSRGY), PepsiCo Inc. (NYSE:PEP), and Dr Pepper Snapple Group, Inc. (NYSE:DPS) as KO's comparable peers. The estimated stock value is then determined by equally weighting the valuations calculated by five different peer-average trading multiples - EV/Sales, EV/EBITDA, EV/FCF, P/E, and P/S.
Click to enlarge

The following six reasons suggest a buy for the stock:
1. Even with being a huge corporation with a $172B market cap, KO's growth potential remains robust. Analysts on average predict KO's revenues, EBITDA, and EPS to rise by solid 2-year CAGRs of 4.3%, 6.6%, and 8.5% over the current and next fiscal years. KO's growth rates are only marginally lower than the peer averages, which are somewhat upward driven by MNST's stellar growth potential (see table above).
2. Accounting for the firm's earnings growth, KO stock is trading at 2.1x PEG, which appears to be high on an absolute basis. But KO's PEG valuation is actually reasonable, given the industry peer average is also similar at 2.0x (see table above).
3. KO has a superior profitability. KO's margin metrics are substantially higher than the peer averages with LTM gross margin and net profit margin among the highest in the group. Although both the ROE and ROIC are lower than the averages, the difference is just subtle (see table above).
4. KO also has a very healthy liquidity position. The firm's LTM FCF margin is the highest in the group and very comparable to that of MNST. The company's leverage is fairly in line with the industry average. Owing to its high profitability, KO is able to maintain a strong interest coverage ratio. Both the firm's current and quick ratios are better than the averages, reflecting a liquid corporate balance sheet (see table above).
5. In addition, KO's management has a strong commitment to continuously increasing dividends. Over the past 11 fiscal years, annual dividend per share has been raised to $0.94 in FY2011 from $0.36 in FY2001 by a 10-year CAGR of 10.1% (see below).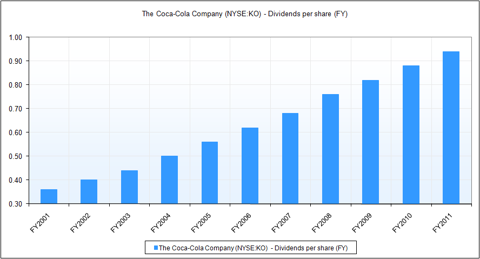 6. KO also has ample cash capacity to keep raising dividends down the road. The chart below shows that over the past 10 fiscal years, annual dividend payment in average only represents a half of the annual FCF generated, suggesting a continuous dividend improvement is possible even with an unrealistic assumption that FCF remains static going forward.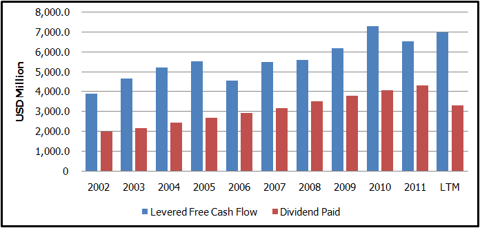 Let's then look at some negativity:
1. The current stock price of $38.17 implies a 27% valuation premium over the five peer-average trading multiples (assuming they are equally weighted) (see below). Although the sizable valuation gap may possibly be justified by KO's dominant market position and healthy financials, it indeed diminishes the stock's margin of safety.

2. The chart below shows that KO's forward P/E multiple has trended up over the past 12 months, but the firm's financial estimates have actually experienced some downward revisions over the same period (see below), indicating the stock is getting pricey.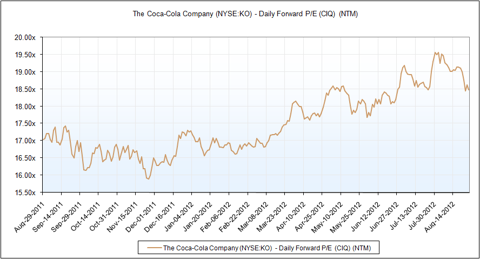 3. On a technical perspective, KO's 50-day simple moving average has been supporting the upward price trend since the start of the year. It appears that the stock has been trying to drop through the 50-day SMA recently (see below). Investors should be cautious of the recent price action, as it may predict a potential correction ahead.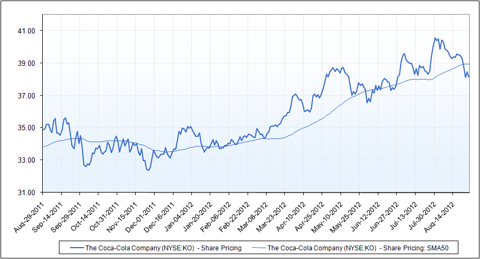 Bottom line, based on the aforementioned factors, I give KO stock a hold rating. Despite the strong fundamentals, the stock's risk/reward profile is not very attractive. I will watch the stock closely and may acquire the shares at around the $35 to $36 level, which implies an approximately 15% to 20% valuation premium based on my model. I also recommend selling out-of-money puts to either collect the premiums if shares keep rising or acquire the shares at a cheaper price.
Comparable analysis and relative valuation tables are created by author, other charts are sourced from Capital IQ, and all financial data is sourced from Capital IQ and Morningstar.
Disclosure: I have no positions in any stocks mentioned, but may initiate a long position in KO over the next 72 hours. I wrote this article myself, and it expresses my own opinions. I am not receiving compensation for it (other than from Seeking Alpha). I have no business relationship with any company whose stock is mentioned in this article.