Realty Income Corp (NYSE:O) is synonymous with REIT to many people. This bellwether triple net REIT calls itself "the Monthly Income REIT" and has a cult-like following. Realty Income is arguably one of the best run REITs across all sectors and is a dominant force in the triple net REIT space.
So why the heck would I consider selling this well run monthly paying REIT? Its quite simple: valuation. In many of my recent articles on REITs, I have lamented the increased valuations on REITs and dividend paying corporations generally. I initiated my position in the REIT when it was under pressure in the credit contraction at $17 and my first Realty Income preferred at a similar price. The bottom line is that Realty Income has been good to me. I learned a long time ago, however, that falling in love with a position ultimately does not work out for investors.
Starting with Realty Income's funds from operations multiple (FFO multiple) we see the following ascent over the last few years: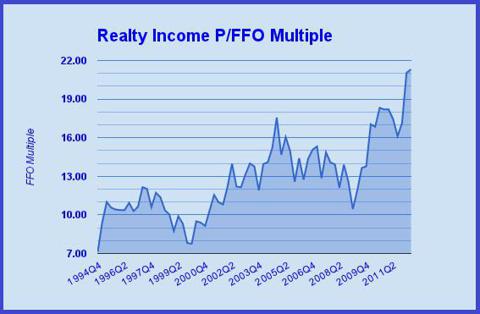 Now versus the average of the multiples of peers national Retail Properties (NYSE:NNN) and Lexington realty (NYSE:LXP) (used due to their longevity):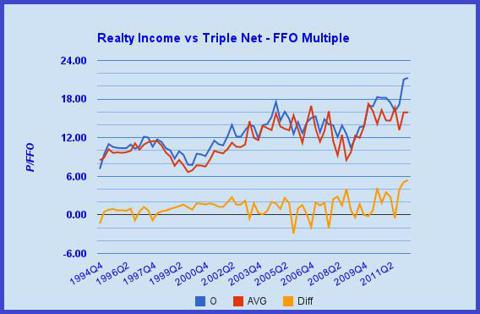 Both of these charts show me multiples in nosebleed territory. Perhaps it is best to show the consensus 2012 FFO multiple versus peers - including National Retail, Lexington, Agree Realty (NYSE:ADC), American Realty Capital Properties (ARCP), American Realty Capital Trust (NASDAQ:ARCT) - in tabular form: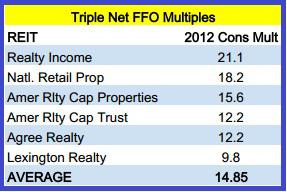 Yes, Realty Income is well run and a strong company, but does it warrant the multiple premium that it currently has? I have a hard time thinking they do.
Year-to-date, their equity shows the following (on a percent change basis) versus peers: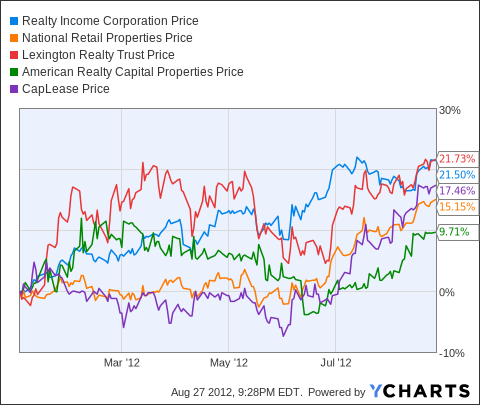 Their dividend yield has fallen as a result of their strong price rise: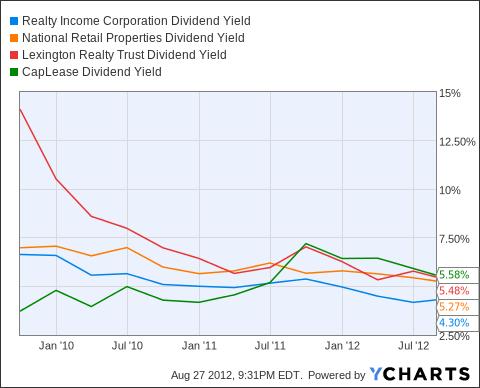 O Dividend Yield data by YCharts
And finally, a look at price to book value shows the same lofty results: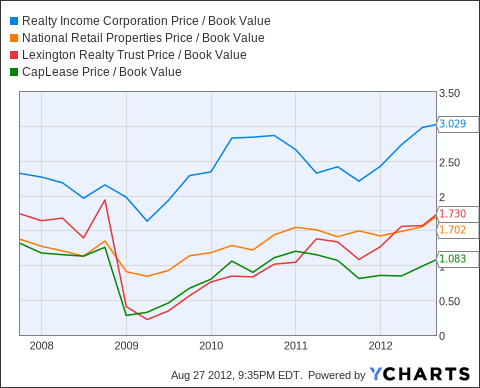 O Price / Book Value data by YCharts
Bottom Line: While I admire Realty Income and the REITs management, love is for people and pets, not positions. I have done well with my investment in the company and hope to be involved in the equity again, but current valuations make me nervous and as a result, it is time to sell the position.
Disclosure: I am long O, NNN. I wrote this article myself, and it expresses my own opinions. I am not receiving compensation for it (other than from Seeking Alpha). I have no business relationship with any company whose stock is mentioned in this article.
Additional disclosure: Also long OPrF.This article is for informational purposes only, it is not a recommendation to buy or sell any security and is strictly the opinion of Rubicon Associates LLC. Every investor is strongly encouraged to do their own research prior to investing.