While it sounds opportunistic, many investors think that the best time to invest is when there is 'blood in the streets'. One industry that has been absolutely crushed is the oil refinery business. With prices of crude oil reaching record high levels daily, refiners are feeling the squeeze. That's why it's interesting that the Israeli refiner Delek US (NYSE:DK) is reportedly looking to make acquisitions in the range of $1 billion.
According to a report in the Israeli daily, Globes:
Delek US Holdings Inc.  notified the US Securities and Exchange Commission (SEC) on Friday that it 'is currently exploring the potential acquisition of certain petroleum refining, retail, and wholesale marketing assets in the US' for $1 billion.
The report continued:
U.S. energy market sources believe that Delek US is seeking to buy a refinery in Oklahoma. Valero Energy Corporation (NYSE:VLO) and Sonoco Products Company (NYSE:SON) have both put up refineries for sale because of eroding profit margins.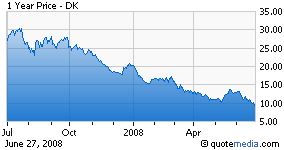 Shares in Delek have lost more than 65% over the last year. But you have to love the company's vision. It can get  another refinery at a huge discount, so it is buying it.  You have to believe that at some point the price of crude will drop. If it doesn't, then all the refiners will probably go out of business anyway, so to me, this deal makes a lot of sense. What does the company have to lose?
Buy low and sell high. Over the long-term management may turn out to be real heroes. Instead of resting on their laurels through a bad market cycle, they are looking for ways to enhance future shareholder value. They are loading up on cheap assets when things are tough. If the price of crude starts to fall, look for the potential for Delek shares to power higher.
Disclosure: The author's fund has a position in DK. He has no position in any other stock mentioned as of June 29, 2008.