In volatile markets, such as the one we are in, it is good to be able to find diversification. Diversification is important due to the large movements, fueled by traders within different sectors. This should continue, as there isn't any transparency. In my eyes, at least, things are clearing up a little. We have a much worse housing/mortgage market.
The Fed speak on the last meeting told us that their hands are tied, and that there is no way to strengthen the U.S. dollar without causing more harm to the already weak housing market. Since this is a major factor in the economy's stability, it will take precedence over current inflationary pressures. The market will start to stabilize by the end of the year as we get a better idea of how the housing market will do and with respect to oil prices.
I still think oil is a bubble. This is backed by the promise of OPEC to bring more oil on line in the upcoming years. When investors describe a bubble, they just don't know how long it will be.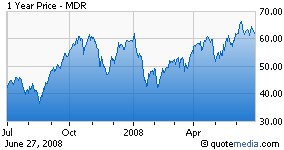 Nothing goes straight up and vice-verse. If the bubble bursts or oil continues to go up, it still benefits this company. Backlog for deep spec drill ships and rigs are at all time highs, and continue to increase, as it is cost effective to use these methods to obtain oil. Looking at my call on theupdown.com 119 days ago, McDermott (NYSE:MDR) is up 19.62%, as higher oil prices are already getting a longer term feel, even with OPEC stating that they will be upping production in the next to years exponentially.
Its current statement that we will see $150 oil has put extreme pressure on the bears. I looks like the chart will run past $150, and hit $159, but that is just an estimate on market momentum. The only thing now that will pressure oil to the downside is demand. Pricing could pressure that towards the end of the year, but that wont help the market as the Scrooge will ruin Christmas this year.
Some companies are well positioned even in this environment. MDR is placed very well because of the diversity of its businesses. The company is involved in offshore oil and gas construction, power generation systems, and government operations. All three are doing well and should continue to for years to come.
Currently, there is a bull market with respect to offshore drilling. This is due to a lack of new land finds with respect to BTU deposits in oil and gas. These rigs have backorders all over the world as higher prices make it feasible to drill areas that were just too expensive at one time. In addition, the world is expanding into more power generation equipment as emerging markets need more energy to support growth and mature markets need to upgrade and add. Government projects are always expanding and MDR's specific work with respect to nuclear powered vessels will continue to power the company.
The company's power generation expertise currently has a backlog of five gigawatts, and it is capitalizing on government requirements to clean up current coal fired plants to make them more environmentally friendly. The company believes that it will be a major player in the upcoming builds of nuclear power plants as it has a worldwide reach. MDR says that according to the Energy Information Administration [EIA], the world's demand for energy will be 41% higher from 2005 to 2030. This means that in the next 25 years, 50 nuclear reactors (1000 MW), 261 coal fired plants (600 MW), 279 natural gas plants (400 MW), and 93 new renewable builds (100MW) will be required to meet this demand.
The company also plans to capitalize on CO2 being a regulated pollutant. Currently, it is studying the possibility of using oxy-coal combustion as a retrofit system. The company also has a team to develop new technologies.
Its government contract segment is 95% Department of Energy [DOE] contracts. Its focus is on the use of nuclear energy, which would allow the military to decrease its dependence on oil in the execution of its operations. The company also plans to use nuclear energy in order to enhance its future energy position, and is currently servicing reactors and will participate in new builds in the future. At the current time, it has 13 nuclear reactors in operation, with 1.6 GW waiting to be refurbished.
As of March 31, MDR had $10.2 billion in backlog. The majority is in oil and gas, followed by commercial coal and nuclear, and lastly government nuclear contracts. About $5 billion of its backlog should be realized during the remainder of 2008, with a little under $3 billion next year, and about $2.5 billion in 2010.
Since 2004, MDR's revenues have steadily increased.  That year, it had $3.281 billion in revenue, and in 2007, it increased to $5.632 billion. Operating income jumped from $389 million in 2006 to $716 million in 2007. When compared to its peers, the company is outperforming. If we look at its 2007 numbers, we see that its net income was number one beating the likes of Fluor Corp. (NYSE:FLR), and Foster Wheeler Ltd. (FWLT). Its earnings yield was also the best in the segment.
Looking forward, MDR should continue its run as the company made $330 million in bolt on acquisitions in the second and third quarters of last year. The company also declared a two-for-one stock split, and received a credit rating increase.
I still think this stock is a buy, and provides a long-term growth story from its various businesses. Keep an eye out for good movement in both the short and long term.
Disclosure:  Long MDR and RIG.