In this article, I take a look at Wal-Mart Stores, Inc. (NYSE:WMT), a discount, variety store. We'll evaluate Wal-Mart as an equity investment. We'll examine the industry, valuation, and financial position and performance. That said, Wal-Mart is overvalued.
Industry
Wal-Mart operates in the discount, variety store industry. Some of its major competitors in the industry are Target Corporation (NYSE:TGT), Costco Wholesale Corporation (NASDAQ:COST), and Dollar General Corporation (NYSE:DG). Wal-mart operates in the services sector, which is less cyclical than the manufacturing sector.
Wal-Mart's principal business activity is selling a variety of goods to consumers at discount prices. The firm sells groceries, clothing, jewelry, electronics, etc. As a result, the firm's revenue and earning are weakly correlated with economic activity: Wal-Mart is non-cyclical.
At its current stage, Wal-Mart is a mature company that primarily operates in mature markets. However, the firm does derive some of its sales in growth regions. Wal-Mart's products serve as a substitute for premium brands. Given the current economic environment, consumers are more budget-conscious, and Wal-Mart benefits from consumers trading down.
Wal-Mart's consumers have some bargaining power. If consumers can find a product cheaper somewhere else, it may be worth it go somewhere else. When it comes to Wal-Mart's suppliers, there are some minor issues: The employees attempt to unionize, and unionization could increase the cost to consumers or decrease the operating margin.
There is some threat of new entrants, however, Wal-mart is a well established brand and is tough to compete against. Further, rivalry in the industry is intense as firms seek to offer the lowest prices to consumers. In terms of the influence of technology, budget-conscious consumers are shopping online more often. Shopping online allows consumers to compare prices and products: that could hurt sales at Wal-Mart if the firm doesn't adjust to the information age.
Rating System
Buy - Long
Neutral - No position
Sell - Short
(The ratings, research and analysis in this article should be considered as starting point for further research.)
Wal-Mart -- Buy (reduce exposure)
Investment Thesis
While I like the long-term prospects of Wal-Mart, I'm not thrilled with short-term prospects. The firm could be reaching a peak in valuation. There is also potential for broad market declines. Wal-Mart investors should reduce long exposure.
Financial Performance and Position
Current assets increased 1.1 percent to $56.26 billion in the second quarter of this year compared to the year-ago quarter: The increase is mostly attributable to an increase in inventory. Total assets increased 0.9 percent to $195.66 billion. Total current liabilities increased 5.4 percent to $68.32 billion: the increase is mostly attributable to an increase in long-term debt due within one year.
Wal-Mart is carrying about $41 billion of long-term debt. Total equity increased 2.5 percent to $74.7 billion. The current ratio went from 0.86 to 0.82: Wal-Mart became less liquid in 2012's second quarter compared to the year-ago quarter. Long-term debt to equity changed from 0.62 to 0.55: the firm lowered long-term debt as a percentage of equity.
Total revenue in the second quarter, compared to the year-ago quarter, increased 4.5 percent. Operating income increased 4.9 percent, as net income increased 5.7 percent. The operating margin went from 5.8 percent to 5.9 percent. The profit margin remained at 3.5 percent.
In the first six months of 2012, earnings were high quality. Further, cash from operations was enough to cover cash used in investing and financing. During the first six months of 2012 the firm didn't spend much cash rebuilding inventory. Expenditure on property and equipment was 47.6 percent of cash flow from operations. The cash balance increased by $1.39 billion.
The financial and cash flow performance were good. The financial position is strong.
Dividend
The Board of Directors approved an increase in the dividend from $1.46-$1.59 per share, a 9 percent increase, for fiscal 2013.
Litigation
The allegations of violating the U.S. Foreign Corrupt Practices Act may have an adverse material impact on operating cash flow.
Acquisitions
The firm is expanding in the U.K., China and sub-Saharan Africa. The acquisitions should fuel international growth.
Company v. Industry
Return on Assets: 8.73 v. 6.22
Return on Investment: 13.81 v. 9.76
Return on Equity: 23.58 v. 16.26
(The company versus industry data is courtesy of Reuters.)
Click to enlarge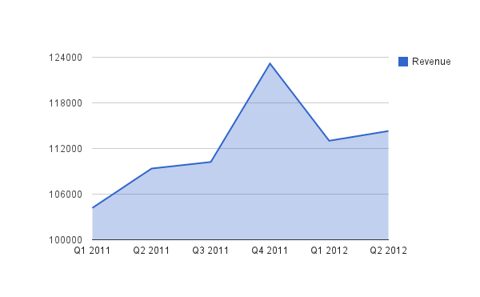 Click to enlarge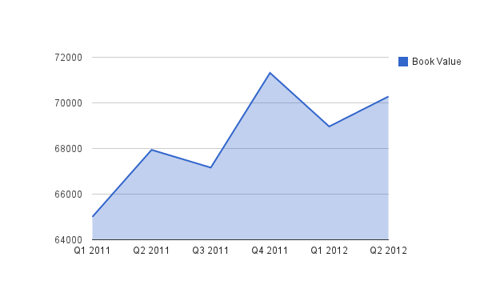 Click to enlarge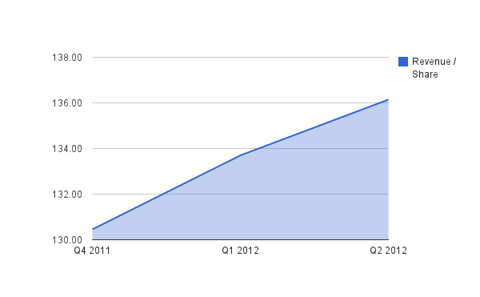 Click to enlarge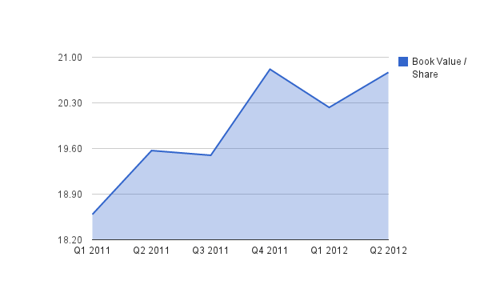 Click to enlarge
Revenue and book value are increasing: that indicates common equity shares could trade at higher prices. Wal-Mart generates a substantial amount of revenue-share.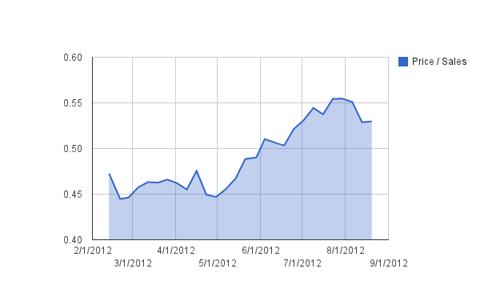 Click to enlarge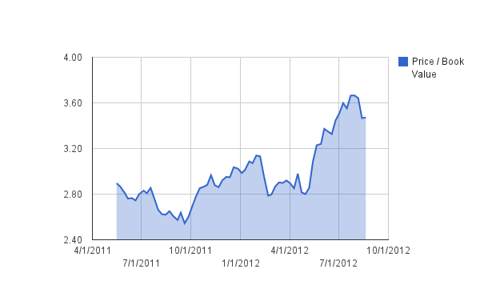 Click to enlarge
The valuation metrics suggest Wal-mart may be near-term overvalued. The price-book value ratio suggests investors view the company's growth prospects as favorable. On an absolute basis, the price-sales ratio could have considerable upside.

Disclosure: I have no positions in any stocks mentioned, and no plans to initiate any positions within the next 72 hours. I wrote this article myself, and it expresses my own opinions. I am not receiving compensation for it (other than from Seeking Alpha). I have no business relationship with any company whose stock is mentioned in this article.
Disclaimer: This article is not meant to establish or continue an investment advisory relationship. Before investing, readers should consult their financial advisor. Christopher Grosvenor does not know your financial situation and ability to bear risk and thus his opinions may not be suitable for all investors.