The stocks of U.S.-listed Chinese companies have been under a thick cloud due to the concerns of a hard landing in the Chinese economy, poor corporate governance, and the allegations of fraud by short-sellers.
While the near-term macro headwind is a major concern, I believe that the current environment is ideal for investors to be selective and gradually adding quality names that are trading close to their historical lows. Note that for the companies that are profitable, the valuation metric that I use is Price/Earnings multiple. As for the companies that are unprofitable, I use the Enterprise Value/Revenue multiple.
My top picks in the Chinese internet and media space are: AutoNavi (NASDAQ:AMAP), Baidu (NASDAQ:BIDU), Sina (NASDAQ:SINA), Sohu (NASDAQ:SOHU), and Youku (NYSE:YOKU).
AutoNavi: Strong Mobile Adoption Leads To O2O And LBS Opportunities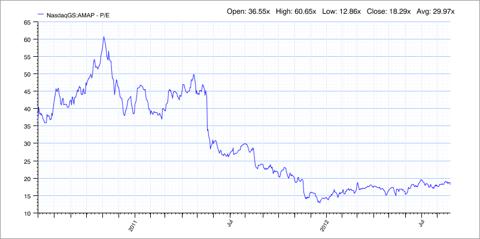 AutoNavi has a leading position in China's mobile app and navigation market with 26% of the market share. In addition, the company has over 36 million active users of its mobile application. According to my observation, AutoNavi's mobile app commands strong brand equity for its comprehensiveness and precision. The rising number of monthly active users paves the way for the company to diversify its revenue stream from the traditional automotive navigation segment and enter the growing O2O and LBS market.
The recent upgrade for the mobile apps that include personalized favorites, local merchant recommendations and transit directory makes the application more robust to attract additional users and expand its network effect for future monetization.
I currently have a $18 target on AutoNavi (View report)
Baidu: The Search Leader In China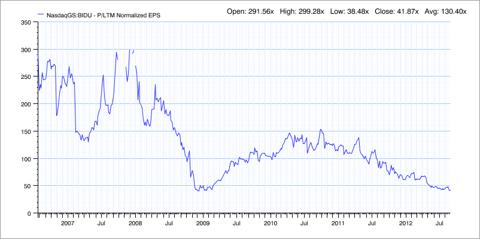 Baidu's will continue to benefit from China's growing Internet penetration in the lower tier market. In Q2, Baidu's online customer growth accelerated for the fourth straight quarter, driven by strong momentum in SME acquisition.
SMEs in China are still new to search marketing, and Baidu is keen on educating the customers by working with local government officials and offering SME-friendly services so they can realize the benefit of online advertising. While Baidu's biggest concern lies in mobile search, I believe that the rising adoption of online advertising by SMEs will likely offset this weakness in the near-term.
Sina: Initial Weibo Monetization A Strong Positive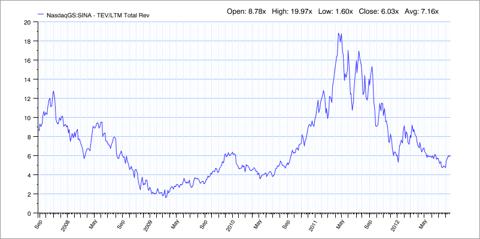 Advertising revenue from Weibo will no doubt become a bigger contributor to Sina's topline growth, and Sina's recent quarterly result certainly mitigated some of the concerns that investors have over Weibo monetization.
In Q2, Weibo accounted for 10% of Sina's advertising revenue. The social ad system that focuses on user interest is gaining adoption and positive feedback from advertisers, and Sina is looking to monetize mobile with Promoted Tweets, which are similar to Facebook's (NASDAQ:FB) Sponsored Stories.
Sohu: Search And Video To Drive Leg Of The Race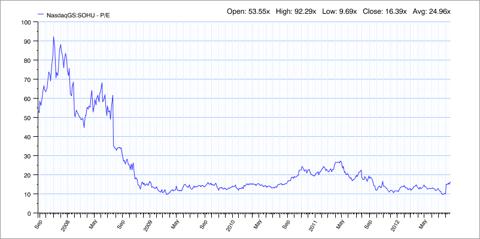 Sohu's keen focus on building a superior technological platform is one area that investors cannot ignore. Aside from its traditional branded advertising and gaming business, Sohu's search and online video units are emerging threats to the dominant players such as Baidu and Youku, despite being unprofitable in the near-term.
Sogou Search not only delivers search results that are comparable to Baidu but also provides tools such as the browser and the Chinese character input software that allow users to seamlessly carry out a search function. On the other hand, the online video unit is now the second largest online video platform in China behind Youku-Tudou and continues to see rising user traffic, which grew 26% y/y in June, according to comScore.
Youku: The Chinese Online Video Leader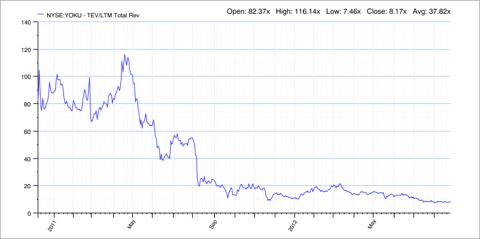 After acquiring rival Tudou, Youku has effectively become the clear leader in China's online video market with 35% market share, followed by Sohu with 13% market share, according to Enfodesk. In addition, Youku-Tudou will have the ability to reach over 300 million weekly users, making it the preferred online video platform for advertisers. Most importantly, the merger creates a new kind of rivalry in China's online video market, where the companies would attempt to form partnerships and focus on original content to avoid the costly content bidding war.
Leading industry standing, high viewer engagement, Apple (NASDAQ:AAPL) integration, and decreasing content cost will allow Youku to maintain its dominance in China's online video market and to be on the path towards profitability.
Disclosure: I have no positions in any stocks mentioned, and no plans to initiate any positions within the next 72 hours. I wrote this article myself, and it expresses my own opinions. I am not receiving compensation for it (other than from Seeking Alpha). I have no business relationship with any company whose stock is mentioned in this article.